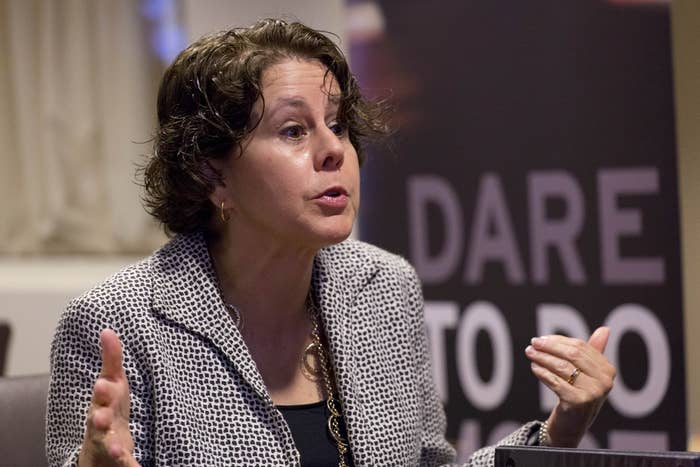 The White House's Domestic Policy Council director was criticized and booed Thursday for saying a campaign that calls on an end to all deportations was a good slogan, but not a viable plan.
At the annual conference of the American Immigration Lawyers Association, Cecilia Muñoz reportedly said the #Not1More campaign missed the boat and called on lawyers to weigh in on enforcement policy instead of opposing it altogether. Muñoz also serves as assistant to President Obama.
The protestors were mostly silent and tame, with only one person booing when Muñoz brought up the deportation campaign, according to people who were at the event.
Marisa Franco, of the #Not1More campaign, told BuzzFeed News that Muñoz had no business discussing working theories because her primary job has been to defend the Obama administration's immigration actions.
"Instead of targeting efforts for justice like Not1More, Muñoz should've taken this opportunity to announce an end to immigrant detention," Franco said. "The White House's job to make immigration policy more humane is far from complete and we will continue to push this administration."
Muñoz's speech had already been challenged by 17 members of the organization who asked AILA in a letter to rescind Muñoz's invitation as keynote speaker.
"She is directly responsible for causing children to suffer severe and prolonged physical and mental harm in detention centers," the letter said. "Additionally, Ms. Muñoz has fully backed President Obama's multi-pronged policy to prevent Central American children from escaping death, severe bodily or mental harm, and rape."
Crystal Williams, AILA's executive director, responded to the letter and said it didn't matter what Muñoz had done privately or publicly on immigration issues. What mattered was she holds a senior position in the White House and can discuss the popular and unpopular choices the administration has made on immigration.
In a statement after the speech, Williams said they welcomed Muñoz's recognition that while there are executive actions that AILA supports, such as the expanded Deferred Action for Childhood Arrivals and Deferred Action for Parental Accountability initiatives, even though there are issues on which the two disagreed, like the detention of children and mothers.
"She did not shy away from those differences and in fact encouraged AILA and its members to continue to bring up concerns," Williams said.
Pablo Alvarado, director of the National Day Laborer Organizing Network, said the #Not1More movement calling for an end to all deportations helps make immigration policies better.
"The irony is that those who have protested President Obama's immigration policy have been the ones creating the political space for positive exercises of executive discretion," Alvarado said. "And while the Obama Administration immigration policy is clearly evolving, it is not happening fast enough."
Updated with a statement from Crystal Williams, AILA's executive director and more details about the protestors at the event.