Oakland Warehouse Fire Victims Were Trapped With "No Way Out"
Investigators said Wednesday there were no fire alarms or sprinklers installed inside the warehouse to warn victims of the deadly fire.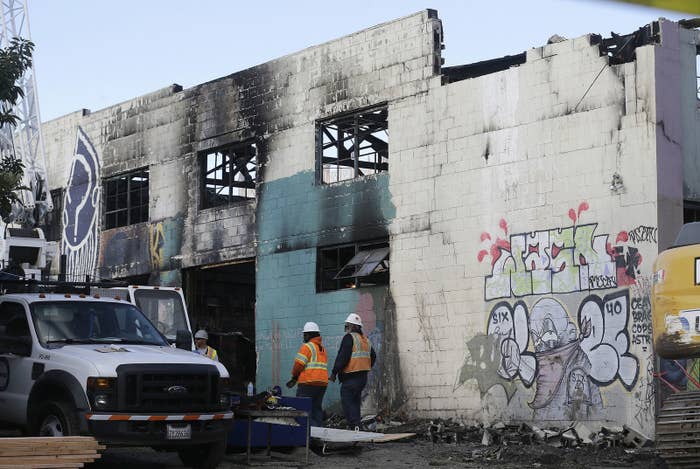 There were no fire alarms or sprinklers inside the Oakland warehouse where an inferno claimed the lives of 36 people in what authorities described Wednesday as America's deadliest blaze in more than a decade.
The fire was sparked late Friday during a party at the warehouse, which was used as an art collective. At a press conference, investigators said the flames were sparked on the first floor of the warehouse, growing so fast that people on the second floor didn't realize there was a fire until it was too late.
To make matters worse the two stairwells on the second floor didn't lead to an exit, only to the first floor where the fire was raging.
"The occupants on the second floor were trapped… The fire was well developed by the time second floor occupants realized there was a fire going on," said Jill Snyder, special agent with the Bureau of Alcohol, Tobacco, Firearms and Explosives. "This fire is the highest number of fire fatalities in the country in the last 13 years."
Snyder said there has been "a lot" of misinformation reported about the cause of the fire, mainly that a refrigerator was being eyed as the possible origin of the blaze.
"The refrigerator is still being examined but has not been determined to be the cause of the fire," Snyder said. "We're looking at every possible source of ignition but no conclusion has been made at this time."
It could be several weeks before a final determination is made, Snyder said.
The Alameda County District Attorney's office has initiated a criminal investigation into the fire. District Attorney Nancy O'Malley said charges could range from murder to involuntary manslaughter, although it was still unclear whether any charges would be filed.
Mark Pazin, chief of the governor's office of emergency services, said it was tough to walk through the scene of the fire.
"It's sobering," Pazin said at the press conference. "It is excruciating to walk through, to pass and relive the last moments where a person knew there was a fire and there was no way out."