No, Selena's Killer Is Not Up For Early Release From Prison
A fake news site reported Monday that Yolanda Saldívar, who received a life sentence for killing Selena, could receive early release in 2015. A spokesman with the Texas Department of Criminal Justice said it was a false report.
Texas prison officials Tuesday debunked reports that Yolanda Saldívar, who was convicted of killing singer Selena, could be released from prison in 2015.
An article on the National Report, a satirical news site, reported Monday that Saldívar could be released as early as Jan. 1 2015.
Robert Hurst, a spokesman with the Texas Department of Criminal Justice, told BuzzFeed News that Saldívar was not up for review until 2025.
"That is not true," Hurst said of the National Report article.
Selena Quintanilla-Pérez was fatally shot by Saldívar on March 31, 1995 at a motel in Corpus Christi, Texas. Selena had confronted Saldívar, who was the president of her fan club, of embezzling money.
Saldívar is currently serving a life sentence at the Mountain View Unit in Gatesville, Texas, according to prison records. Her next parole review date is set for March 3, 2025.
An online petition concerning the fake date of her release got more than 3,800 signatures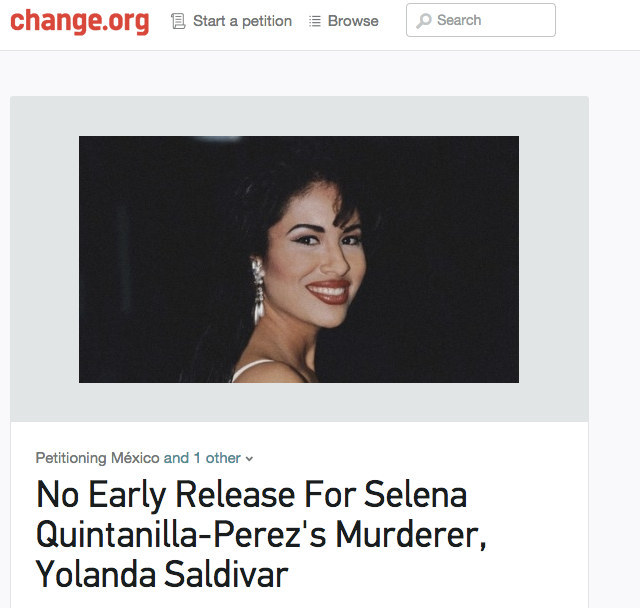 The fake report ignited a flurry of negative comments and inspired a change.org petition that received nearly 4,000 signatures in less than 24 hours.
"This would be an abortion of justice. Please do not release this woman who took the life of such a promising and talented woman," the petition said. "Yolanda Saldivar needs to serve out the rest of her sentence, and be behind bars for the remainder of her natural life."
Some people vented on Twitter after seeing the fake report.