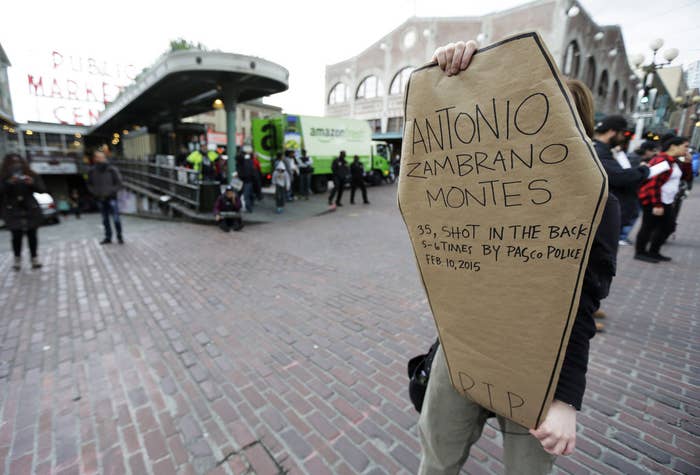 Prosecutors declined to file charges against the three officers who shot an unarmed undocumented Latino immigrant in Pasco, Washington, earlier this year.
The Franklin County Prosecutor's Office announced the decision on Wednesday. One of the officers, Ryan Flanagan, resigned in July. The other two officers, Adam Wright and Adrian Alaniz, remained on leave pending the results of an investigation.
In a letter announcing his decision, Franklin County Prosecutor Shawn Sant said that under Washington law, officers who use deadly force when confronting an armed suspect can't be prosecuted if they are acting in good faith and without malice.
"It is the Franklin County Prosecutor's Office decision that the use of lethal force by the officers in this case was reasonable under the standards established in our state laws and that no criminal charges can be filed in this case," Sant said.
The Feb. 10 shooting, captured on video, sparked protests and led to discussions about the relationship between the Pasco Police Department and it's Latino residents.
Attorney Jose Baez, who is representing Antonio Zambrano-Montes' estate, said in a statement that the family was disappointed in the decision and would be filing a federal civil rights lawsuit.
"This forces us to seek justice for Antonio and his family in a different forum," Baez said.
Baez added that the prosecutor's decision not to file charges would have no legal bearing on the civil lawsuit because they have to prove their case by a preponderance of the evidence, as opposed to beyond a reasonable doubt in a criminal case.
"It will come down to a judgment as to whether Antonio objectively represented a threat of grievous bodily harm to the police," said attorney Charles Herrmann, who teamed up with Baez in the case.
Authorities said the 35-year-old unarmed undocumented immigrant from Mexico was struck five to six times after officers fired a total of 17 rounds. Police said he had allegedly been throwing softball and cantaloupe-sized rocks at passing cars in an intersection before police arrived. Two officers who responded were allegedly struck.

According to a forensic report, it was determined that Zambrano-Montes likely had a large rock in his hand when he was shot because one was found near him with his bloodstains on it.

In police videos that prosecutors released in July, Zambrano-Montes can be seen continuing to throw rocks at officers before trying to flee in the direction of a bakery across the street. He was struck with a Taser twice before being shot at, but one of them failed to have any effect because one of two probes didn't strike him.
A toxicology report said Zambrano-Montes was under the influence of methamphetamine, at levels that were over three times the median range for DUI cases, when he was shot. Witnesses told police that he yelled at officers to "shoot me, kill me," minutes before he was killed.
Felix Vargas, chair of local advocacy group Consejo Latino, said Sant's decision was "a grave injustice" and based his decision on the narrowest interpretation of state law requiring proof that the officers acted with "evil intent to kill."
"The prosecutor rejected any consideration of the discretionary use of force by three officers who clearly had other tactical options for dealing with a mentally unstable, drug-infused, rock-lobbing man," Vargas said.
"We shall continue to call for justice for Antonio Zambrano and his family," Vargas said.