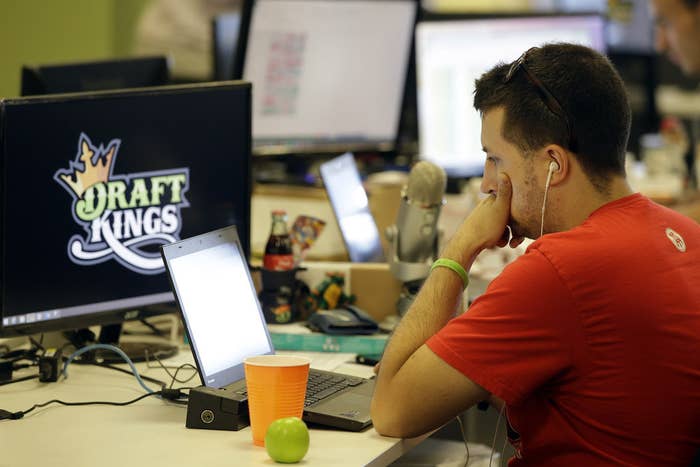 New York Attorney General Eric Schneiderman on Tuesday ordered two popular fantasy football websites to stop taking bets, calling them illegal under state law.
In the cease-and-desist letters, Schneiderman told DraftKings and FanDuel to stop accepting wagers from New Yorkers. The announcement comes after his office launched an investigation into the sites following reports that employees allegedly used insider information to game the system and win large sums of money.
In the letters obtained by BuzzFeed News, the New York Attorney General's Office said that while the inquiry initially focused on allegations of employee misconduct and unfair use of proprietary information, their operations and business model also came under scrutiny.
"Unlike traditional fantasy sports, daily fantasy sports companies are engaged in illegal gambling under New York law," Schneiderman said in a statement. "Daily fantasy sports is neither victimless nor harmless, and it is clear that DraftKings and FanDuel are the leaders of a massive, multi-billion-dollar scheme intended to evade the law and fleece sports fans across the country."
DraftKings and FanDuel are the two most popular sites in an industry that generates $2.6 billion in entry fees, according to an earlier letter from Schneiderman's office.
The sites let sports fans assemble "fantasy" teams of real players, then chart those teams' progress as the players rise and fall during actual sports seasons. The sites charge fees to participate, then pay out cash prizes depending on the performance of the fantasy teams.
The letters also served as formal pre-litigation notices. DraftKings and FanDuel are expected to respond to the orders within five days of receiving them.

FanDuel disputed the claims, insisting in a statement has operated openly and lawfully in New York for several years.
"The game has been played — legally — in New York for years and years, but after the attorney general realized he could now get himself some press coverage, he decided a game that has been around for a long, long time is suddenly now not legal," FanDuel said. "The only thing that changed today is the Attorney General's mind."
DraftKings also disagreed with what it called Schneiderman's "hasty" actions.
"He did not take any time to understand our business or why daily fantasy sports are clearly a game of skill," DraftKings said in a statement. "We strongly disagree with the reasoning in his opinion and will examine and vigorously pursue all legal options available to ensure our over half a million customers in New York State can continue to play the fantasy sports games they love."
Letters sent to both sites last month — and posted online by the New York Times — revealed that employees may have "gained an unfair, financial advantage" by "exploiting their access to nonpublic data."
Both sites play up the possibility of winning "real cash" and "real money." FanDuel lists an "expected $2 billion in real cash prizes this year." The Times reported that payouts can be as high as $2 million.
Less than a month ago, the two sites were making headlines for their growth and fundraising.
However, a scandal erupted in recent days after Ethan Haskell, a DraftKings employee, accidentally released sensitive data.
The data normally isn't released until after certain games are played, but Haskell posted it before those games occurred. Having the data in advance would also give a participant an advantage.
As it turned out, Haskell had also won $350,000 on FanDuel. Haskell's finish put him in second place in FanDuel's "$5M NFL Sunday Million ($1,000,000 to 1st)" contest.
A sports and gambling attorney described the situation to the Times as "absolutely akin to insider trading."