National Latino Groups Slam Donald Trump, Say His Comments About Immigrants Incite Violence
The groups said Trump's comments about Latinos and immigrants incite violence against those communities and should be considered hate speech after two brothers justified beating a homeless Hispanic man with "Donald Trump was right."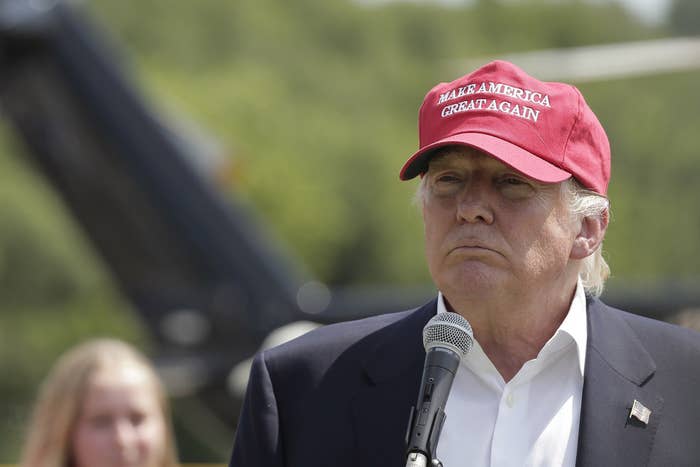 In the aftermath of the alleged beating of a Latino homeless man by two brothers who used Donald Trump's comments to justify the attack, advocacy organizations said the presidential hopeful's words are hate speech that incite violence.
On Wednesday two brothers with extensive criminal records, Scott Leader, 38, and Steve Leader, 30, allegedly attacked and urinated on a sleeping homeless man in Boston. The Boston Globe reported that one of them said it was okay to attack the man because he was Latino and homeless.
"Donald Trump was right, all these illegals need to be deported," Scott Leader told police.
When Trump was made aware of the attack at a press conference he said "it would be a shame . . . I will say that people who are following me are very passionate. They love this country and they want this country to be great again. They are passionate."
Arturo Carmona, executive director of Presente Action, which counts 300,000 members nationwide, said in a statement that he was horrified to learn that Trump supporters allegedly beat up a homeless man, but more horrified to see him praise their "passion" when told about the attack.
"The hateful language being spewed by Donald Trump is bad for America, and is directly inciting violence against Latinos," Carmona said. "This race to the bottom has made it clear that far too many candidates feel Latino lives simply do not have value."
Presente Action Thursday launched a petition calling on GOP leadership to bar Trump from their debates, and denounce his language. Trump's campaign did not respond to a request for comment.
Felix Sanchez, the chair of the National Hispanic Foundation for the Arts, called Trump's comments hate speech, accelerating at an incomprehensible speed, and now adding injury to insult.
"Trump's language towards Latinos is emboldening violence," Sanchez said. "These men thought they could hurt this man, urinate on this man, without any repercussions because people can now say things about the Latino community without any consequences."
On Friday Trump clarified his earlier comments on the Boston attack.
When Trump launched his campaign he made controversial comments that Mexico sends criminals and rapists to the United States.
Sanchez said Trump is playing on the fears and anger of conservatives and other groups who believe they're losing jobs and resources to undocumented immigrants.

The Mexican government spoke out against the attack on one of their citizens. In a statement they said they would provide the victim with protection and legal assistance.

"Mexico strongly condemns this incident and asks that the contributions of the immigrant community to the economy, society, values and culture in the United States be recognized for the positive forces that they are and the close ties they create between our two societies," the Ministry of Foreign Affairs of Mexico said in a statement.

The National Hispanic Media Coalition also spoke out against the beating, urging the federal government to study the role hate speech in the media plays into the prevalence of crimes in the country.
"For far too long, we have witnessed firsthand how extreme and hateful rhetoric broadcasted across the media has bred an environment in which hate crimes against vulnerable communities have become too common," said Alex Nogales, president and CEO of NHMC.
Jorge-Mario Cabrera, spokesman for the Coalition for Humane Immigration Rights of Los Angeles, said Trump's rhetoric is divisive, incendiary, and offensive.
"He cannot pretend to play Pontius Pilate once he has fanned the flames of anti-immigrant sentiment with his disparate comments and proposals," Cabrera told BuzzFeed News. "He is clearly a dangerous force, a wrecking ball at a time when we need understanding, unity, and compassion."