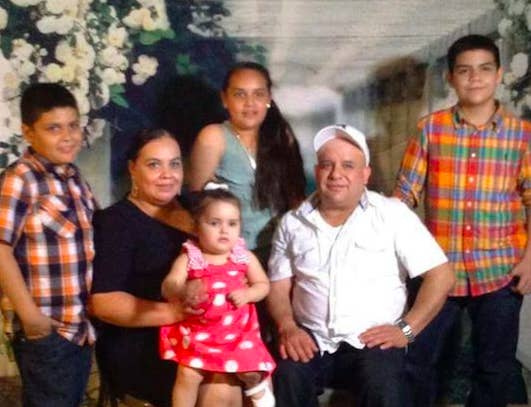 An undocumented mother of four US citizen children with no criminal history was deported Wednesday after numerous attempts and appeals to stop her removal.
Last week, the US Court of Appeals for the Sixth Circuit denied Maribel Trujillo-Diaz's motion for an emergency stay of removal while her request to reopen her case in immigration court was considered.

One of her attorneys, Kathleen Kersh, in a statement said Trujillo-Diaz was on a plane bound for Mexico Tuesday morning after being held in a US Immigration and Customs Enforcement detention center in Louisiana.
"We are disappointed and outraged that ICE has chosen not to exercise prosecutorial discretion despite the thousands of calls and nationwide advocacy from community members, elected officials, and faith leaders," Kersh said. "Maribel's deportation shows that the Trump Administration is not focused on deporting criminals, but rather on separating peaceful mothers from their American children."
Her legal team and supporters said Trujillo-Diaz is the victim of President Trump's new policies that make any undocumented immigrant subject to deportation despite having US-born children and not having a criminal record. Under President Obama, such people were considered a low priority for immigration enforcement.
Trujillo-Diaz, an asylum seeker, had been checking in with Immigration and Customs Enforcement (ICE) and complying with Obama-era rules.
"Maribel is a very good example of why these policies are so misguided," her attorney, Emily Brown, told BuzzFeed News. "If a mother of four US citizen kids who has no criminal record is up for deportation, then this is an inhuman policy that everyone needs to know about."
Trujillo-Diaz legal setback came on the same day US Attorney General Jeff Sessions called on federal prosecutors to take a tougher approach on undocumented immigrants.
Brown said she was going to continue fighting Trujillo-Diaz's deportation and try to reopen her asylum case because of the harm she would face from drug cartels if she is deported. As of Tuesday, Trujillo-Diaz was set to be deported in a few days from an ICE detention center in Louisiana.

In a statement, ICE said Trujillo-Diaz's case had undergone multiple reviews and various levels of the nation's legal system, which found she had no legal basis to remain in the US.
"In 2014, the Board of Immigration Appeals dismissed her legal appeals and she became subject to a final order of deportation," ICE said. "In an exercise of discretion, the agency has allowed Ms. Trujillo to remain free from custody with periodic reporting, while her immigration case was pending. She will remain in ICE custody pending removal from the US."
Trujillo-Diaz came to the US in 2002 after illegally crossing the border into Arizona. She's married and has four kids, one of whom has special needs. She first came into contact with ICE when she was arrested in a 2007 workplace raid at Koch Foods and placed in deportation proceedings.
She applied for asylum because she fears the same gang members who threatened her brother in Hidalgo, Mexico, will come after her and her children. She had never been threatened personally, according to court documents.
"They have people who are watching. They pay people to watch everything," Trujillo-Diaz told the court.
Trujillo-Diaz, who was denied asylum in 2012, had been under an ICE order of supervision and checking in with the agency since 2015. She filed paperwork this month to reopen her case and stop her pending deportation. Two days later, she was arrested outside her home while her children were inside and scheduled for deportation on April 11.
In recent court documents filed in an attempt to reopen her case, Trujillo-Diaz's lawyers said her father was kidnapped by the Knights Templar cartel in February and the family had to pay a ransom to get him released.
"We still feel she has a good claim for asylum and we're going to look into continuing to pursue that route," Brown said.
The arrest of the Fairfield, Ohio, mother led to vigils and rallies. According to the Cincinnati Enquirer, Sen. Sherrod Brown personally called ICE and asked them to reconsider the case. Ohio Gov. John Kasich also told the newspaper he didn't want Trujillo-Diaz deported, but the state does not have federal jurisdiction to intervene.
"People are finally starting to see the way that ICE arrests people and breaks up families," Brown said. "Trump says he wants to deport bad hombres, but these are the type of people he's actually deporting: Mothers of citizens who want to grow up with her."