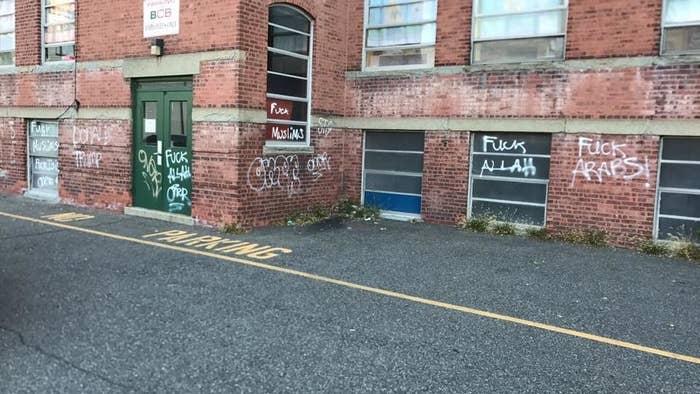 A building used by a New Jersey Muslim community as a place of worship was vandalized Friday with "Fuck Muslims" and "Donald Trump" graffiti.

Waheed Akbar, a board member and administrator for Bayonne Muslims, said they arrived at St. Henry's School​ at about 5:30 a.m. for morning prayer to find the building they've been renting for over eight years had been vandalized.

"It's ignorance and I was saddened by it," Akbar told BuzzFeed News.
The Bayonne Police Department did not immediately return calls for comment.
Muslims in Bayonne, New Jersey, have been trying to get an Islamic center and prayer hall of their own for nearly two decades. But the process was slowed down after they purchased an abandoned warehouse on a dead end street in 2015.
Plans for the mosque have been stalled by the local bureaucratic process and amid heated debates and community opposition.
Akbar believes Trump's xenophobic comments about Muslims not only spreads fear and misunderstanding about his community, but emboldens people to act on them.
"Somebody who is ignorant and doesn't understand the religion can take Trump's comments and do things that lead to this," Akbar said.
Hamza Khalid, a volunteer at the mosque, said a combination of pushback the Bayonne Muslim community has experienced for the new mosque and Trump's comments led to Friday's vandalism.
"It's hurts, I'm sad because I think of this as my community," Khalid said.
At the same time, Khalid said he's been impressed by the support the Muslim community has received from the community in recent months and after Friday's vandalism.
"It just shows how one person can have the power to influence a lot of people and bring out the bad in them," Khalid said. "At the same time, I've seen more compassion and support coming from the other side."