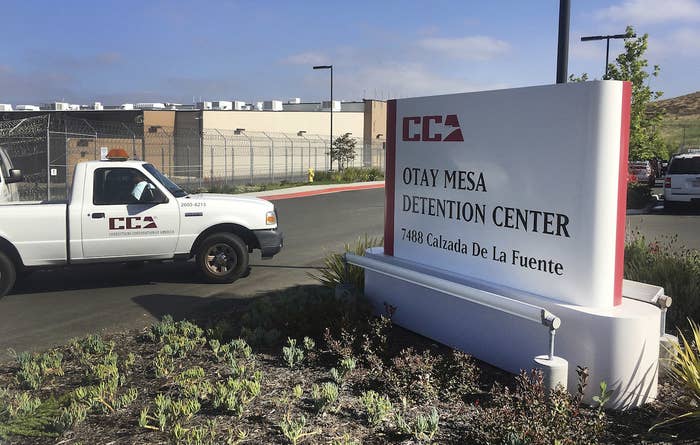 At least 20 women held at an immigrant detention center in San Diego fainted or vomited after a floor-stripping chemical overwhelmed a unit, forcing an evacuation Friday night.
The unit of 118 immigrants, including at least one woman who was pregnant and one who had a recent kidney transplant, were initially kept in their cells by guards at the Otay Mesa Detention Center despite complaints about fumes from the chemicals, said Luis Guerra, a legal representative with the United Farm Workers Foundation who visited the facility Saturday. The female detainees had been using the chemical for cleaning, he said.
"They only moved them out once the guards started coughing, even though the women had been telling them they couldn't breathe," Guerra told BuzzFeed News. "It never ceases to amaze me how irresponsible they act."
The facility is run by the private company CoreCivic, which runs prisons and detention centers. The company did not reply to a request for comment Saturday.
Lauren Mack, a spokeswoman with US Immigration and Customs Enforcement (ICE), said the agency's medical staff were onsite to ensure detainees received medical attention if needed.
"There were no serious medical issues resulting from the incident and all the detainees were returned to the unit," Mack said in a statement to BuzzFeed News.
Guerra said that only two nurses responded to the incident and that the detainees were told to drink water or given ibuprofen. Female detainees who asked to see a doctor were told they would have to wait until Monday.
"I don't know why CoreCivic would have someone who is not trained using such a strong chemical. Also, why were they having them clean at midnight?" Guerra said
The exact number of pregnant women in the group is unclear, Guerra said.
Detainees are paid only $1 a day by private contractors like CoreCivic to perform labor, like cleaning, at detention facilities, and Guerra said that sometimes the women complain they are not paid.
Mack, of ICE, said the immigrant women were evacuated to an outdoor recreation area as a precaution after a strong chemical odor was reported inside their residential unit.
"About an hour after being moved outside of fresh air, the detainees were moved back inside the facility due to cold weather," Mack said. "The residential unit was declared safe approximately two and a half hours after the odor was detected."
CoreCivic is investigating the chemical emergency and will provide a full report to ICE, Mack said. The findings and solution will be reviewed by the agency.