More than 100 college presidents across the US have signed a letter offering to meet with lawmakers and make the case for keeping an immigration program that has shielded young immigrants from deportation.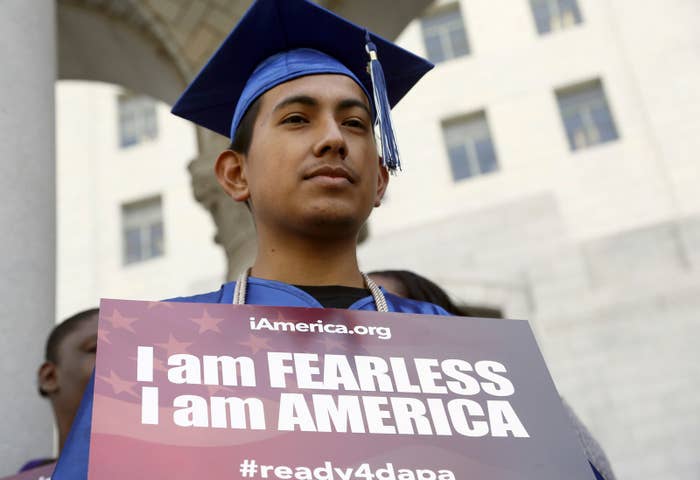 President Obama launched the Deferred Action for Childhood Arrivals (DACA) program in 2012 as an executive action, allowing nearly 750,000 immigrants to legally work in the US. But the program now faces an uncertain future, with President-elect Donald Trump vowing to do away with it on the campaign trail.

The president-elect has also said he will make it his priority to deport some "2-3 million" undocumented immigrants with criminal records.

"To our country's leaders, we say that DACA should be upheld, continued, and expanded. We are prepared to meet with you to present our case," the statement said. "This is both a moral imperative and a national necessity. America needs talent – and these students, who have been raised and educated in the United States, are already part of our national community."
The statement, launched by Pomona College President David Oxtoby, says universities have seen highly positive impacts and allowed their students to pursue opportunities in various fields. Institutions like Penn State, Cal State Fullerton, and UC San Diego have signed onto the statement.
William Perez, a professor at Claremont Graduate University who has studied immigrant students, said the statement is an important preemptive step for the upcoming administration, especially since it is likely to go after undocumented immigrants, he said.
Before DACA, undocumented students were going on to accomplish many of the goals they set for themselves, Perez said.
"But it was a very narrow band of individuals who were able to overcome every obstacle and challenge," Perez said. "DACA opened up that gateway to higher education in a much more significant way that before."
Last week, students at universities across the US walked out to demand that their campuses refuse to cooperate with federal officials seeking to deport.

Perez has seen in his research that many "DACAmented" people, a term DACA recipients use to describe themselves, are working in service-oriented jobs like teaching and social work.
"If DACA goes away that will severely impact our communities," Perez said.
The Center for American Progress found that the US would lose out on $433 billion in gross domestic product over a decade if DACA is ended.