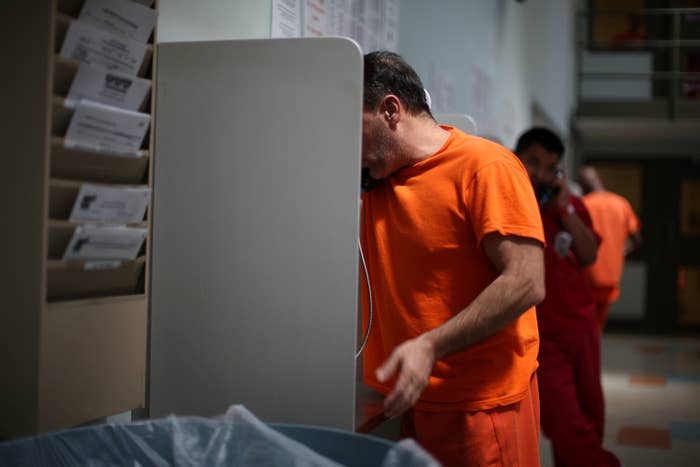 Immigration rights groups are accusing federal officials of issuing blanket bond denials to detainees as a way to send a clear message to others: the era of being allowed out while awaiting a deportation court hearing is over.
Maligned by critics for years as "catch-and-release," US Immigration and Customs Enforcement (ICE) has been clamping down on allowing detainees out while they await immigration court hearings, driving up the ranks of those in holding facilities, according to a letter sent to ICE Tuesday on behalf of more than 200 advocacy organizations.
They documented 805 cases at 37 immigration detention facilities of people they claim have been arbitrarily denied parole or bond since Jan. 20, said Christina Fialho, executive director of Community Initiatives for Visiting Immigrants in Confinement (CIVIC).
"The 805 cases we documented are people we believe would have been granted parole or bond by [the Department of Homeland Security] under the Obama Administration," Fialho said. "Many people who have been denied parole were given a cursory, at best, review of their case. Many received no explanation for the reasons why they were denied, even after attorneys tried to obtain more information from ICE."
Trump's executive order on immigration had a chilling effect on parole and bonds issued by ICE, Fialho said. A February DHS memo called for an end to "catch-and-release" policies, increasing detention, and narrowing the circumstances under which someone can be paroled.
The letter said ICE field offices have told attorneys that their asylum-seeking clients, who passed credible fear interviews, have been denied parole because they couldn't show humanitarian reasons or significant public benefit to being released.
Data analyzed by the Transactional Records Access Clearinghouse (TRAC) at Syracuse University found that while the number of immigration cases under Trump weren't much different compared to President Obama's, there has been a sharp increase in the number of people detained by ICE.
Under Obama, 27% of people with immigration cases were detained, compared to Trump's 61%. Many of them are held in detention facilities operated by private companies.
"What this means is that not only are more people being detained, but once they are detained, less people are being released," Fialho said.
Border Patrol Chief Ron Vitiello at a Senate hearing last week said ending the capture and release of undocumented immigrants while their court cases moved forward has been crucial to a drop in border apprehensions.
"The message is out, the executive order calls for the end of catch-and-release," Vitiello said. "Our agents know and people who elect to cross the border know that when they get apprehended, if they request a deportation hearing, they'll be held in custody until the hearing occurs."
That wait can easily extend beyond a year.
ICE did not immediately return a request for comment.
However, Jamila Hammami, executive director of the Queer Detainee Empowerment Project, said people were not being granted bonds or given bonds they couldn't afford even before Trump took office, but its been increasingly harder under the new administration.
"The ability of anyone, not just an immigrant, to obtain a $20,000-bond is just not attainable," Hammami said.