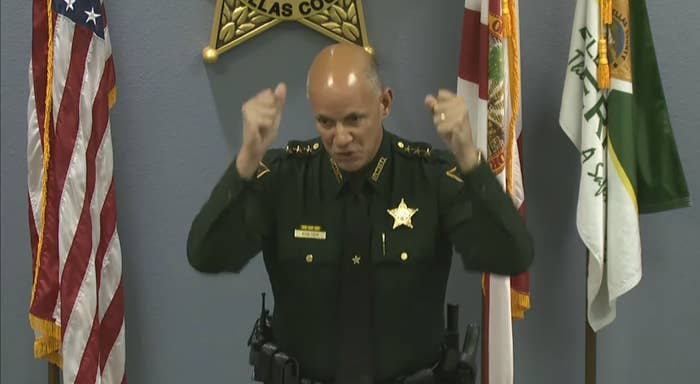 A 62-year-old Florida mother has been charged with aggravated manslaughter after authorities say her 6-year-old son beat his newborn sister to death alone inside their van as she got her cell phone fixed.
Pinellas County Sheriff Bob Gulatieri said the mother, Kathleen Marie Steele, was inside a cell phone repair shop in St. Petersburg on Monday and left three of her children in the van, the 13-day-old girl, her 6-year-old son, and a 3-year-old son.
At some point during the 38 minutes they were alone with the windows up, Gulatieri said, the baby began to cry and the 6-year-old took her out of her car seat and began to beat her.
The boy flipped the newborn, twisted her, slammed her on the ground and against the ceiling, causing "severe, severe" trauma to her head and face, Gulatieri said.
"It was one of the worst things I have ever seen," Gulatieri told reporters Thursday after Steele was arrested.
The baby's skull was so damaged it could be described as mush, he added.
The boy put the baby back in the car seat and when Steele returned to the van he told her the baby was "in distress," but she allegedly continued to drive to another business. It wasn't until they returned home that Steele realized what had happened, Gulatieri said.
However, instead of calling 911, Steele called a neighbor who realized the baby was dead and called 911.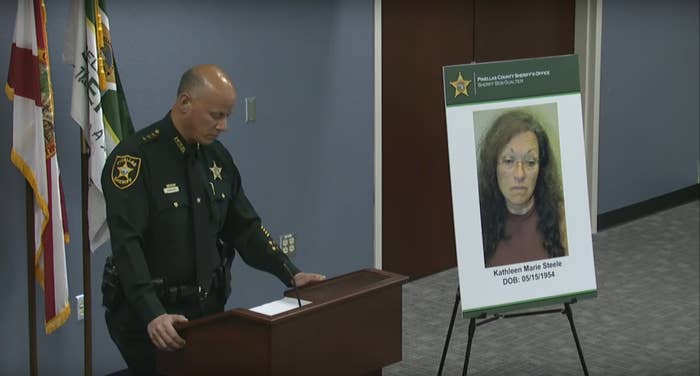 "By numerous witness accounts, Kathleen Steele was an inattentive parent," Gulatieri said, adding that the boys were largely unsupervised and had very serious behavior issues.
The 6-year-old admitted to the beating and even showed investigators how he did it with a doll, Gulatieri said. He will not be charged in the death.
"It's a very sad case, to say the least, but the accountability belongs with Kathleen Steele," Gualtieri said.
Steele's husband died of cancer in 2011 but she was artificially inseminated with his frozen sperm in order to have her 3-year-old son and newborn daughter, Gualtieri said.
Steele had appeared in a reality TV episode titled I'm Pregnant and 55 Years Old.