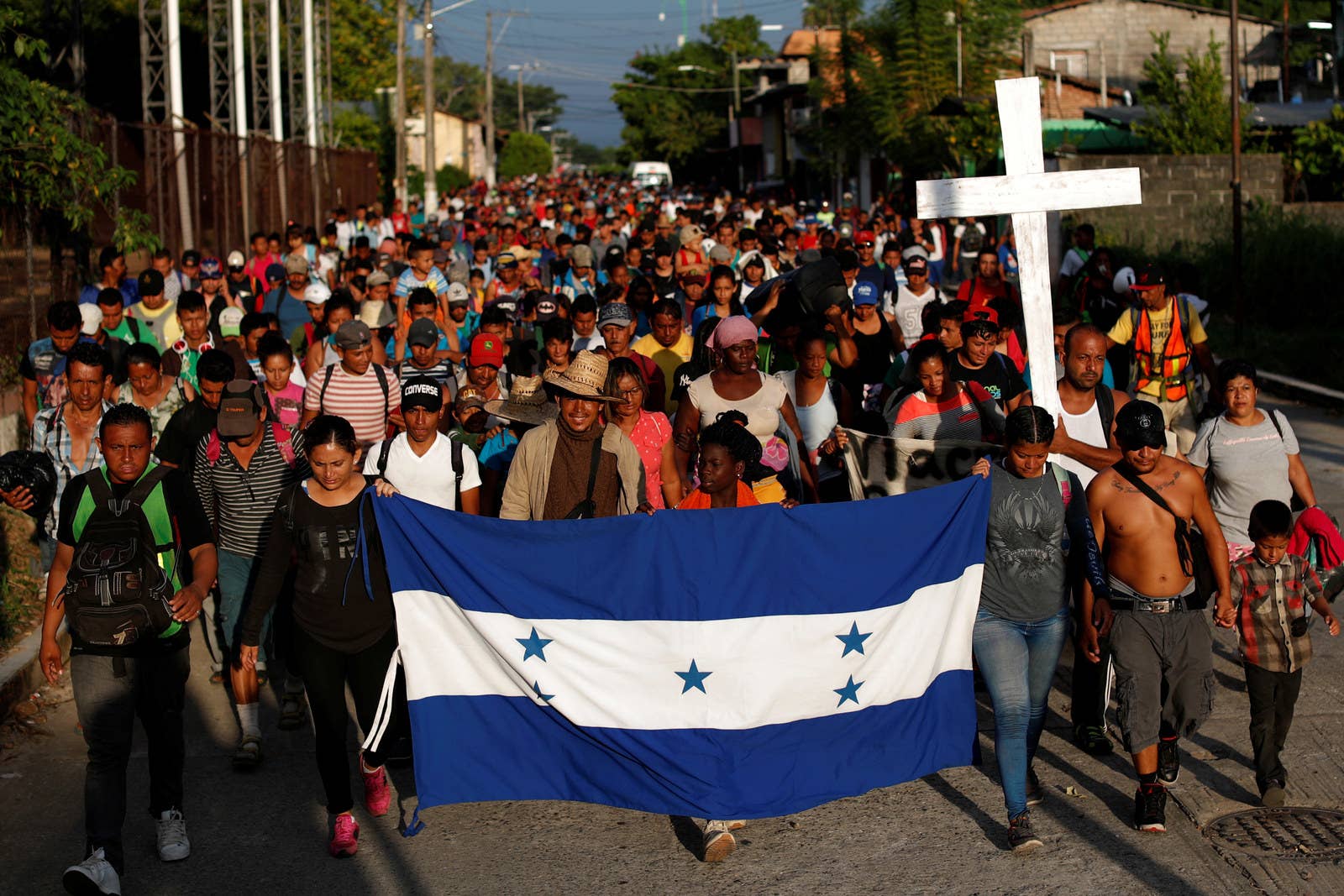 MATIAS ROMERO AVENDAÑO, Mexico — Santos threw both of his hands in the air, making a pushing motion to try to calm more than 100 people sweating in 80-degree heat along the side of a highway in Oaxaca as a bus pulled up offering a few spots that would spare the travelers who had been walking for hours from the sun.
Some 22 men, most in orange and yellow vests, had been tasked with bringing order to a chaotic situation, putting members of a migrant caravan into buses, trucks, and flatbeds that would get them to their next destination, some 45 kilometers, about 28 miles, away. Women with kids were put at the front of the line, followed by the men. Anxious people would walk into the highway blocking traffic and others would try to cut the line. It was Santos's job to keep order.
"Calmly! Calmly!" he yelled as people pushed toward the bus.
Moments later, a woman carrying two kids and a beat-up stroller ran up to him, asking Santos if he could put her and her six family members onto the back of a pickup truck that had just pulled up. She'd been pushing the disintegrating stroller for four and a half hours in sandals. The driver was only willing to take them a few kilometers up the road, not all the way to Matías Romero, the town where the caravan was setting up camp. Santos told her it would be better if they waited for a spot on a bus. She walked away frustrated. There's no control, Santos thought, and there's still a lot of territory to cover.
Santos, 41, had been here before. Seven months ago, he'd been a member of the security team for another migrant caravan that made its way from Tapachula, Mexico, on the border with Guatemala, eventually to Tijuana, on the border with the United States. At the time, he had a personal interest in aiding the exodus of people from Central America to the United States — he wanted to get there too.
This time, however, Santos had no reason to be in southern Mexico. After the spring caravan, he'd gotten a steady job installing windshields in Ensenada in Mexico's Baja California state. He'd never made it to the United States. The likelihood of being detained in an immigration jail there was high, and he was able to obtain a humanitarian visa to stay in Mexico.
But then he saw images of people being tear gassed by Mexican federal police and heard the threats President Donald Trump hurled at this new caravan trying to incite his base as the midterm elections in the US drew near, so when Irineo Mujica, the head of Pueblo Sin Fronteras, asked Santos and a group of others if they wanted to take a bus down to Oaxaca, he didn't feel like he had a choice.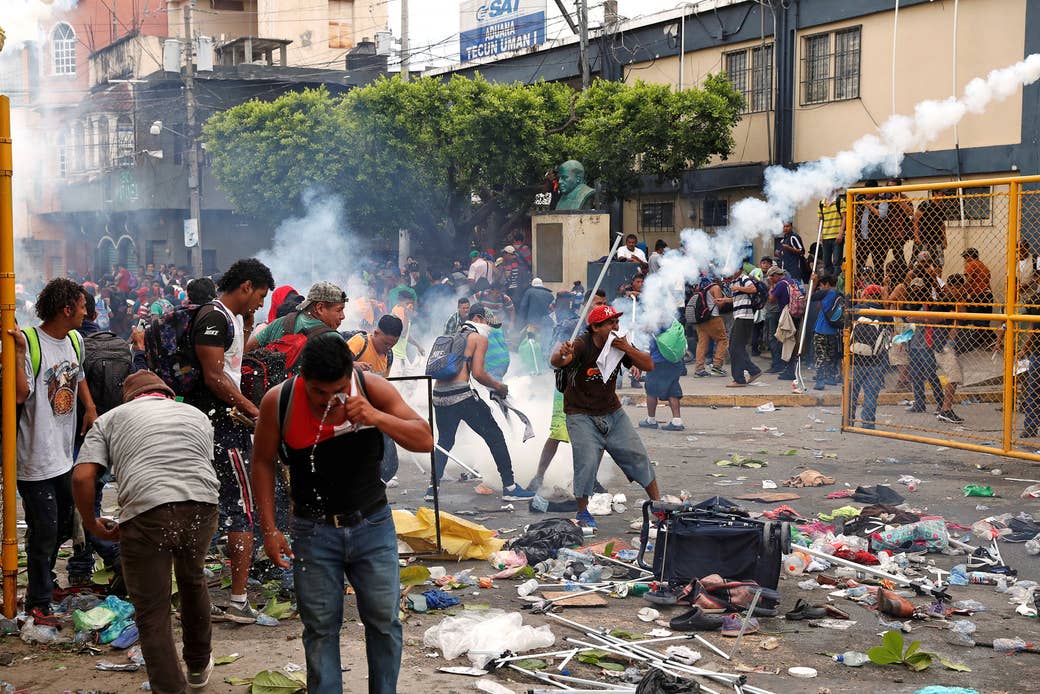 "I never thought I'd be back here again, but I have an obligation to help," Santos told BuzzFeed News. "I don't like seeing my people suffer."
Whether he realized it or not, Santos threw himself headfirst into the center of a heated election in the US and an unprecedented challenge for Mexico's government, which was under pressure from the Trump administration to disperse the caravan. Santos wasn't the only one; other people from previous caravans traveled to southern Mexico to help, and they were now part of a larger movement they couldn't cut ties with.
Santos, who asked that his surname not be published out of fear of losing his humanitarian visa, was part of a group of people from the last caravan who arrived Tuesday evening in Juchitán to help in whatever way they can. They're members of Pueblo Sin Fronteras, the NGO that organized the spring caravan. For the last few months, a group of them had been holding meetings above a Tijuana coffee shop to deal with issues facing the migrant community there, such as police harassment.
It was at one of these meetings that Mujica posed a question to Santos and others: Who was willing to go down and help this new group of their fellow compatriots? Almost all of their hands shot up in the air, and days later, Santos was on a bus with 12 other people.
Mujica, who had traveled to the border of Mexico and Guatemala, was detained at a march in the Mexican city of Ciudad Hidalgo in support of this caravan. Mujica was released but not allowed to leave the city, forcing him to stay behind as the caravan pushed forward.
The stakes seem higher this time. Before the caravan had even crossed into Mexico, Donald Trump had called for the countries of Central America's gang-ridden and economically depressed so-called Northern Triangle — El Salvador, Guatemala, and Honduras — to stop the caravan or have their US foreign aid cut off. A throng of reporters had been following the caravan since it left San Pedro Sula in Honduras, and the number of people was climbing by the day, at one point reaching 7,000. The spring caravan had had 1,500 people at most, and those numbers dropped the farther north it moved.
Caravans have been an annual rite, sometimes more than once a year, for a decade as a way to make a political point about the dangers migrants faced on their journeys through Mexico, but the spring caravan upped the ante and grew to then-unprecedented numbers as more people realized it was a way to avoid the dangers of the trek.
The group is now at about 5,300, with hundreds of women and children, and the logistics of moving that many people have been a difficult task without buses.
On Saturday, the group, which had separated and settled in the cities of Sayula and Acayucan in the state of Veracruz, continued much like it had since it started, on foot for the city of Isla. If they were lucky they could hitch a ride, but that could take hours as evident from the sores and blisters on people's feet.
At the entrance of Isla in front of a Pemex gas station, dozens of people were negotiating a ride with a truck driver pulling two trailers. The caravan had broken off into separate pieces, with one chunk heading toward Mexico City some 300 miles away. Santos stood on the side of the convenience store, the top half of his shirt drenched in sweat from the morning trek.
Asked how it was going, Santos looked around, shook his head, and laughed before walking off to meet up with his Pueblo Sin Fronteras colleagues.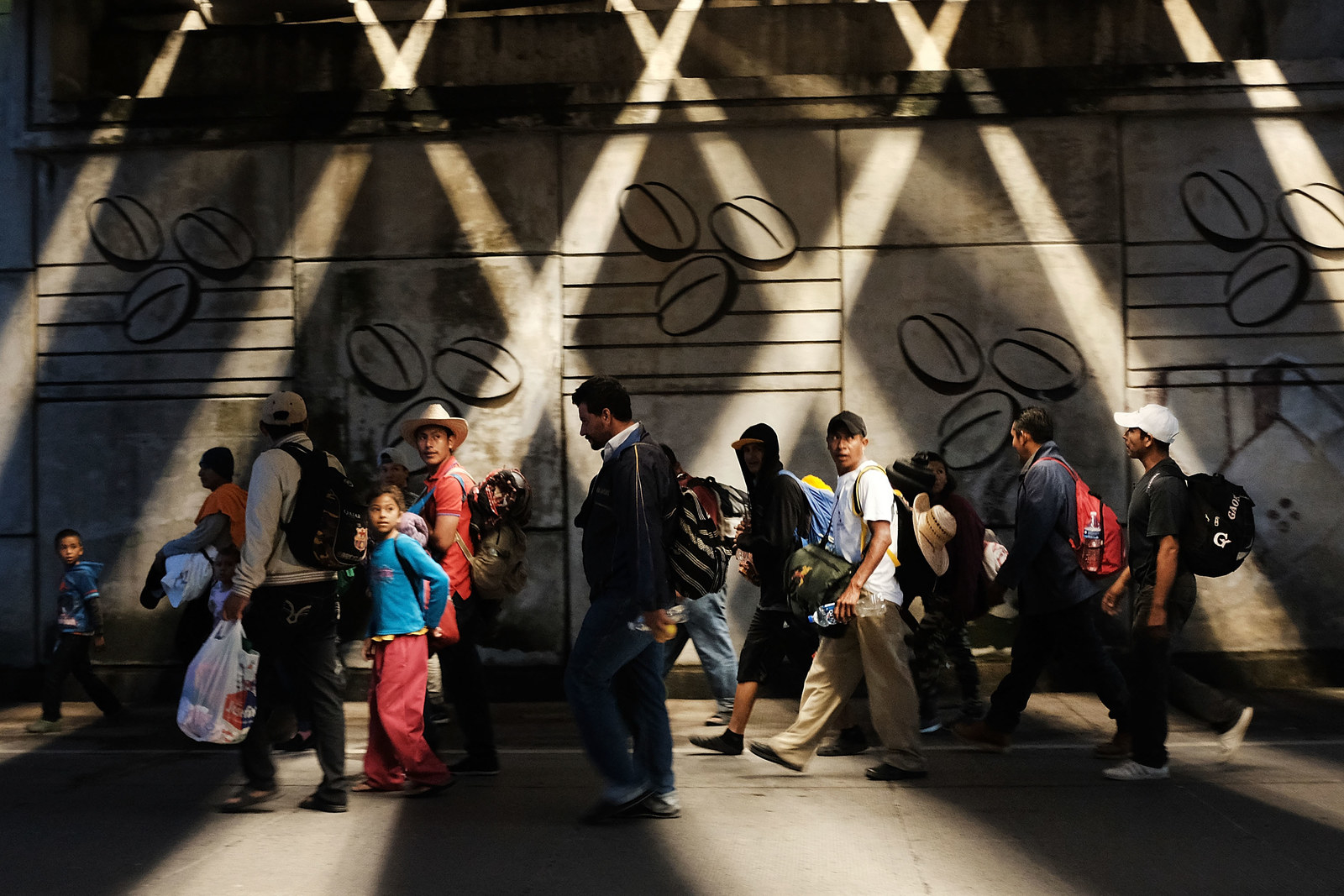 This is the first time that such a caravan was organized not in Mexico, but in Honduras, and no one has claimed responsibility for organizing it back home. Pueblo Sin Fronteras didn't start or organize the caravan, but since it entered Mexico, various members of the binational organization have been accompanying the group, offering their expertise. Even though the people in the caravan look to them for guidance, Pueblo Sin Fronteras maintains they're not organizers but companions of the Central American exodus.
Shortly after arriving at the caravan, Santos walked onto a small stage with other migrants from Central America who traveled by bus from Tijuana wearing Pueblo Sin Fronteras shirts. In front of Santos and his friends stood hundreds of migrants who were in the same shoes they were in months ago. Gina Garibo, a member of the organization who also had a key role in the spring caravan, presented the group to the crowd.
"They come in the best disposition to keep walking, collaborate, support, and contribute," Garibo said. "And fight, so that your demands are heard."
Ramon Torres, who'd traversed Mexico with the spring caravan, urged them on.
"I know it's hard, but I congratulate you on your decision to abandon your country to look for a better dream for you, your kids, and your family," he said.
The crowd cheered.
Santos, whose smile comes easily, is usually very quiet. He'll yell when he's telling someone to sit all the way down on the back of a flatbed or else risk being pulled over by Mexican federal police, who will sometimes stop vehicles giving people in the caravan rides over safety concerns.
But even when Santos yells, it doesn't sound like he's mad. Standing on the side of the highway between Juchitán and Matías Romero in red shorts, a black shirt, and Nike sneakers, Santos was trying to get the attention of a shirtless teenager who was dangling his legs over the side of the cargo truck's walls.
"Hey, guy! Guy! Yeah you! Hey, put your leg inside!" shouted Santos while the teen pretended not to hear him.
Eventually, the teenager swung his leg over and was inside the cargo truck.
Santos, who has four kids and a wife back in Honduras, left his home in the spring because the "rent" he paid the local gang for his family to be left alone — a practice that routinely empties the pockets of everyone from big business owners to impoverished bus drivers across the country, and which the government has failed to control — kept rising and left them with little money. The gang was charging him 3,000 Honduran lempiras, about $124 dollars, a week. He sometimes made as little as 5,000 lempiras a week fixing refrigerators, so the extortion payments left his family with very little.
Arriving at the caravan after it had begun made it difficult for newcomers like Santos to get people to do what he wanted. Who was this guy ordering them around? Santos knew people were underslept, thirsty, and desperate to rest at the next stop, but it was irritating to have them ignore his experience, especially with the younger men, who were harder to convince.
Francis de Jesus Suazo, a graying man from the Dominican Republic who was in the caravan, saw a frustrated Santos trying to get a group of men to line up.
"Guys, listen to him, he knows what he's doing," said De Jesus, clapping Santos on the back. "He's done this before."
Eventually order was established, and little by little, they had a steady flow of available seats on whatever vehicles would stop.
"It's hard, but being a part of an organization helping so many people makes me happy and gives me a lot of satisfaction," Santos said. "You feel part of a really big family."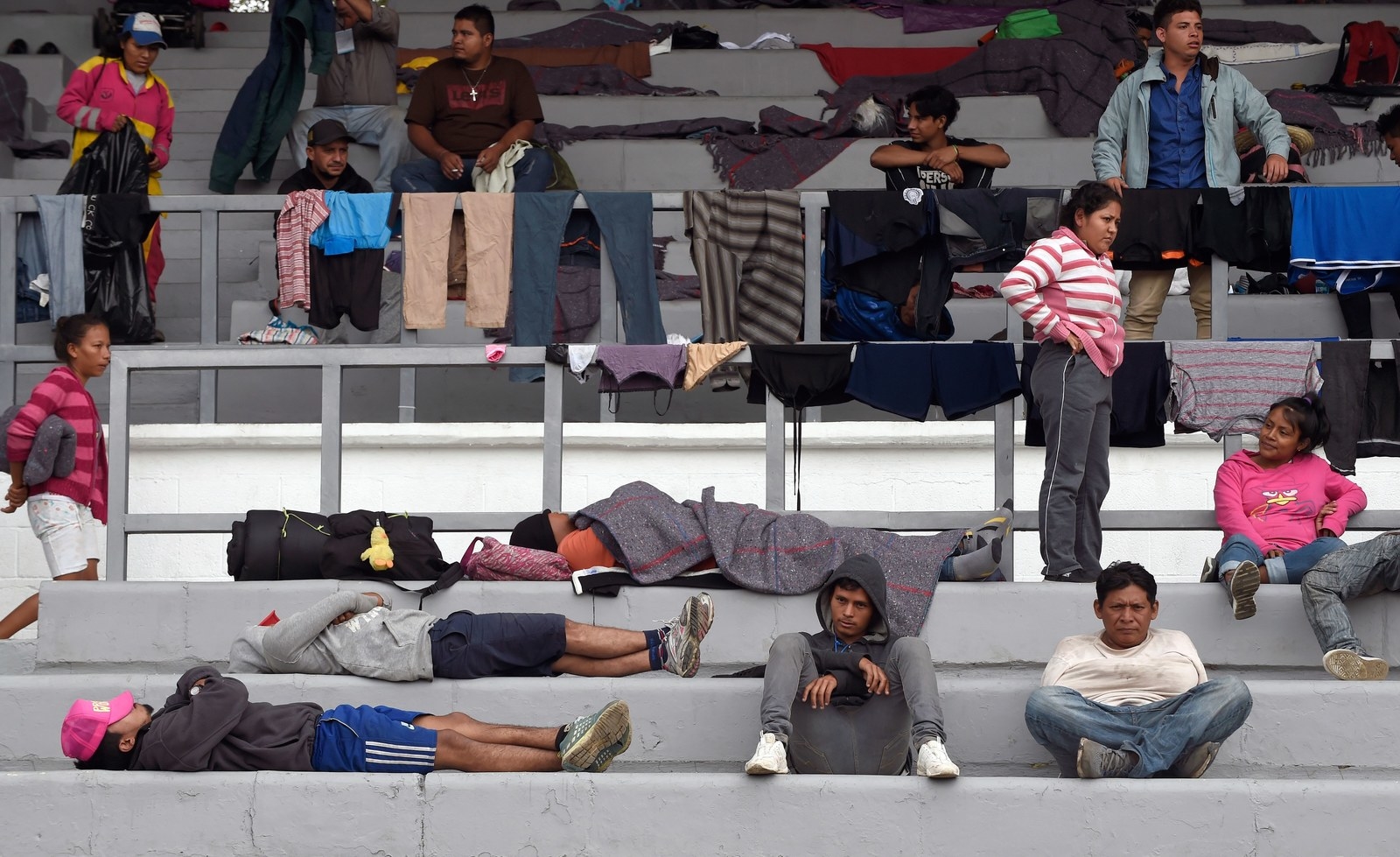 When it finally came time for Santos to get a ride to the city of Matías Romero after spending hours loading people onto buses and trucks, the back of the truck he rode on was caked in cow shit. He stood up on the back of the truck for an hour as it climbed a curvy and steep mountain road before arriving at the baseball field on the outskirts of town where the caravan would rest for the night.
"I thought I was going to rest on the way here, but I didn't want to sit on the shit," said Santos, laughing at his luck.
That night, Santos sat underneath a blanket tent pinned down with thin rope and sharpened branches used as stakes. Next to him was 22-year-old Jason Velasquez, his wife, Cindy, and their sleeping 3-year-old son, Jason Jr.
Velasquez recognized Santos from having grown up in the same neighborhood of San Antonio, Honduras. Velasquez wasn't sure Santos would recognize him, but he did and they told stories from their neighborhood.
Back home, Velasquez barely made enough money to pay for rent and food in between inconsistent jobs in construction and at a hardware store. As the time drew near to pay the rent on their apartment, the family would eat less, mostly beans and the occasional egg.
"I can barely afford to feed my family, we can't stay there," Velasquez told BuzzFeed News. "Our goal is to reach the US, even if they don't want us there. I have to do it for my family."
When Velasquez saw the caravan was leaving from Honduras, he figured it was the family's best shot at a stable future in the US or Mexico. Velasquez had heard that local municipalities had provided the spring caravan with buses and that the journey was considerably less dangerous in a large group than going it alone. Velasquez also heard that the Mexican federal government had given the spring caravaners transit documents that would allow them to travel freely through the country for a limited time. In some cases, Mexico had granted the caravaners humanitarian visas that allowed them to stay.
This trip was a lot harder than the spring caravan: Mexico closed its gates at the Guatemala border, authorities tear-gassed migrants, and people walked through the state of Chiapas under the constant deafening sound of federal police helicopters. In the spring, towns and cities were more likely to provide buses to keep the caravan moving, but those offers for the entire group didn't come this time in part because of the caravan's size and likely because of pressure from the Mexican federal government.
"I just hope the government helps us this time and doesn't try to trip us up along the way," Velasquez said.
Much like Velasquez, Santos had also hoped to make it to the United States in the spring, but he knew his chances of legalizing his status there were slim, so he successfully applied for a humanitarian visa in Mexico. Santos still holds onto the hope that one day he'll be able to live and work legally in the United States, even though at the moment he doesn't believe he has a good asylum case and doesn't think he'll be able to get a visa.
"Maybe it's God's will, maybe he's holding me back," Santos said. "He'll open my road when he wants, but in the meantime, I'll be here with open arms to help my people."