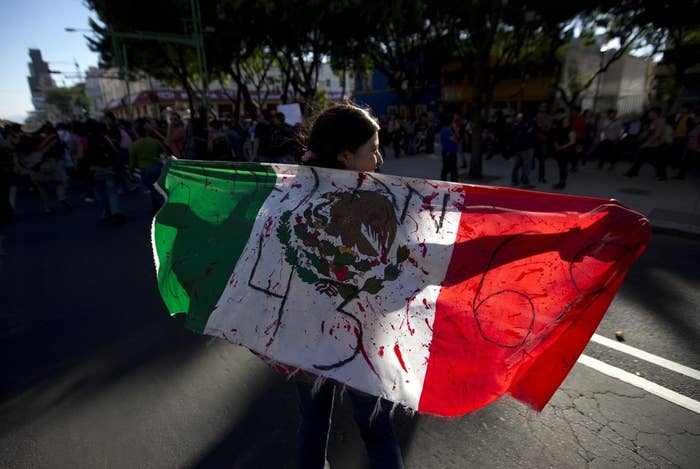 A new report dismisses the Mexican government's version of the events that ended in the deaths of six people and disappearance of 43 students in 2014, and accuses authorities of being directly involved.
The 608-page report commissioned by the Inter-American Commission on Human Rights was released Sunday and is the latest chapter in a saga that unfolded on Sept. 26, 2014.
The students from a rural college in Ayotzinapa in Guerrero State were on their way to Mexico City aboard buses they commandeered to participate in a demonstration marking the events of Oct. 2, 1968, when soldiers and police killed killed dozens of demonstrators.
Early on in the investigation, the students' families rejected the official account of what happened that day, believing the Mexican government played a direct role. The missing students have never been found.
Mexican authorities said the students were kidnapped and likely killed by members of a drug cartel after being corralled by local police on the order of Jose Luis Abarca, mayor of Iguala, Guerrero. Abarca allegedly had the students rounded up to prevent them from protesting a speech by his wife, Maria de los Angeles Pineda.
But researchers pushed back on that account, saying local, state, and federal authorities had been monitoring the students on the day they were attacked, hours before they arrived in Iguala.
By the time they arrived, it was nearly an hour after Pineda's event had ended, making it unlikely that they'd be attacked for trying to protest the speech.
Furthermore, researchers said local, state, and federal police participated in the attack against the students as they arrived in Iguala.
One of the men accused of attacking the students, Patricio "El Pato" Reyes Landa, said he was given electric shocks on the inside of his mouth and testicles, waterboarded, and beaten into confessing to the attacks by Mexican police.
"They threatened they would make me into pieces and throw me inside a bag," Landa said.
The report also accused the federal government of destroying a video tape from federal security cameras that captured the attack on the bus that the students were on.
The experts also said that when they asked to inspect one of the five buses involved in the attack, it was replaced with another similar-looking one.
The international team said the Mexican government was also slow to respond to their requests, delayed test results, and refused to open other lines of investigation.
"These can't be read as simple improvised obstacles," the report states. "These different situations show barriers that aren't occasional, but structural in the investigation."