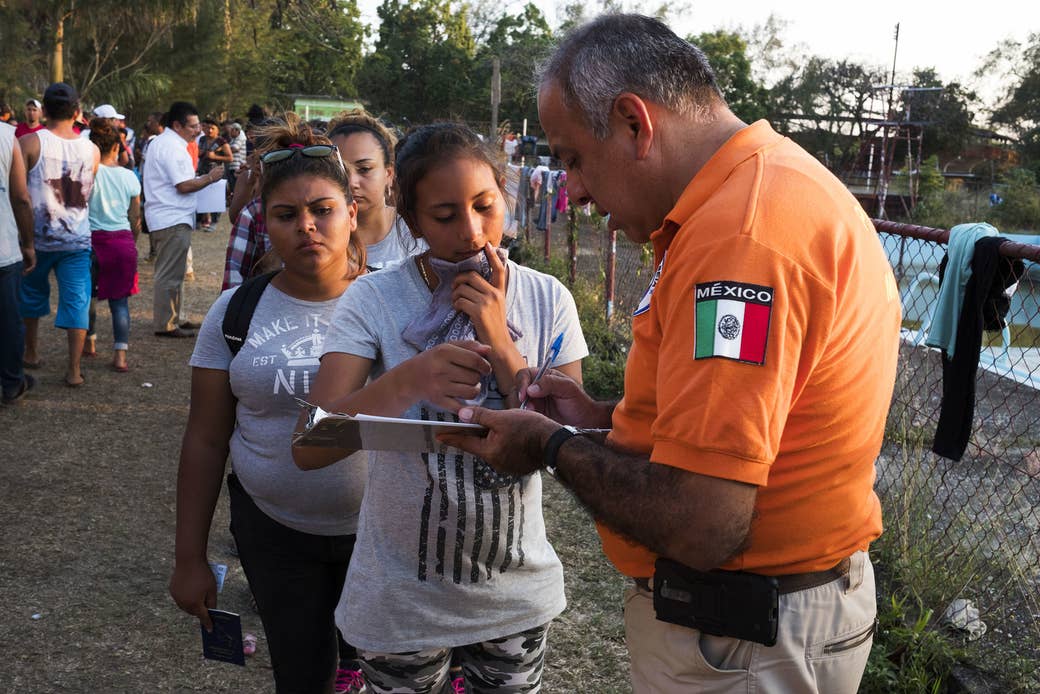 Mexico's National Institute of Immigration (INM) said late Monday that it plans by Wednesday to disband a caravan of hundreds of Central American migrants that has been traveling through Mexico for nine days.

Caravan organizers said, however, they expect at least some of the migrants to continue north to the US border. They estimate that most of them will seek asylum or some type of protection in Mexico or the US.
"At the end of the day these people have the right to ask for asylum," said Gina Garibo, one of the organizers for Pueblos Sin Fronteras, the volunteer group that organized the caravan.
She denied the caravan was over. "We have to follow through with our promise" to help people gain asylum in the United States or Mexico, she said. Migrants would continue moving but in smaller groups than the caravan.
Another organizer, Alex Mensing, called the Mexican action a victory for the caravan, saying organizers had successfully persuaded the Mexican government to allow caravan members to apply for asylum in the United States and Mexico.
"Don't be fooled, the government isn't 'disbanding' it, it's conceding its participants' right to apply for asylum without traveling in the shadows," he said.

Still, hundreds of the migrants are expected to accept Mexico's offer to allow the most vulnerable among them to stay. A federal delegate with INM who gave only his last name, Rodríguez, told BuzzFeed News that humanitarian visas would go to vulnerable groups such as pregnant women, people with disabilities, or people with chronic illnesses like HIV.
Everyone else will have to petition the Mexican government to stay in the country or they will be ordered to leave, he said.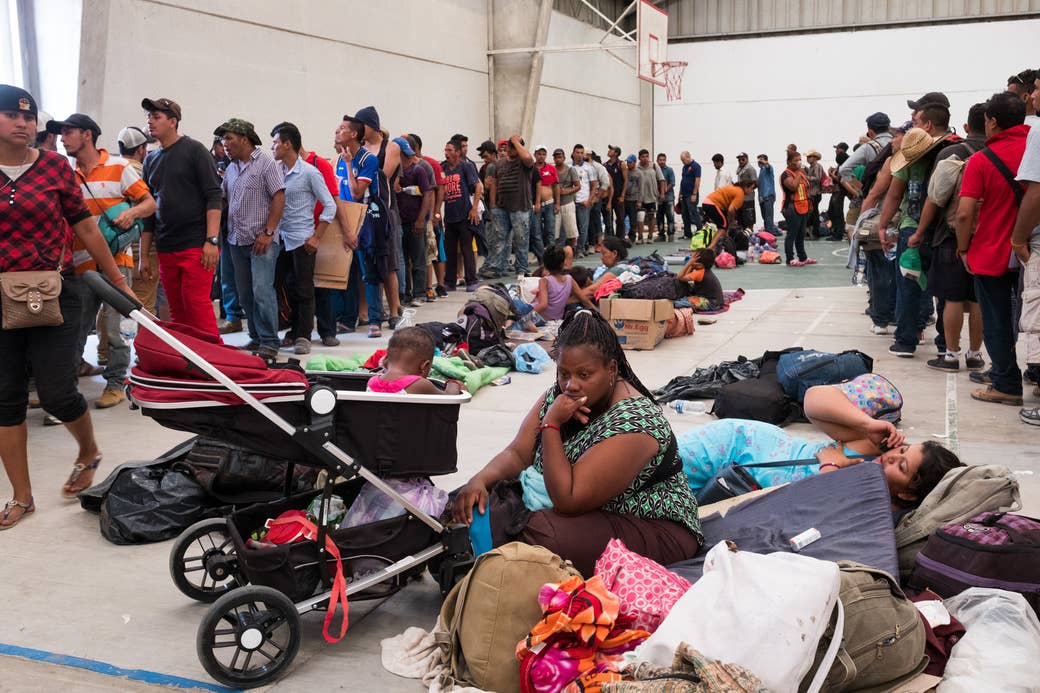 Rodríguez said people who don't receive a humanitarian visa will be expected to leave Mexico within 10 days or apply for permission to remain in the country for 30 days, during which they can file with immigration authorities to remain longer.

Permission to stay does not allow the migrants to travel to the US border, he said, though they will be allowed to move around Mexico freely.
Rodríguez said the caravan on Monday numbered about 1,100 and that the estimate its organizers had given of 1,200 for its initial size was low. He said he believed at the group's largest, 1,500 people were traveling north.
Irineo Mujica, director of Pueblo Sin Fronteras, said he expects about one-third of the migrants, if not more, will choose to stay in Mexico.
"I hope a large majority decide to stay in Mexico now that we've seen the reaction from hate groups in the United States," Mujica told BuzzFeed News.
Members of the caravan will continue to the state of Puebla for migrant rights workshops and then Mexico City, Mujica said.

Many of those said they would continue on with the caravan as long is it held together.
Sonia, a grandmother from El Salvador traveling with her two grandchildren, said she is going to ask permission from the Mexican government to stay in the country and travel to the US to seek asylum.
"For me to return to my country would be to put my kids at risk," Sonia, who declined to give her full name, told BuzzFeed News.

Sonia, who used to run a bakery in El Salvador until she was extorted for money, said the situation back home is unbearable and that she had no other choice but to leave her country looking for safety.
In addition to her having to shut down her business because she couldn't afford to pay gang extortion, the father of one of her grandchildren was killed because he would not extort her and her daughter was gang raped because she couldn't come up with $7,000 in ransom.

For years, Sonia said, she moved around the county trying to escape the gangs. She decided to leave El Salvador when a gang tried to recruit her 12-year-old grandson to be a lookout.
"You can't escape them," Sonia said, tearing up. "There is no hope left in my country."
Jaqueline, a Honduran migrant who declined to give her last name, said she would continue with the caravan for as long as it lasted.
"Until the end — I left with these people and I'm not abandoning them," Jaqueline told BuzzFeed News.
Jose, a Honduran migrant who was huddled with a group of three other men, said he doesn't think the caravan will continue but he's not discouraged.
"I left with them from Tapachula and I'm going with them until it goes. If it ends here then it ends here."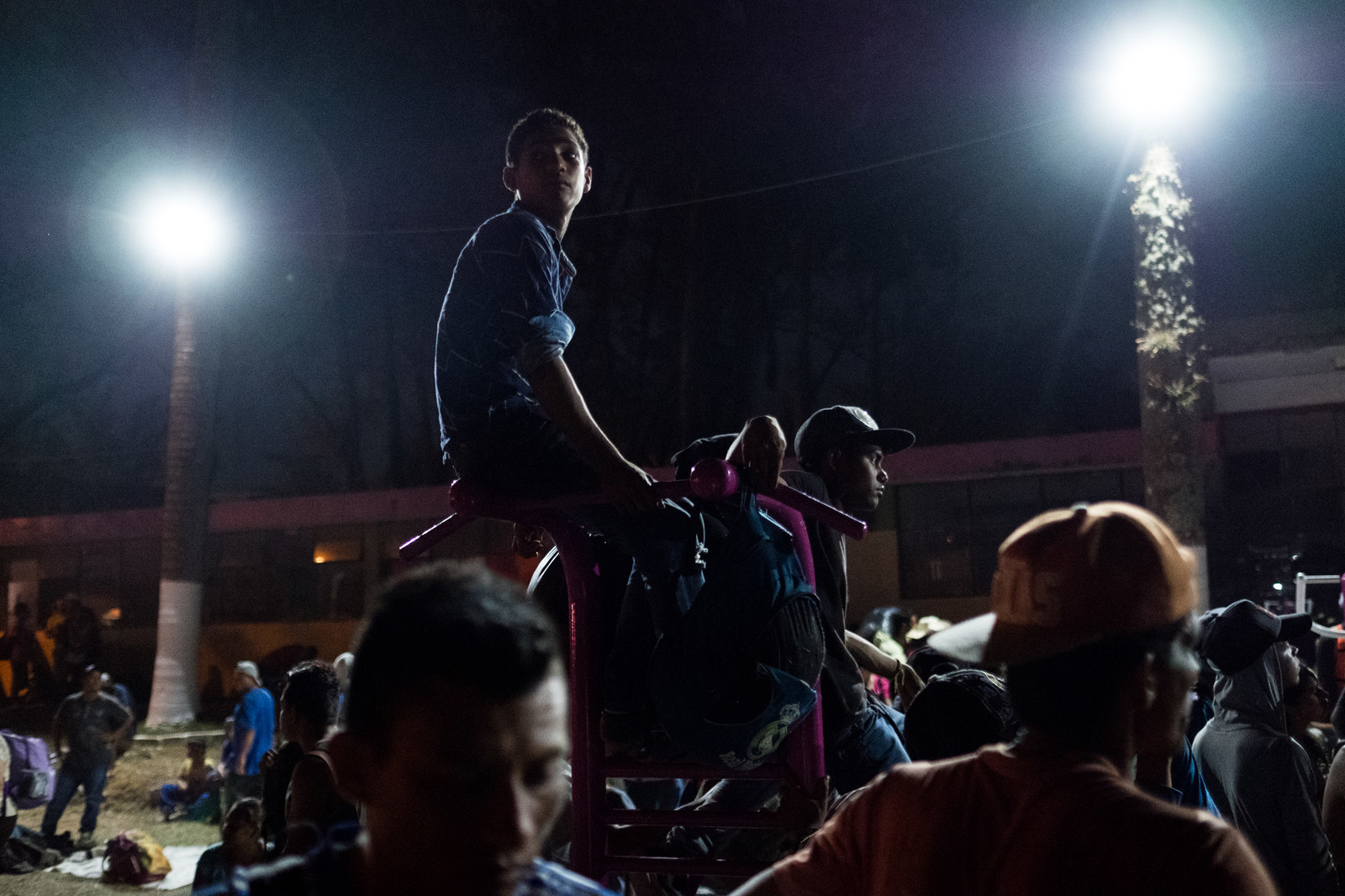 The Mexican Secretariat of the Interior (SEGOB) said it had already deported 400 migrants who were a part of the caravan.
"Under no circumstances will the government of Mexico promote irregular migration," SEGOB said in a statement.

Mexico has been detaining and deporting thousands of migrants for years.
According to a recent report, in January and February Mexican immigration authorities deported 16,278 people.
At the same time US Customs and Border Protection has reported the lowest number of arrests of migrants at the border, an indication that border crossings are down.
Pueblos Sin Fronteras in a statement said the unprecedented number of Central Americans who are part of the caravan, in particular from Honduras, is due in large part to US policies. About 80% of the entire caravan are migrants from Honduras.
"The US support for the Honduran military coup in 2009 and the electoral coup of November 2017 have intensified military and political repression, insecurity, and physical and economic violence," the group said. "Hundreds of Hondurans have fled their homes and joined the refugee caravan in order to seek refuge in Mexico or the US."
A report by the United Nations Human Rights Office said 22 civilians and one police officer were killed in the protests that followed the swearing in of Honduran President Juan Orlando Hernández after a highly contested election last year.
Additionally the report said people were being arbitrarily detained by Honduran authorities.
The organization said the caravan was a necessary mechanism to help thousands of Central Americans fleeing violence, poverty, and oppression travel through Mexico safely. In addition to hiding from immigration authorities, migrants have to worry about being attacked or extorted by gangs and cartels.