Mexican Girl Dragged Away Screaming To U.S. Reunited With Family After Mistaken Identity
A 14-year-old Mexican girl who was forcibly taken to the U.S. with a woman believed to be her mother was reunited with her parents Wednesday.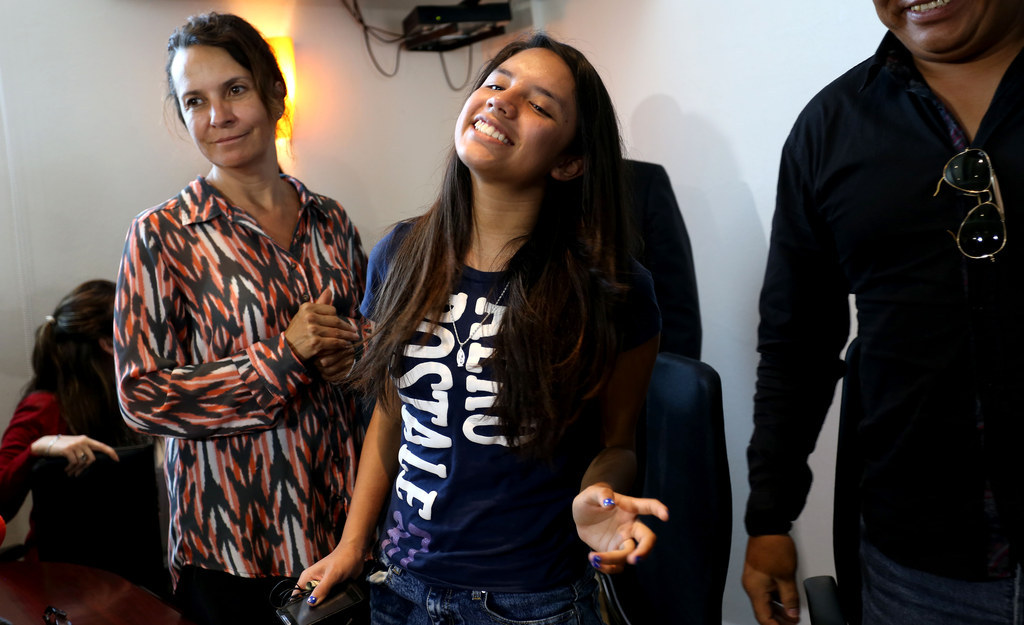 A 14-year-old Mexican girl who was sent kicking and screaming to the United States by authorities was returned home Wednesday after DNA results confirmed she was not the missing daughter of a Texas woman.
A DNA test performed Monday confirmed Alondra Luna Nuñez was not the daughter of Dorotea García, according to a statement from the Mexican foreign ministry.
The incident garnered international attention after video of a screaming Alondra Luna Nuñez being dragged from her middle school in Guanajuato, Mexico, on April 16 into a vehicle by law enforcement was circulated widely online.
The teenager could be heard screaming "I am not your daughter" and "You're going to pay" to a woman believed to be Garcia, who was sitting in the SUV. At one point Nuñez is seen pulling the woman's hair and had to be pulled off by police.
Mexican officials said Garcia traveled to the state of Guanajuato in March and had identified Luna as her daughter who had been illegally taken to Mexico eight years ago. She reported her findings to U.S. authorities.
The judge overseeing the case enlisted the aid of Interpol in order to bring the girl to court and later take her to the United States, said the Mexican foreign ministry.
During the April 17 hearing Judge Cinthia Elodia Mercado ruled in favor of Garcia and ordered Luna into her custody.
The Associated Press reported that Luna's parents didn't present proper documents. Her parents and Garcia had each presented birth certificates and testified during the hearing.
Upon her Wednesday return to Mexico, Luna said the judge turned down her request for a DNA test. Judge Elodia said it wasn't within her duties to order a DNA test.
"We as judges are only responsible to resolve the case with respect to recovering the minor," Judge Elodia told the Associated Press. "We don't do investigations or make inquiries."
In a radio interview with Grupo Imagen Multimedia, Nuñez's father, Gustavo Luna, said the only thing his daughter and the missing girl shared was the name Alondra. He said he met Garcia's ex-husband, who is believed to have illegally brought her missing daughter to Mexico years ago, in Houston.
After arriving in the U.S., Luna posted a video on YouTube assuring her parents that she was in good condition.
"Don't worry, I'm fine, we're going to do a DNA test," Luna said in Spanish. "If it's negative you know what's going to happen, I'm going to return with you. I'll see you soon."
The DNA test, ordered by the Mexican Consulate in Houston, confirmed that Luna was not Garcia's daughter.
According to the National Center for Missing and Exploited Children, the still missing Alondra Diaz-Garcia was allegedly taken on June 1, 2007, by her father, Reynaldo Diaz, who has a felony warrant issued against him. The missing girl has a scar between her eyebrows, the center said.