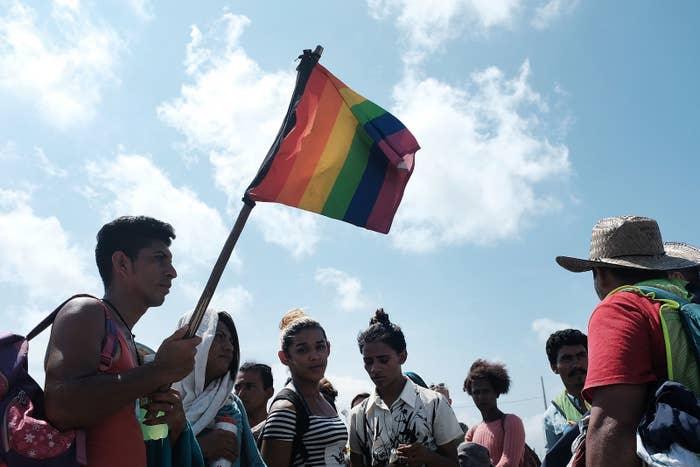 TIJUANA — Attorneys for transgender members of the caravan are rushing to find people willing to house them in the United States while their asylum cases play out in court, in hopes that the would-be immigrants won't have to wait for months in detention for their cases to be decided.
A quick release from detention for transgender members of the caravan — who, of all the caravan members, likely have the best chance of meeting US standards for asylum — depends on their having a sponsor: someone willing to house and support them financially after they're released.
It's turning out to be a difficult task, according to Allegra Love, an attorney and executive director of the Santa Fe Dreamers Project, which is taking on the transgender women's cases, which Love said described as a "slam-dunk."
"They have great asylum cases, and there's no need for them to be detained," Love told BuzzFeed News. But finding sponsors so they can be released is difficult. "You really are asking a lot of someone," Love said. "You're dealing with a group of people who need a lot of support and care. ... It's not like adopting a kitten — you're taking an actual human being with individual needs."

There were 22 transgender women in the spring caravan and all but one — a woman who died after being in Immigration and Customs Enforcement (ICE) custody — were released to a sponsor, Love said.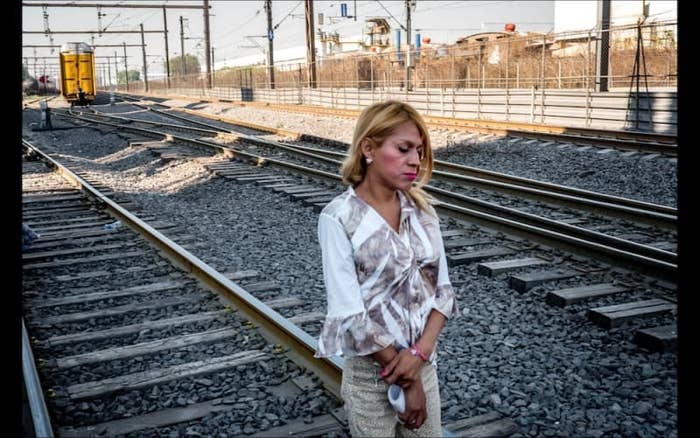 The need to get the transgender people out of detention quickly is even more urgent in light of new information released about the death of Roxsana Hernández Rodriguez, the trans woman who traveled with the spring caravan and died in ICE custody after turning herself in for asylum, Love said. An independent autopsy released this week found that Hernández appeared to have been physically abused before she died due to complications from HIV.
The Daily Beast, which was the first to report on the results, said that the autopsy found Hernández had bruises on her hands and abdomen, evidence of blunt-force trauma "indicative of blows, and/or kicks, and possible strikes with a blunt object."

Hernández, 33, died at a hospital in Albuquerque after being held at the Cibola County Correctional Center, a federal prison facility in Milan, New Mexico, that CoreCivic, one of the largest private prison companies in the US, operates under contracts with ICE. The transgender women in this caravan will all likely be sent there because the facility has a dedicated trans pod.
Inadequate medical care, poor mental health services, and the liberal use of solitary confinement as punishment are common complaints that Love said she hears from recently released immigrants.
Elaina Vermeulen, a transgender detention release specialist for the Santa Fe Dreamers Project, said there are 50 to 60 transgender women in need of sponsors in the current caravan. There are another 100 lesbian, gay, and bisexual people who need US sponsors to take them in. At the moment, they're waiting on the Mexican side of the border for their chance to ask the US for asylum, a slow process that can take weeks in areas like Tijuana where the list of would-be refugees is hundreds long.
They're looking for sponsors who are legal permanent residents or US citizens with a steady source of income and no criminal record. They're also looking for people with "LGBTQ+ competencies" and an awareness of "trauma-informed care." Out of about 80 people in the LGBT group that legal assistants and advocates on the ground have interviewed, just 15 have sponsors.
Some have family members and friends willing to take them in, but a majority of those would-be sponsors are not in the United States legally, and ICE is hesitant to release asylum-seekers to them, Vermeulen said.
"I've worked in Cibola County Correctional Center and have seen firsthand the conditions and the way women are treated as part of a punitive immigration detention system," Vermeulen told BuzzFeed News. "That is not necessarily a safe environment to be sending transgender women to. ... If they don't have a sponsor, they'll have to fight their case in detention."
A sponsor has to submit proof that they're a citizen or legal permanent resident, a copy of a state-issued ID, and proof of income. In addition to providing a "safe and stable home" during someone's immigration proceedings, a sponsor will also be responsible for going to ICE check-ins and appointments, coordinating transportation, helping to secure legal representation, if necessary, and helping the asylum-seeker access health care.
The Santa Fe Dreamers Project is also looking for sponsors who have working knowledge about the LGBT community and a general understanding of trauma and how to support traumatized people.

Vixie, a transgender woman who was recently released from ICE custody in the US, said she was denied her HIV medication for 22 days in detention, leaving her weak and depressed.
That was in addition to being talked down to, said Vixie, a Salvadoran who declined to use her full name because of her pending immigration case. Now released, she hopes her LGBT compatriots who are part of the caravan and plan on turning themselves in to US border agents won't have to live through the same experience.

"Being the brave women that we are, we risk our lives to get to the United States but there's still a long road ahead of us once we turn ourselves in for asylum," Vixie told BuzzFeed News. "You're treated like a criminal in detention, as if we had committed a crime."