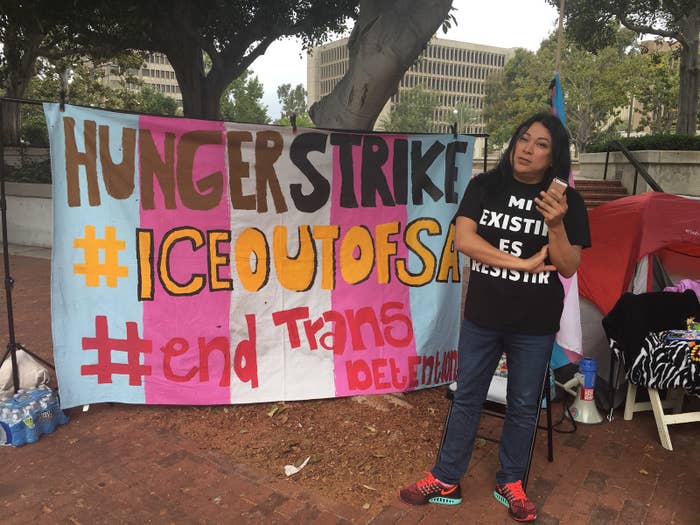 The only U.S. immigrant center dedicated to gay and transgender detainees will close in four years unless federal officials can find an alternative.

The clock started ticking on Tuesday after officials in Santa Ana, California, voted to terminate their contract with U.S. Immigration and Customs Enforcement (ICE), which pays the city to use its jail facility, in 2020.
The jail is the only facility ICE has that sets aside sections for gay and trans detainees, and houses a large portion of all trans women in immigration detention. The two units has been touted as a humane way to house vulnerable detainees. Immigrant rights groups, however, say trans detainees continue to face abuse, and would rather see them not held in detention at all.
"That's four years during which people will still be coming here, especially trans women who will be mistreated," said Jennicet Gutiérrez, a transgender woman who last year interrupted President Obama at the White House to urge him to release trans detainees from detention.
A Fusion investigation found that about 1 out of 500 people in detention are transgender, but according to the Government Accountability Office, they accounted for 1 in every 5 victims of sexual abuse in 2013.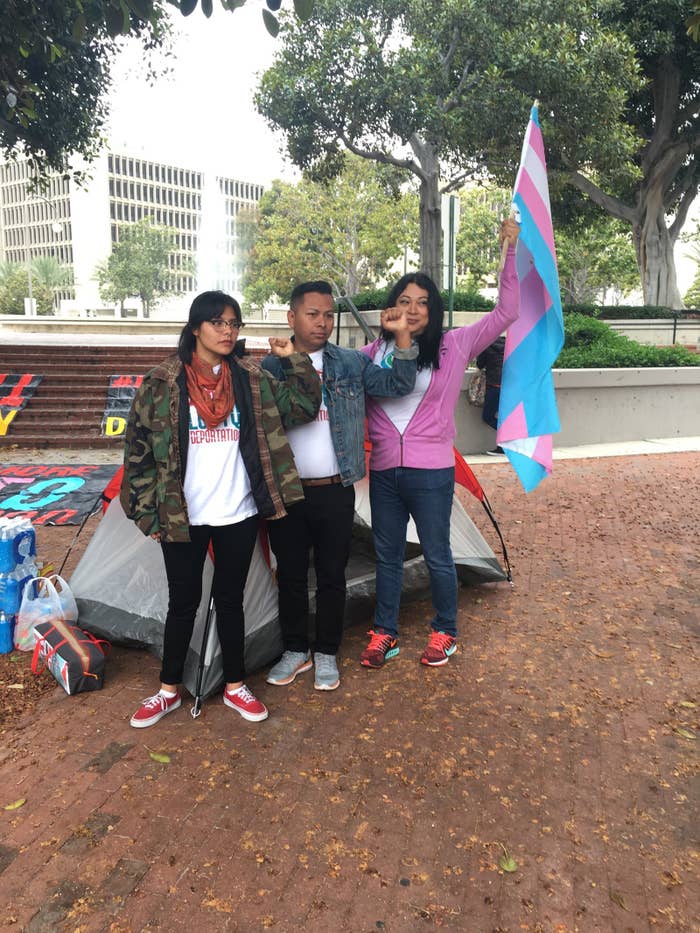 Trans women at the Santa Ana facility are also regularly subjected to humiliating and abusive strip searches, have not been able to access medical services, and are frequently placed in solitary confinement, according to a report by Human Rights Watch in March.

ICE has been housing trans detainees at the Santa Ana unit since 2011. Currently, there are 28 people in the transgender residence pod at the jail, and 187 total ICE detainees. The agency doesn't have a dedicated unit for lesbians.

But if Santa Ana city council members thought their decision would end a years-long, highly contested fight between the city, anti-undocumented immigrant groups, and advocacy organizations, they were wrong.

Gutiérrez, who was on a hunger strike that ended Thursday after four days, told BuzzFeed News she'll continue to pressure city officials to stop detaining immigrants, particularly trans detainees who are more likely to face abuse in detention. Those in favor of detention, meanwhile, have pledged to keep trying to convince Santa Ana to enter into a new ICE contract.
In a statement, ICE said it was committed to ensuring the safety and welfare of detainees, including transgender migrants, and was trying to find an alternate site before the Santa Ana contract lapses.
ICE is actively seeking partners and is coordinating with various facilities around the country which are willing to adopt the ICE Transgender Care Memo and willing to open specialized units to house transgender individuals.

ICE values its longstanding relationship with the City of Santa Ana and looks forward to continuing to work with community leaders and jail officials to provide a secure and respectful environment for immigration detainees housed in the city's jail.
In making their decision, Santa Ana officials said they still need to find a way to pay off the $24.3 million they still owe on the jail without the daily fee they charge ICE to hold immigrants.
There is also "a very real fear" that if the facility is shuttered, transgender detainees will be sent to other jails in remote areas that aren't sensitive to gay, bisexual, and trans immigrants, said Roberto Herrera, an organizer with De Colores Queer Orange County.
But the end goal is to get ICE to stop locking up transgender detainees, altogether, Herrera added.
First, he said, advocates need to convince cities like Santa Ana not to hold immigrants for ICE, and then work their way up from there.
"Disrupting ICE keeps them on their toes, it keeps them from getting more time to plan it out and get a favorable outcome, such as developing this program elsewhere," Herrera told BuzzFeed News. "What we're doing here locally will set precedent nationally."
Herrera said he was emboldened by comments Attorney General Loretta Lynch made at a news conference on North Carolina's HB2 bill last week, in which she assured the transgender community that the Obama Administration "wants you to know that we see you; we stand with you; and we will do everything we can to protect you going forward."

Dave Garcia, director of policy at the Los Angeles LGBT Center, said LGBT detainees should be released and should be handled like parolees while their cases make their way through the court systems because detention centers lack the cultural competency to house them.
"I would like to see all LGBT detainees released frankly and across the entire country," Garcia told BuzzFeed News. "There's no reason why these individuals, many of which have legal asylum cases, need to be detained while their cases are being heard."
The practice of local officials working with ICE has been a point of contention for immigrant rights groups for years, especially in Santa Ana, where 78% of residents are Latino and part of large immigrant population.

Last month, California Senator Ricardo Lara introduced a bill that would prohibit cities and counties from "being complicit" in allowing private companies to operate immigration detention facilities in the state.
Robin Hvidston, a coordinator for the Remembrance Project, which advocates for families whose loved ones were killed by undocumented immigrants, said she was happy with the decision to not immediately close the facility. Keeping it open is a matter of public safety because it keeps undocumented immigrants who broke the law in custody, she said.
"2020 is four years away, in the meantime they can renew it or start a new program" Hvidston said.
Raul Rodriguez, another coordinator for the group, said they would continue to pressure Santa Ana and try to convince them to hold undocumented immigrants for ICE. He pointed to the shooting of Kate Steinle, who was allegedly shot dead by an undocumented immigrant after being released by local police as an example of what can happen if otherwise.
After touring the facility where transgender detainees are held, Rodriguez said it was clean and there appeared to be mutual respect between guards and detainees.
Asked about concerns for the safety of trans detainees, Rodriguez said "it's a choice they make."
"They're not born that way so they're the ones that have to live with it," he said.
Meanwhile, the city of Santa Ana will look into possible alternatives to detention programs, a move welcomed by immigrant groups. The city council also asked the officials to join the "transgender care and classification committee" program, which would take trans detainees' needs and preference into account when deciding where to hold them, a decision supported by ICE.
UPDATE
Jennicet Gutiérrez and the other protestors ended the hunger strike early after four days on Thursday. At the time of their interview they had planned to be on the hunger strike until Friday.