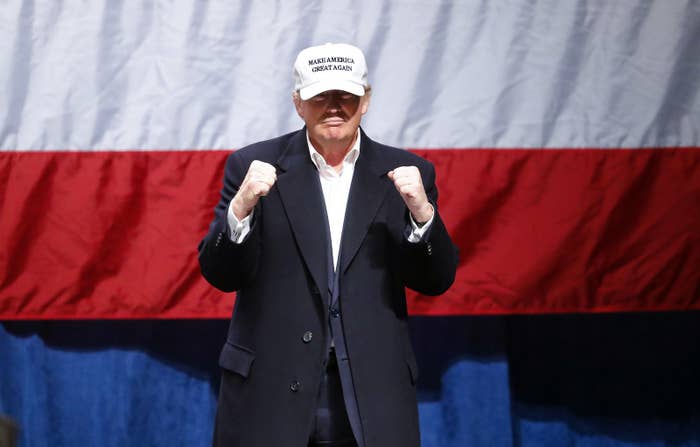 PHOENIX — Silvia Salguero wasn't surprised when her 13-year-old son told her that a day after Donald Trump won the election, another student shook his hand and said, "You're going back to Mexico."

"I got upset even though I knew it was going to happen," Salguero told BuzzFeed News.
Salguero, a Mexican immigrant who lives in Park City, Utah, offered to talk to someone at the school about the incident. Her son told her not to go because there's a police officer at the school and he didn't want her to be deported.
"I burst into tears," Salguero said. "I really couldn't stop crying and as tears were falling down my face I told him that everything will be all right."
Salguero has protection from deportation and a work permit under President Obama's executive actions on immigration. She didn't go to the school but urged her son to report the incident because other students might have experienced something similar and were afraid to speak up.
In the aftermath of Trump's victory, Latino parents and activists say they are getting reports of increased bullying of Hispanic students by emboldened white students.
At a press conference featuring leading national Latino groups, Hector Sanchez, chair of the National Hispanic Leadership Agenda, a coalition of 40 Hispanic organizations, said he fears for the safety of Latinos around the country and said he hoped that Trump would promote tolerance as president.
Still, the incidents have come fast since Trump won, leading many Hispanics to fear it will only get worse.
At the same press conference, the president of the League of United Latin American Citizens (LULAC), Roger Rocha, said he received a call in the morning from students at the University of Texas at Austin who were handed Trump's ubiquitous Make America Great Again hats and told "we're shipping your brown ass home."

Cristina Jimenez, who leads the youth immigration group United We Dream, said they've received many calls from teachers who said kids are being bullied because they are Latinos or immigrants. "One shared that a seventh grader asked a Latino student who he would have voted for and when he said Hillary he got smacked in the face," she said, noting that the incident didn't exactly happen in Trump country — it was in New York City.
In Royal Oak, Michigan, a chant of "build the wall" broke out among middle schoolers in a cafeteria, prompting the superintendent to send a letter detailing parents' concerns over the event.
And in Redding, California, a student at Shasta High School posted a video of himself handing out "deportation" letters to several students, said Jim Cloney, superintendent for Shasta Union High School District.
The video has since been removed and the student said he did it to be funny.
"It goes without saying, we don't think this sort of behavior is funny nor reflective of the culture at Shasta High and behavior that is racially or culturally insensitive will not be allowed to go on at any of our schools," Cloney said.
The rise of Trump has included anecdotal reports of increase violence against Hispanics but also harder data. The Los Angeles County Commission on Human Relations found that hate crimes against Latinos rose 69% in 2015 after declining during the seven years prior.
Speaking on a conference call of immigration activists, Cristine Neuman-Ortiz, executive director of respected Wisconsin group Voces de la Frontera Action, said she was speaking to a mother whose son and other Latino kids were bullied by students with Trump T-shirts and stickers who said, "Oh now you're going to have to go back to Mexico," with the students having to be separated by teachers.
"Her son said, 'Is it worth fighting for something that we could lose?'" Neuman-Ortiz recalled. "His mother said, 'Yes, we have to keep fighting for our dreams and our hopes. We're human beings.'"