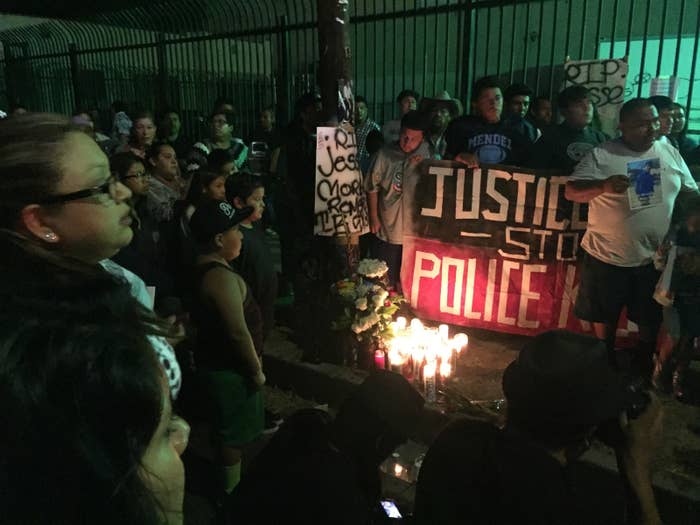 Across the street from a Walgreens near a bust intersection in Boyle Heights, Estela Rodriguez flipped through pictures of her dead son inside his casket, showing anyone willing to see Edwin Rodriguez's bruised face.
Edwin Rodriguez, 24, was fatally shot Feb. 14 by a Los Angeles County sheriff's deputy who believed he was reaching for his gun. That same month, 16-year-old Jose "Peruzzi" Mendez was shot and killed by police who pulled him over for driving a stolen car and saw he was armed with a sawed-off shotgun.
Now, this week's police-involved shooting of 14-year-old Jesse Romero is taking Estela Rodriguez back to the day her son was killed. But this time, she's refusing to sink back into sadness.
"It's time to unite and defend our kids," she yelled through a loudspeaker at a vigil for Romero Wednesday. "To all the moms hiding in their pain, come out and fight for your kids."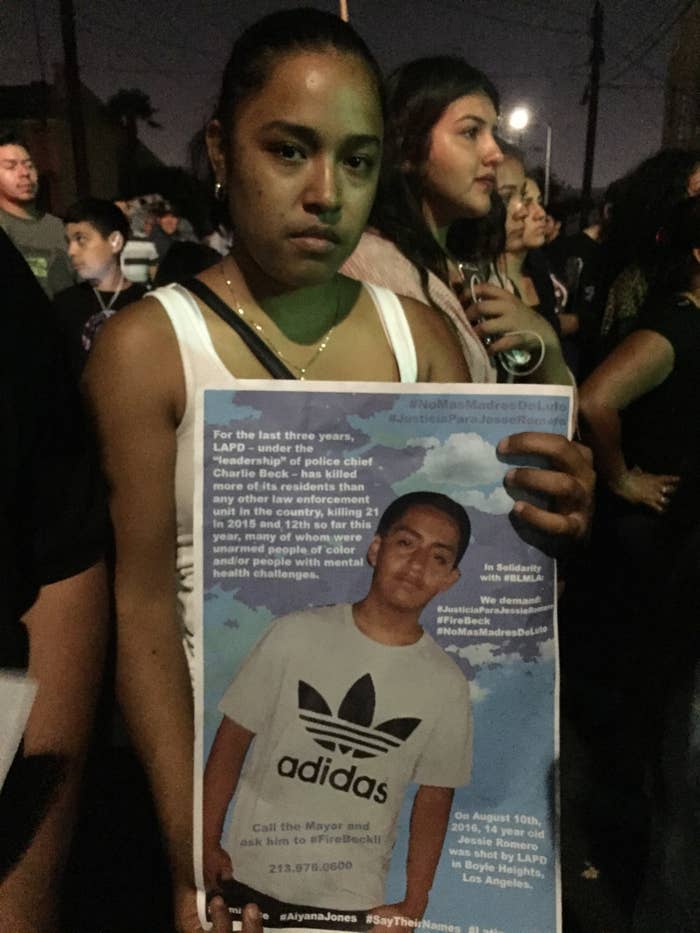 In the wake of Romero's shooting on Tuesday, parents of other men shot by police and organizers came out to denounce their deaths, accusing officers of excessive force against Latinos and making connections to the Black Lives Matter movement.
According to The Guardian's The Counted project which tracks people killed by police, in 2016 out of 653 people killed, 107 were Latino, 166 were black, and 321 were white. When you take population into account per million, Native Americans, black, and Latino people were more likely to be killed by police.
Sol Marquez, an organizer with Centro CSO a Los Angeles-based group advocating for undocumented immigrants and social justice, said Romero's shooting is part of a larger trend of police shootings of Latino men.
"It's definitely not a new trend, it's a trend that's been going on for decades," Marquez told BuzzFeed News. "These shootings don't get as much attention as similar shootings in other places."
A large reason why Latinos haven't been able to harness the same amount of attention as Black Lives Matter is likely due to the fact that are many undocumented immigrants in the community where the shootings occur, Marquez said.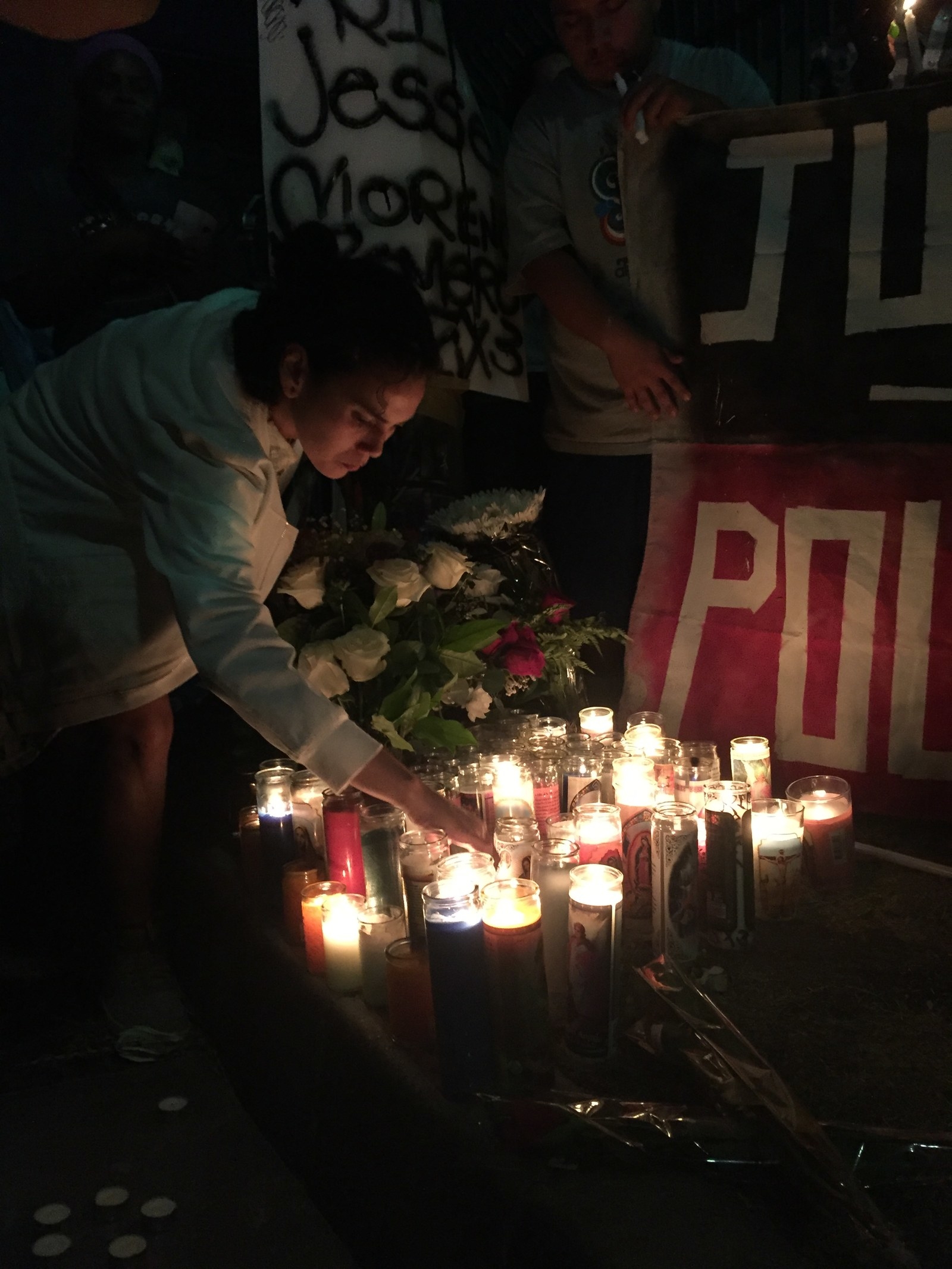 But Marque believes that's changing as Latinos increasingly see a connection between Black Lives Matter and their fight to improve their neighborhoods.
"We battle police brutality on a daily basis," Marquez said. "We're uniting more than ever before."
Romero was shot Tuesday afternoon after LAPD officers responded to a call for possible gang-related vandalism in Boyle Heights at about 5:30 p.m. When the officers arrived, they saw two male suspects.
One of them was detained, but Romero ran, prompting a police chase. The LAPD said Romero shot at the officers with a handgun, prompting one of them to fire back, fatally striking him.
The Los Angeles Times reported that a witness contradicted the police department's account, saying that Romero didn't shoot at the cops and instead threw the gun toward a fence before he was shot.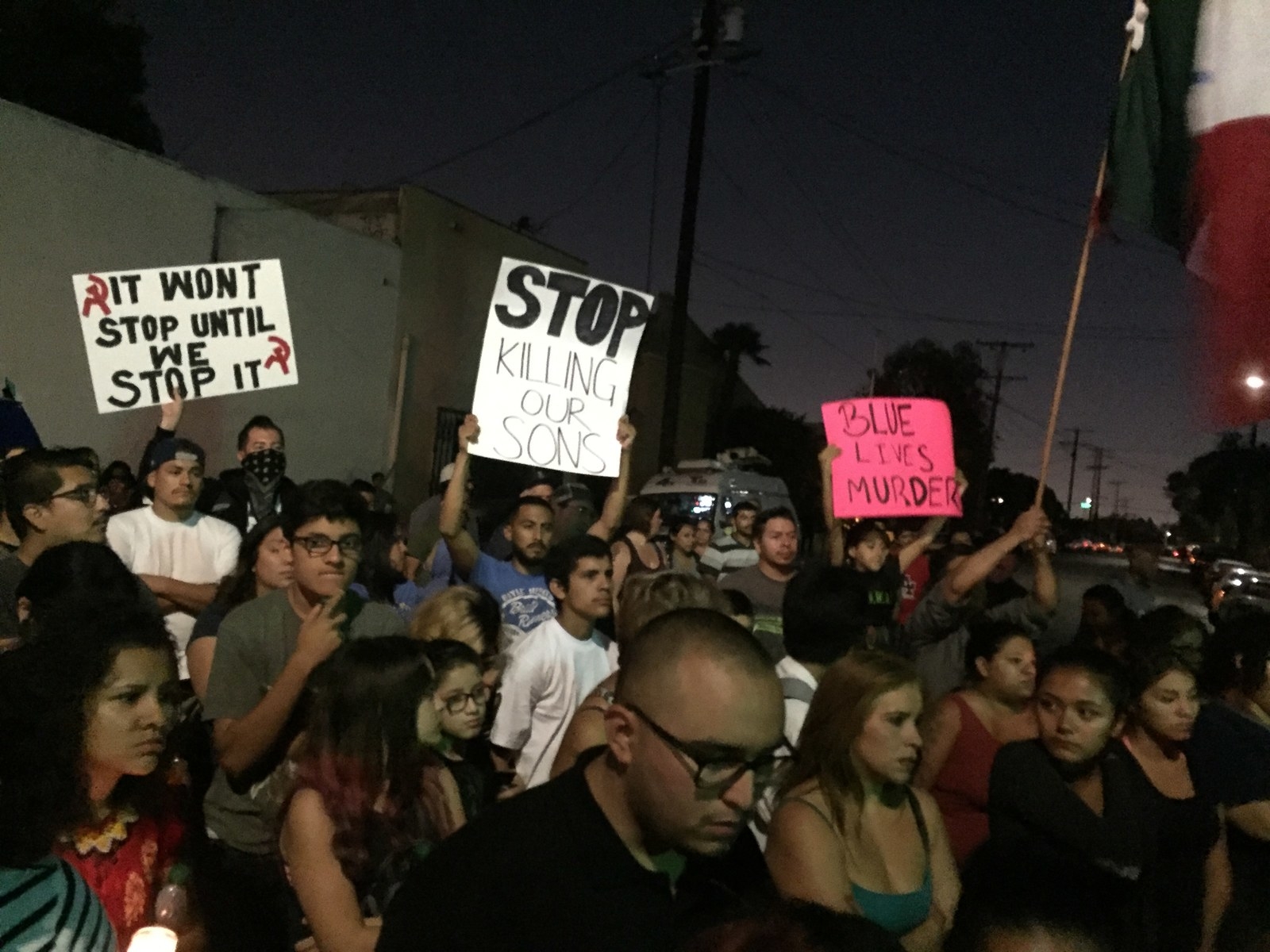 At Romero's vigil Wednesday people in the crowd held up signs that read, "It won't stop until we stop it," "Stop killing our sons," and "Blue lives murder." When police peddled behind the group on bicycles, the crowd started screaming "Murderers" at them.

Monica Garcia, Romero's friend hopes he wont only be remembered the way he died. Garcia said she couldn't deny that Romero was involved in gangs but maintained that he was more than that.
"He was respectful and kind," Garcia said. "Even if he had a gun, I don't believe he would've shot at a cop."
Near the end of the night, Estela Rodriguez, the mother of Edwin Rodriguez, said she would keep defending her son.

"He may not have been worth anything to them, but he was worth everything to me," she said.