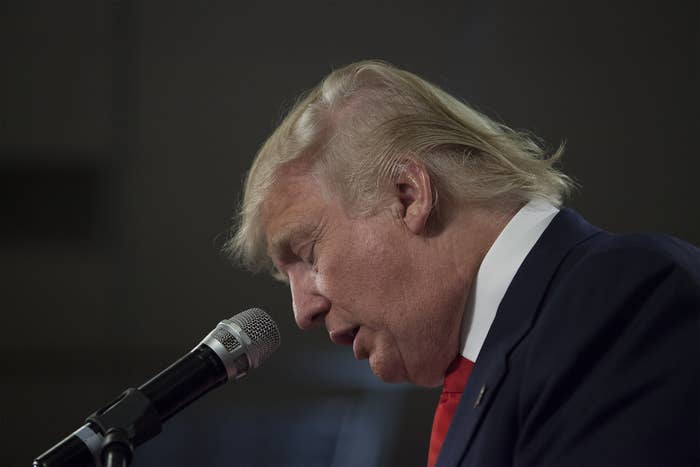 On Friday, Alex Nogales sat inside a giant boardroom in Universal City, California, alongside NBC executives and a multiethnic coalition of media executives. As the discussion about the network's diversity representation unfolded, Donald Trump's comments about Mexican immigrants weighed on Nogales.
Nogales, the president and CEO of the National Hispanic Media Coalition, waited until the end to bring up the blonde-coiffed elephant in the room. By then a petition asking NBC Universal to end its relationship with the businessman and Republican presidential candidate had reached more than 200,000 signatures and Univision had refused to air two beauty pageants associated with Trump after he said Mexican immigrants were "rapists" who are "bringing drugs" and "crime" to the U.S.
He spoke up, urging the network's executives in the room, which included NBC's entertainment chair Bob Greenblatt and entertainment president Jennifer Salke, to cut ties with Trump.
"I want to make it very clear that unless you do this not only can you expect other organizations to attack you, but my organization would also be involved," Nogales told them. "You're dear friends, I have a relationship with all of you, but unless you do this you can expect a lot of grief from the Latino community."
The executives listened, betraying no indication to which way they were leaning.
"But I could sense they knew what they had to do, even though they didn't say it," Nogales told BuzzFeed News. "I wasn't terribly surprised Monday when I got a call from Craig Robinson [chief diversity officer at NBC] telling me they were going to sever their relationship with Trump."
Nogales believes the meeting, Univision's move, and relentless social media pressure by Hispanics all played a role in NBC's decision. It was a breakthrough moment for Latinos, who showed the power they wield as one of the nation's fastest-growing groups.
"It's a business situation," he said. "If they didn't do the right thing, they were going to hurt."
At 54 million, Latinos make up about 17% of the nation's population. Among those who are English-dominant, but live in multilanguage homes, 80% watch television in English, according to Nielsen.
"It didn't make any sense not to. [NBC] could've resisted; let's give them some credit for looking down the line and seeing this as something they could do to be closer to the Latino community," Nogales added.
NBC also owns Telemundo, the second-largest Spanish-language network in the U.S. The broadcast company experienced a growth in its news audience in 2014, compared to its rival Univision, which saw its ratings in that group decline, according to the Pew Research Center.
But Univision had already paved the way by being the first ones to say they were cutting ties with Trump, Nogales noted, "even if it was going to cost them a lawsuit and a lot of money."
In a statement, NBC said it was ending its business relationship with Trump because of his recent "derogatory statements" he made about Mexican immigrants. Lesley Cerwin, a spokesperson for the network, declined to comment on the events that led NBC to cut ties with Trump.
Felix Sanchez, the chair of the National Hispanic Foundation for the Arts, said it took a while for the mainstream media to respond, but Univision was quick to pivot away from Trump because it was able detect what was happening on the ground.
He noted that no politicians, including other presidential contenders, defended Latinos, but instead the community spoke for itself using social media with an energy that made it hard to deny the offense Latinos, and not just Mexicans, were feeling.
The change.org petition was complemented by a Sanchez interview with CNN's Brian Stelter, which did not make it on air but was circulated widely among Latinos online over the weekend and websites like Latino Rebels. In the interview Sanchez also called on NBC to follow in Univision's footsteps.
On Wednesday, Macy's also announced it was discontinuing its business relationship with Trump and would phase out his menswear collection after pressure and a MoveOn.org petition reached 730,000 signatures.
"It was a very pivotal moment" for Latinos, Sanchez told BuzzFed News.
"Trump has lost and he's going to lose a lot more, because the Latino community and its allies will no longer take this kind of stupidity sitting down," Nogales said.
In a statement Wednesday Trump said the media and others had attempted to distort his remarks as racist. He pointed out that Obama had referred to some immigrants as "gang-bangers" in a speech, but didn't receive the same "vitriolic" response he did.
"Clearly, Mr. Trump's position is shared by many and is in no way intended to be interpreted as racist, or as a generalization about on particular country or its people," his statement said.
Julio Ricardo Varela, the digital media director for Futuro Media Group and founder of Latino Rebels, said he has seen this cycle of disparaging comments made about Latinos, Mexicans, and immigrants for the last five years running his news and social commentary site, but this was the first time he saw the power of Latinos online expressed so swiftly and to such great effect. He said no mainstream media was talking about Trump's comments on June 16 — "it was the Latino groups that brought it up first."
And he said it bodes well for how seriously the Latino community will be taken moving forward.
"The critical mass is here; this is a clearly a tipping point moment," he said. "Dedicated and connected Latinos have been sharing these types of stories with each other for years. Suddenly, the mainstream thinks it 'discovered' the Trump story. They didn't, it literally came from the ground up. It was the Latino digital space that amplified this story and made it relevant."
Soon after NBC announced its decision, Trump threatened to sue. On Tuesday he followed through on his threat to Univision and filed a $500 million lawsuit against the network for refusing to broadcast the Miss USA and Miss Universe pageants.
Nogales said the networks may lose money in the short run by refusing to do business with Trump, but will gain viewers and make more money as the size and influence of Latinos only continues to grow.
"It's a new day," Nogales said. "There's no room for racism or these kinds of comments from any person, especially the ones who want to be president of our country."
The post was updated with a statement Trump released Wednesday at about 3:30 p.m.