PHOENIX – Jacqueline Rayos-Garcia was asleep the first time authorities took her mother away in 2008.
Deputies of former sheriff Joe Arpaio arrested Guadalupe Garcia de Rayos at her home a year after collecting her employee file during a series of worksite raids. Arpaio's raid put her on authorities' radar, triggering a series of events that led to her being detained for six months, convicted of a felony for using a fake Social Security number, and culminated in her deportation shortly after President Trump changed deportation priorities to include anyone in the country illegally.
Like many Latinos who were affected by Arpaio's policies in Arizona's Maricopa County, Jacqueline spent hours at protests screaming her lungs out and meetings to organize against the former sheriff. Their years of work culminated in two hard fought victories – Arpaio being pushed out after 23 years in office and later being found guilty of criminal contempt for continuing to profile Latinos.
For that reason, Trump's pardon of Arpaio was a slap in the face, the 15-year-old said.
"For my family, it all started with Arpaio," Jaqueline told BuzzFeed News. "Yesterday was hard because we worked so hard to get him out of office and have him face the consequences for what he did to so many families, and Trump just gives him a get out of jail free card."
On Friday, Trump pardoned Arpaio after he was found guilty of criminal contempt for defying a federal judge's order to stop detaining people based on suspicion of their immigration status when there was no evidence that they had broken a state law.
"I can't even explain the amount of pain and confusion you face when your mom is taken away. I was 8 years old, in second grade," said Angel Rayos-Garcia, Jacqueline's older 16-year-old brother. "I was worried about my mom, who wouldn't hurt a fly, having to survive in jail. It was a life-changing event for me."
He said his mother didn't steal anyone's identity when she applied for the job, she gave her employer a made up social security number. The pardon was frustrating for Angel, who can't understand those immigration hardliners who say undocumented immigrants should pay for breaking the law.
"All my mom did was use a fake social to feed her kids, she didn't steal anyone's identity," Angel said. "Why isn't Arpaio paying the consequences for his racist raids that separated so many families?"
January Contreras, a former Obama administration official running for attorney general in Arizona against Republican incumbent Mark Brnovich, said Arpaio's legacy left many families torn apart.
"The reign of Arpaio was a very dark time for Latinos in Maricopa County," Contreras told BuzzFeed News. "So the sense that the justice system was working and that his violations of the constitution were validated by a court was really important and to have all of that essentially wiped away by this pardon is hurtful."
Viridiana Hernandez, 26, who was brought to the US when she was one was told her entire life to stay quiet about her undocumented status. She came of age watching how Arpaio's checkpoint,s in her predominantly Latino neighborhood of Maryvale, sent chills throughout the community and his raids devastated families throughout Phoenix who lost parents.
It was an order she followed until she started organizing against Arizona's SB 1070, which required police to inquire about a person's immigration status. Working to remove Arpaio from office came later.
Hernandez, who is now director of the Center for Neighborhood Leadership, which trains grassroots organizers, said the pardon was devastating.
"It was just a reminder of how our lives don't matter, not just to us but to our elected officials and police departments," Hernandez told BuzzFeed News. "There is a fear of what this pardon could mean to law enforcement agencies we already know are racist."
Her family had to move an hour away from Phoenix after the construction company her father worked at was raided. He wasn't caught in the raid, but his work file was taken by authorities, and they had heard stories about Maricopa deputies showing up later to arrest people at home.
Hernandez, then 23 and starting her first job, stayed behind in Phoenix, while her parents and youngest siblings moved within a matter of days. Her younger siblings five and eight years old would cry when Hernandez was late to family visits, fearing she had been detained in a raid.
"He destroyed our family unit," Hernandez said. "They had to move an hour away in order to feel safe enough."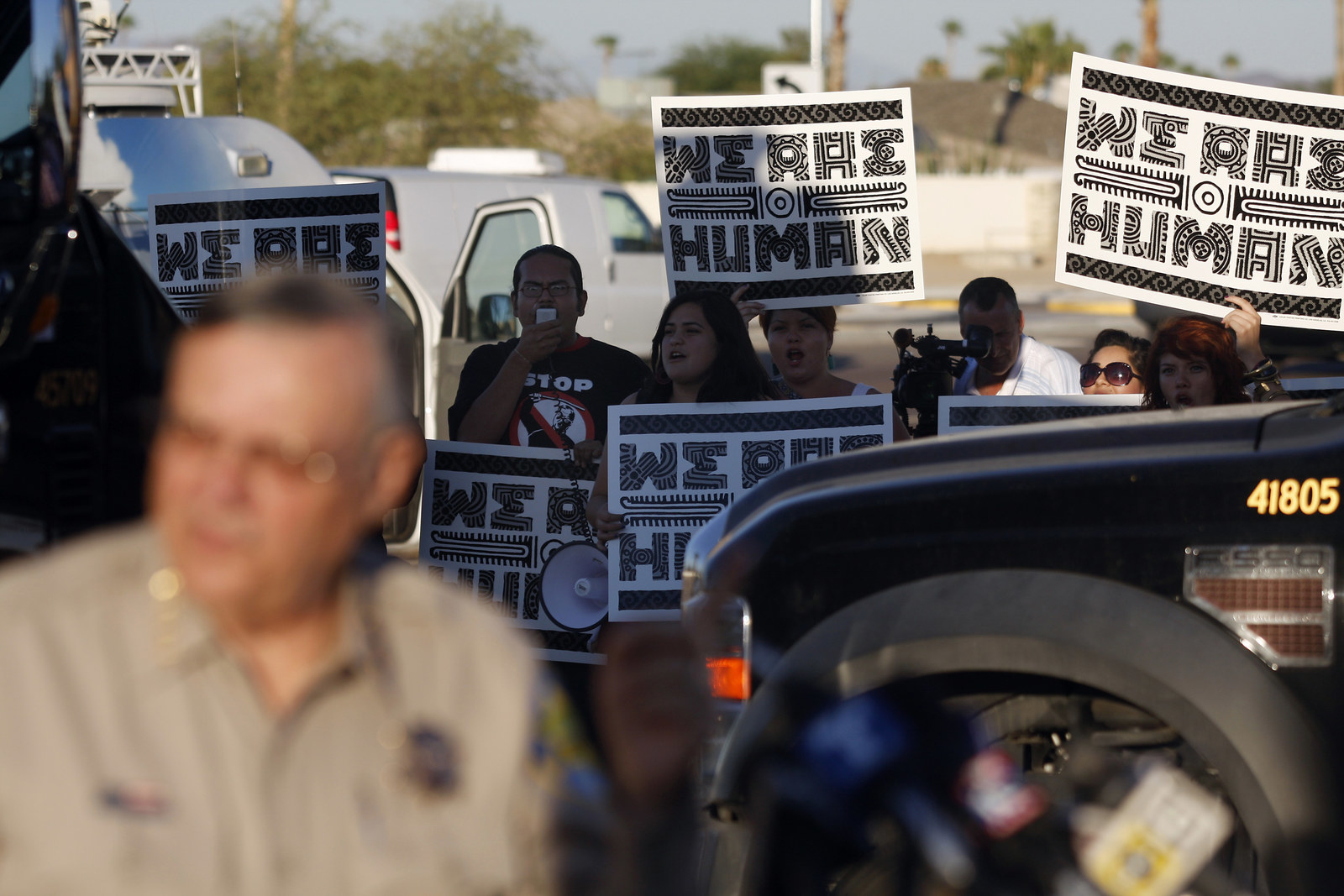 Even an hour away her family worked to remove Arpaio from office by knocking on doors to register voters, holding meetings inside their home, and driving people to vote.
Still there is a silver lining, she said, Arpaio and SB 1070 compelled her to get involved in the immigrant rights movement and as a result she rose from a volunteer to being director of the Center for Neighborhood Leadership. Hernandez said it's hard to overlook the fact that Arpaio is no longer in office, and that's due largely to the years advocacy groups spent campaigning against him.
"We took away his power," Hernandez said. "So even though he isn't going to be punished, he no longer has the power to continue to traumatize our families and communities the way he did."
Karina Ruiz de Diaz, president of the Arizona Dream Act Coalition, echoed Hernandez's thoughts.
"Our victory shouldn't be undermined just because the president, who we know has little common sense, pardoned him," Ruiz de Diaz said. "It doesn't matter that it was a presidential pardon, the fact that he committed a crime is fact. Our victory is still there."
Hernandez said the initial news of the pardon made break down in tears, it was just too much. But on Saturday, shortly after taking part in a media summit with more than a dozen community organizations she stood defiant and hopeful of the future.
"This is all a reminder to our people that we had to win our peace by protesting and marching through our pain and trauma. No one else did it for us," Hernandez said. "We've been here before and we survived, we succeeded, and we're going to fight and win again."