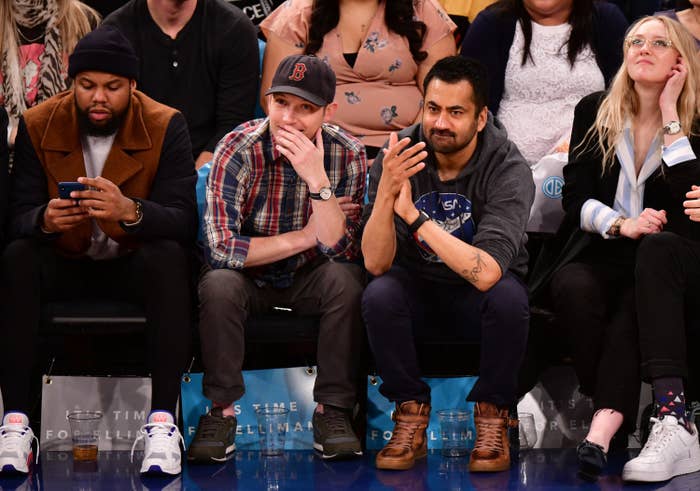 Kal Penn is opening up about his sexuality, his time at the White House, and growing up as the child of Indian immigrants in his upcoming memoir.
The 44-year-old Harold and Kumar Go to White Castle and Designated Survivor actor told People magazine that he has been dating his partner, Josh, for 11 years and that they're engaged. Penn said he wanted to balance his desire to be open and truthful in his soon-to-be-released book, You Can't Be Serious, while also protecting the privacy of those closest to him.
"Figuring out the narrative [in the book], of how to respect who they really are, with telling my story — that includes: my work life, both in Hollywood and DC, it includes my love life with Josh and how we met, it includes my parents, to the extent that I'm willing to share stories about their upbringing," Penn told People. "So that was the most important thing for me. I wanted my story to be authentic from my perspective and told in a way that makes you feel like you really get to know me."
The book comes out Tuesday.
According to People, Penn writes that on their first date, Josh showed up at his apartment with an 18-pack of Coors Light and turned the TV to NASCAR. It made him wonder if the two would work out, Penn explained to the magazine, but in a few months, the couple were watching NASCAR every Sunday.
"I discovered my own sexuality relatively late in life compared to many other people. There's no timeline on this stuff. People figure their s--- out at different times in their lives, so I'm glad I did when I did," Penn told People.
In You Can't Be Serious, Penn shares how he went against the advice of his aunties and guidance counselors who encouraged him to take up a practical career, and instead embarked on a zigzagging journey that's included acting, working as a farmhand, and going to work for the White House, according to a statement from publisher Simon & Schuster.
The memoir also delves into what it was like for Penn growing up as the son of Indian immigrants, and later what it was like trying to make it as an actor of color in Hollywood. In a video promoting the book, Penn hints at the stories he has to tell.
"I also talk about what it was like moving to Hollywood when I was 18, trying to be an actor, wanting to make people laugh, dealing with auditions that I guess by today's standards are called, uh, what's the word — racist? Yeah, I remember you, Sabrina the Teenage Witch and Son of the Mask."
The book also talks about how, after a decade and a half of working in entertainment, Penn took a break from acting to become an aide for the Obama White House. It's a journey that Penn's parents likely could never have guessed their future son would have when they moved to the US, the Simon & Schuster statement says.
"People who came to this country with very little and went very far — and whose vision of the American dream probably never included their son sliding off an oiled-up naked woman in a raunchy Ryan Reynolds movie…or getting a phone call from Air Force One as Kal flew with the country's first Black president," the statement reads.