After waiting for a full day, the first eight members of a caravan of Central Americans who spent the last month traversing Mexico were allowed to request asylum in the United States.
Until the eight were allowed to present themselves shortly before 7 p.m., US immigration officials had said the San Ysidro border crossing, one of the busiest US ports at the southern border, didn't have the capacity to take even a single applicant — and even turned away people unrelated to the Central American caravan.
There was no immediate explanation for what led to the decision to take the eight Central Americans, or when others might be allowed to surrender to US authorities. Three mothers, four of their kids, and an 18-year-old man were allowed to ask for asylum in the US.
As many as 200 members of the caravan are expected to eventually ask for asylum, at a border crossing that normally sees 90,000 people cross into the US each day, 20,000 of those on foot. However, it is uncertain how long it might take for all those seeking asylum to apply. There were 24 people — mostly women and kids, as well as some men — waiting when the initial eight were offered the chance to ask for asylum. Now, 16 remain.
Luisa, 44, from Nicaragua, said she was happy to see the eight migrants go. She is still waiting on the Mexico side and saw the first group walk into the US.
"There's hope, they let in eight people," Luisa said. "We were sad when no one was allowed in."

Ayde, a 34-year-old woman from Guatemala who was also standing feet away from the US border, said she was happy but also sad she wasn't allowed in with her four children. She left her country because of domestic abuse and after receiving death threats from a family member.
"I wanted to move forward too, but I have hope that god will help us," Ayde said, standing over three of her sleeping kids.
Spending the night in the cold outside at the San Ysidro port of entry, without food or easy access to a restroom, was tough, Ayde said, but it wasn't the worst part of the journey. That distinction she reserved for the train between Irapuato and Guanajuato a few weeks ago, which would trap in the heat and the cold.
"We suffered a lot to get to this point," Ayde said. "Little by little, it's in god's hands."
Members of the caravan are not the only people awaiting their chance to apply for asylum. On Monday, immigration officers turned away a Haitian woman and a deported Mexican national who tried to ask for asylum, neither of whom were part of the caravan. Dozens of would-be asylum-seekers from Mexico were also told they could not be processed.
The delay in accepting asylum applications is not unprecedented. In December, US officials also stopped taking asylum applications at the San Ysidro crossing, saying then that immigration facilities in San Diego were filled to capacity and that they could not accept additional applicants until those already in the port of entry had been transferred to other locations. That freeze lasted three days, said Erika Pinheiro, a lawyer with the immigrant advocacy group Al Otro Lado.
In a statement, US Customs and Border Protection said they had reached capacity at the San Ysidro port of entry over the weekend and were temporarily unable to accept people traveling without documentation, like asylum seekers, for processing.
"The number of inadmissible individuals we are able to process in a day varies based on the complexity of the cases, resources available, medical needs, translation requirements, holding/detention space, overall port volume and enforcement actions," the statement said. "As in the past when we've had to limit the number of people we can bring in for processing at a given time, we expect that this will be a temporary situation."
The Department of Homeland Security and the Justice Department announced last week that they would be sending additional "asylum officers, ICE attorneys, DOJ Immigration Judges, and DOJ prosecutors" to the US-Mexico border in anticipation of the caravans' arrival. As of Monday, however, immigration officials at the border continued to insist that the San Ysidro port was at capacity.

CBP, the nation's largest federal law enforcement agency, said it processed several hundred people at the San Ysidro port of entry in the past week, including many Mexican citizens who arrived at the port of entry to claim asylum ahead of the caravan's arrival.
On Monday night, the group of 24 caravan members waiting to seek asylum was getting ready for another cold night at the port of entry when a CBP supervisor said they would take eight people.
Ana Ortega, an observer with Human Rights First, said that she had asked the CBP supervisor for time so that the group could decide which of the 24 would go, but that the supervisor told her: "We have people waiting. We have to take them now."
Ortega, worried that the group would panic, asked the supervisor to help them out, and he said "women and children." The group, Ortega sad, remained calm and sent the three women and four kids. With a slot for just one more person open, and no one wanting to separate from their children, a lone 18-year-old man who was traveling on the caravan with his uncle was told to go.
"The group remained extremely calm and relaxed," Ortega said.
Family members in the caravan have expressed concern about being separated from each other. Their fears are not unfounded — fathers in the last caravan, who asked for asylum with their children, were separated by ICE from their kids. The New York Times reported that more than 700 children have been taken from adults claiming to be their parents since October, including more than 100 children under the age of 4.
Meanwhile, the Justice Department announced Monday that it had filed criminal charges against 11 caravan members for entering the United States illegally. One of those defendants, who had been previously deported, was charged also with illegal reentry, a more severe charge.
Immigration advocates have long complained that the United States does little to meet its obligations under US law to allow people fearing political oppression or violence at home to apply for asylum. Advocates claim the backlog is intentional, aimed at discouraging people from seeking refuge in the US.
"They're certainly able to detain and deport thousands of people every day so it doesn't really seem realistic that they can't process 150 asylum seekers," Pinheiro, of Al Otro Lado, said.
So far, few members of the caravan have been willing to abandon their spot outside the San Ysidro port, despite offers from Grupos Beta, the humanitarian arm of Mexico's immigration service, to ferry them to shelters for the night. Members of the caravan who stayed said they didn't want to leave because they wanted to put pressure on US immigration authorities to process them.
"They promised us the sky and stars but we're not going anywhere," said one, a 40-year-old Honduran grandmother named Linda.
Inside the port of entry Monday night, the waiting proved difficult for the 20 or so members of the caravan who first tried to surrender to CBP agents at about 4:30 p.m. Sunday and were still waiting 24 hours later.
There was no bathroom access inside, so people would leave in groups to use a restroom outside. Organizers and other caravan members would bring them food — Monday evening's fare was pizza from Little Caesars. Sunday night, they dined on oatmeal and beef with vegetables and rice.
Tesla, a 29-year-old woman from Honduras, who spent the night in a walkway sleeping under blankets with her 9-month-old son was one of the eight people allowed to request asylum.
"They're not going to make this easy for us," she said earlier in the day while a 2-year-old, dressed in a red hoodie and diaper, played with a toy trumpet behind two metal barriers where immigration agents told them to wait. "I'm disappointed, because who knows how long we're going to be here or if they'll let us go forward. We're waiting in the cold and there's no guarantee they'll let us enter."
Outside, the wait has also been hard. People camped out overnight, sleeping under tarps and blankets to fight the cold.
Shortly after 2 p.m. Laura Gault, an attorney with Human Rights First, asked a CBP supervisor when they were planning on taking asylum-seekers.

"Right now, no," he said. "We're still at capacity."
"Is it capacity issue with room or officers?" Gault said.
"Space," he answered.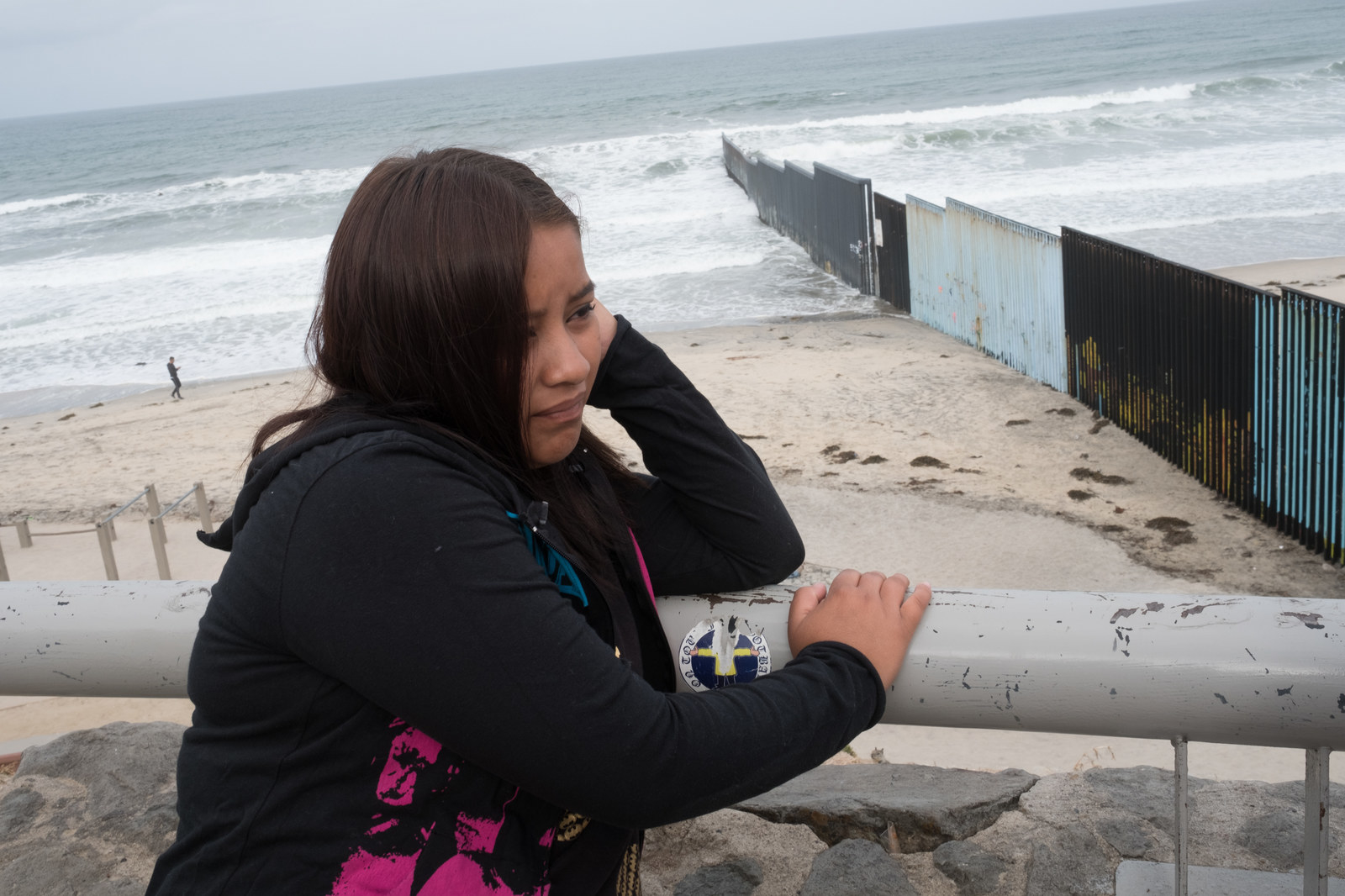 For the 1,200 to 1,500 members of the caravan who left Tapachula, from the Mexican state of Chiapas, on March 25, being able to request asylum was supposed to be the end of their long journey.

Earlier on Monday, Adan, 18, from El Salvador — one of the eight allowed to ask for asylum — leaned against the metal barriers that separated the asylum-seekers from people who were able to cross into the United States with travel documents like visas or identification cards.
"I'm getting myself ready for what I'm going to tell [immigration agents] when I'm allowed in," he told BuzzFeed News. "Attorneys have told me I have a strong case and that there is a good chance I'll win. I'm determined to fight my case."
Irineo Mujica, director of Pueblo Sin Fronteras, said US immigration authorities were trying to wear the group down and disband them.
"What they don't want is for people to be visible and organized," Mujica said.
Griselda, an 18-year-old Mexican who was not part of the caravan but wanted to claim asylum, said Grupos Beta officials had told her that the Central American migrants were being kept behind barriers because they were aggressive. Another would-be asylum-seeker, 14-year-old Victor, said he'd been warned on Sunday that the arrival of the Central Americans would delay his chance to apply for asylum.
"They also told us we weren't going to be allowed to ask for asylum yesterday because you were coming," Victor, a 14-year-old asylum-seeker said to some members of the caravan.

Maria, a member of the caravan, said immigration authorities were just trying to divide the two groups and pit them against each other. She said the Mexicans should join with the caravan.
"We're stronger together — the people united will never be defeated," she said.
But staying warm during what was expected to be another cold night outside the port of entry was perhaps the biggest concern. Linda, the 40-year-old grandmother from Honduras, said she brought few belongings to the border crossing after the monthlong trip through Mexico.
"We were all hoping to turn ourselves in, so we didn't bring a lot of stuff, just what we had on our backs," Linda said.

Caterine, 14, said she was worried about making sure her mother and siblings had enough blankets to sleep on the walkway. "I always take care of my mom," she said. "I'm the oldest. "That's what God gifted me."
She'd written the phone numbers of attorneys in permanent marker on her back.
"In case they try to separate me from my parents," Caterine said. "They told me to write the numbers on our bodies so we can call them."
Nidhi Prakash contributed reporting.