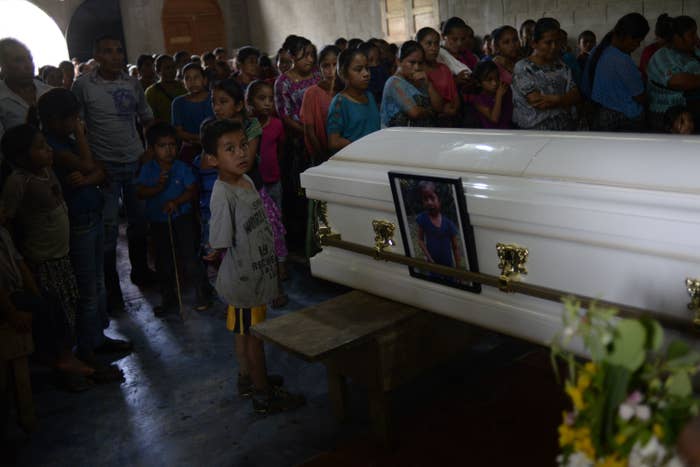 The Department of Homeland Security's Inspector General found no "misconduct or malfeasance" by immigration authorities in the cases of two immigrant children died in Border Patrol custody last December, according to reports obtained by BuzzFeed News.

The deaths of Jakelin Caal Maquin and Felipe Gómez Alonzo sparked public backlash and scrutiny of immigration authorities and how they treated immigrant children in their care. The Guatemalans were initially believed to be the first children to die in federal custody since 2010, but months later it was revealed that a 10-year-old girl from El Salvador had died in the custody of the Office of Refugee Resettlement.
Since the spring of 2018 at least five children have died while in US custody, and two shortly after being released.
Jakelin, 7, died hours after she and her father were taken into custody by the Border Patrol near the Antelope Wells Port of Entry, a remote border crossing, at about 9:15 p.m. on Dec. 6 along with a group of 163 people.

The one bus that was available to transport the 163 people to the Lordsburg Border Patrol Station, which is about 90 minutes away, started to make what would be multiple trips. When the father and the girl were about to be sent to the station on a bus leaving the area at 5 a.m., the father told officials his daughter was sick and was vomiting.
Because the area is so remote, Border Patrol agents believed the fastest way to get Jakelin to medical treatment was to continue on to the Lordsburg station, a CBP official said shortly after her death. CBP officials said agents asked that an EMT meet the bus at the station, but by the time the group arrived at about 6:30 a.m., the father told authorities his daughter was not breathing.
Border Patrol EMTs revived her twice, and at that point, she had a 105.9-degree fever. She was transported by helicopter to Providence Children's Hospital in El Paso, Texas, where she died Dec. 8.

A little over two weeks after her death, 8-year-old Felipe would die on Christmas Eve, just days after he was taken into CBP custody.
Felipe crossed the border near El Paso, Texas, with his father, Agustín Gomez Perez, on Dec. 18. On Dec. 23, 2018 they were taken to the Alamogordo, New Mexico Border Patrol checkpoint. The next day a Border Patrol agent noticed Felipe was ill and interviewed the father who requested medical treatment for his son, the inspector general's report stated.
The boy was taken to a nearby hospital where staff diagnosed him with an upper respiratory infection. He was prescribed amoxicillin and acetaminophen before being sent back to the Border Patrol facility.
Felipe's condition worsened in detention and he was transported to Gerald Champion Regional Medical Center in Alamogordo, New Mexico. But by the time he arrived he was unresponsive and pronounced dead on Christmas Eve.

Jakelin died due to Streptococcal sepsis, while Felipe died from sepsis caused by Staphylococcus aureus bacteria.