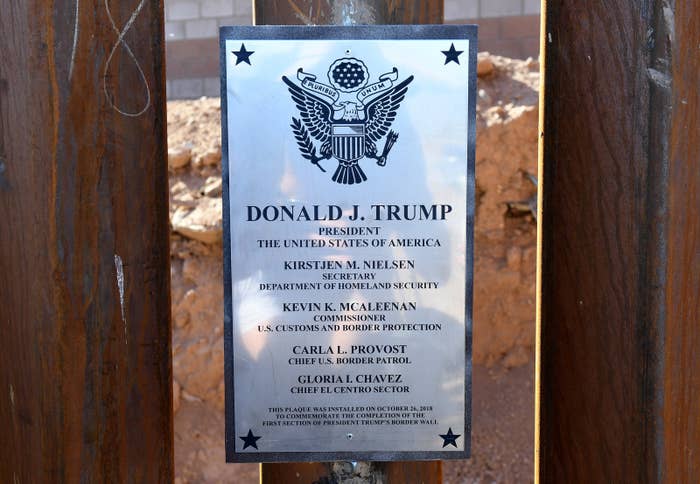 CALEXICO, California — The secretary of the Department of Homeland Security on Friday visited what's being touted as the first section of President Trump's promised border wall.

The 30-foot barrier falls short of the image of a solid border wall along the US–Mexico border that Trump conjured during his presidential campaign. The 2.25-mile-long barrier has space between each metal post, and it replaces a fence that was made of landing mats from the Vietnam War.
Still, a plaque affixed to the fence proclaims it to be the first section of Trump's border wall, and Secretary of Homeland Security Kirstjen Nielsen wasn't having it any other way.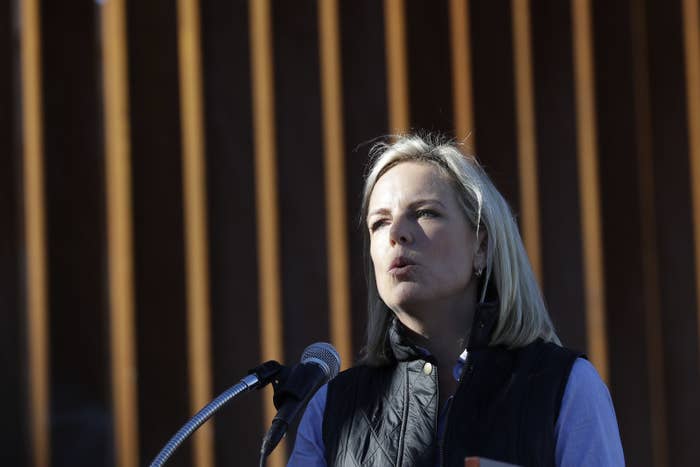 "This looks like a wall," she said. "It's 30 feet tall. I think the difference is not only is it see-through but it's different than a fence in that it's part of a system...it has technology. It's a wall. This is what the president has asked us to do. It's part of a system."
"This plaque was installed on October 26, 2018 to commemorate the completion of the first section of President Trump's border wall," reads the plaque affixed to the barrier.
Never mind that David Kim, the assistant chief patrol agent for the Border Patrol's El Centro sector, where this barrier is located, told the Desert Sun in February, when construction began, that the project shouldn't be linked to the debate about the wall.
"This is a local tactical infrastructure project that was planned for quite some time," Kim was quoted as telling the Desert Sun.
A September 2017 statement from the Department of Homeland Security said the project would replace two miles of existing fence. It was funded by Congress through the fiscal year 2017 DHS Appropriations Act.

Trump referred to the Calexico project during a March speech with a crowd of union workers and supporters in Ohio as the beginning of construction on his long-promised wall.
"We started building our wall, I'm so proud of it. We started. We have $1.6 billion. You saw the pictures yesterday. I said what a thing of beauty," Trump said then.
The pictures he was referring to were from a tweet of the Calexico project.
But the project had been planned before Trump even announced his presidential candidacy in 2015.
Katie Waldman, a spokesperson for DHS, acknowledged that the Border Patrol first requested the project in 2009, but it languished for the entirety of the Obama administration. Trump should be given credit for making it happen now, she said.
It "would not have broken ground or been as expeditiously completed without the ardent support of President Trump," she said in a statement to BuzzFeed News. "The bottom line is under this president we are building the first new border wall in a decade."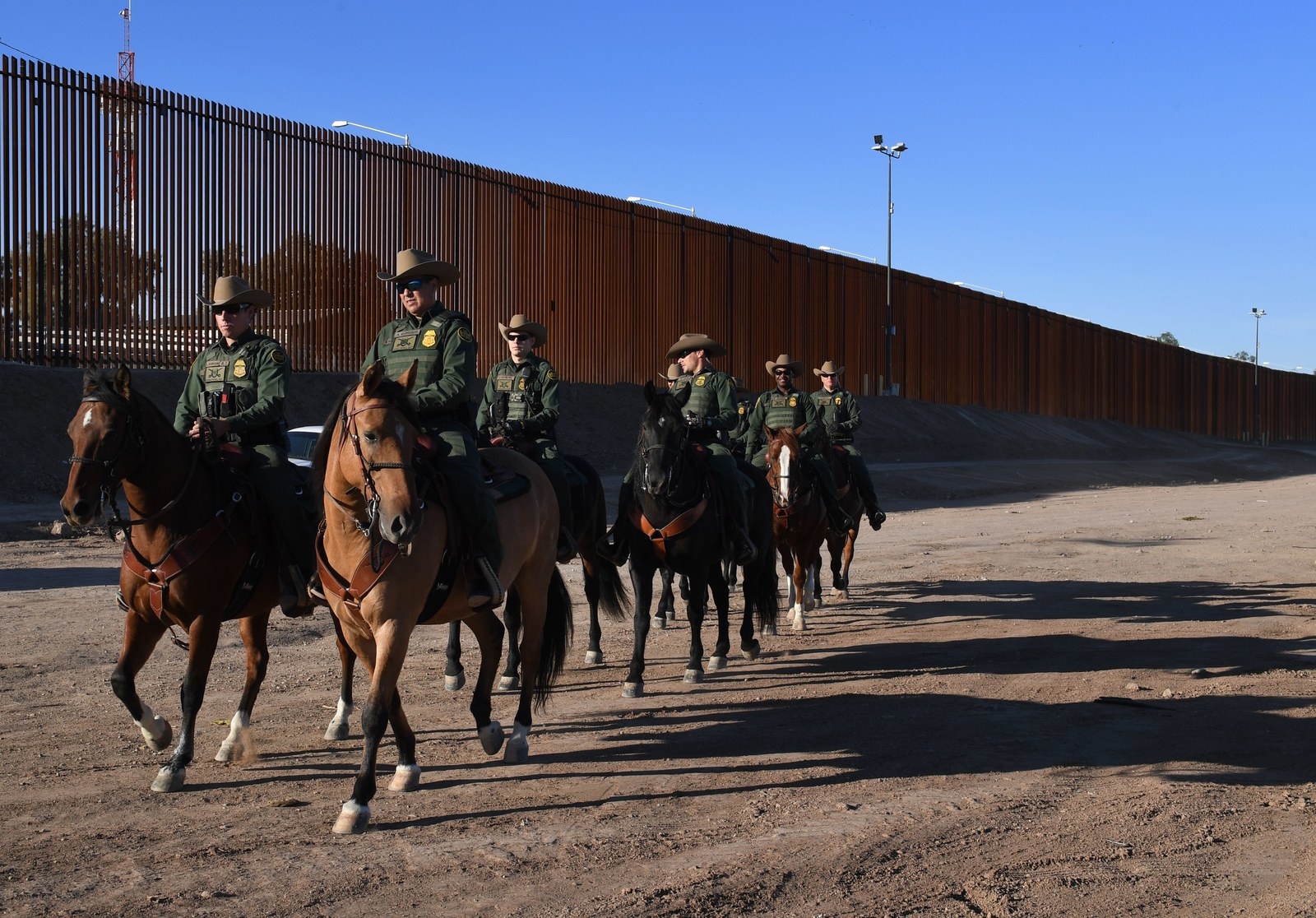 The area was described by El Centro Border Patrol Chief Gloria Chavez as having a high number of border apprehensions and assaults on agents.
In fiscal year 2017, the El Centro Sector apprehended 18,633 undocumented immigrants, seized 5,554 pounds of marijuana, 483 pounds of cocaine, 1,526 pounds of methamphetamine, and 2,521 ounces of heroin. During that fiscal year, there were 21 assaults against El Centro Sector agents, according to US Customs and Border Protection.
Nielsen visited the site at a time when the administration is closely monitoring a caravan of about 3,600 mostly Central American migrants making its way toward the US–Mexico border. She acknowledged that the administration is considering steps to prevent the new caravan's members from entering the United States,
"Everything is on the table," Nielsen said.

She gave no details of how the Department of Homeland Security intends to respond but said the administration intends to continue to tell potential immigrants that they will not be allowed into the US if they don't have a legal right to be there.
"In days to come we will be making announcements on additional measures within our legal construct to ensure that this is an orderly process and those who have no right to be in our country are able to be apprehended quickly and removed," Nielsen said.