BROWNSVILLE, Texas — The Trump administration recently agreed to open its "tent courts," makeshift tribunals where immigrants made to wait in Mexico attend hearings, but lawyers and legal observers say the setup still fails to give full access to the public.
Attorneys and advocates said the government is keeping the public out of what some consider to be the most important part of immigration court proceedings by using judges located inside a private Fort Worth, Texas, facility. The hearings are where immigrants get the opportunity to present arguments and evidence as to why they should be allowed to stay in the United States.
Judges at the Fort Worth Immigration Adjudication Center, which the public has no access to, are overseeing the individual merits hearings via video that's beamed into tent courts in Brownsville, Texas. At the same time, no one is allowed to attend the hearings in person, effectively closing off public access.
"It's highly problematic," said Laura Lynch, senior policy counsel at the American Immigration Lawyers Association. "Using these adjudication centers and judges is clearly intentional. The agency is trying to operate these cases in secret."
The facilities in Fort Worth and Falls Church, Virginia, were created by the Justice Department's Executive Office for Immigration Review (EOIR), which oversees the nation's immigration courts, as a way to reduce its growing case backlog.
Denying public access is especially concerning because most immigrants in the "Remain in Mexico" program, formally known as the Migrant Protection Protocols, are not represented by an attorney, Lynch said. An analysis of 56,004 MPP hearings found that only 4% of immigrants are represented by a lawyer; the rest have to make their case on their own.
"Many immigrants are walking into these tent courts unrepresented," Lynch said. "And there's no way to observe them."
EOIR refused to confirm whether judges at the adjudication center were listening to merits hearings in Brownsville. But attorneys with clients at the Brownsville tent court confirmed to BuzzFeed News that they've had future cases rescheduled to judges at the Fort Worth adjudication center.
"All immigration judges hear all case types. Due to pending litigation, we have no further comment," said Kathryn Mattingly, a spokesperson for EOIR.
The Department of Homeland Security and Customs and Border Protection did not immediately respond to requests for comment.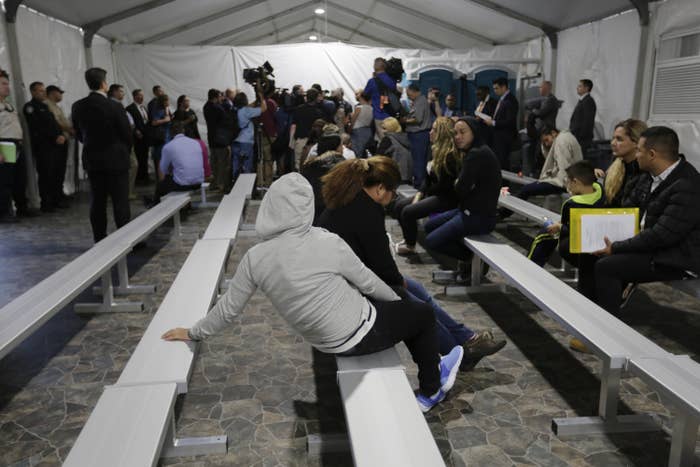 In September, DHS opened two temporary court facilities along the Texas border, one in Brownsville and another in Laredo for immigrants in the "Remain in Mexico" program. Judges in brick-and-mortar courts throughout the US, officials said, would hear their cases and make rulings via video.
When the tent courts started their first hearings, they were immediately criticized for their lack of transparency because reporters, legal observers, and the public couldn't attend hearings from inside.
Instead, DHS and EOIR said the public could attend the hearings by going to the courtroom where the immigration judges, who would be present via video conference, were physically at. But that's not possible when immigration judges hold merits hearings from adjudication centers closed to the public.
In general, immigration courts are open to the public — although, according to the Justice Department, plaintiffs can request that merits hearings be closed.
At the Brownsville tent courts, however, merits hearings are closed automatically by design, said Andrew Udelsman, a fellow in the Texas Civil Rights Project's racial and economic justice program.
"The case right now appears to be a blanket rule that the public has no access to MPP merits proceedings, and that is illegal," Udelsman told BuzzFeed News. "There is a First Amendment right of public access to court proceedings. That right is being violated by this blanket denial of access to merit proceedings."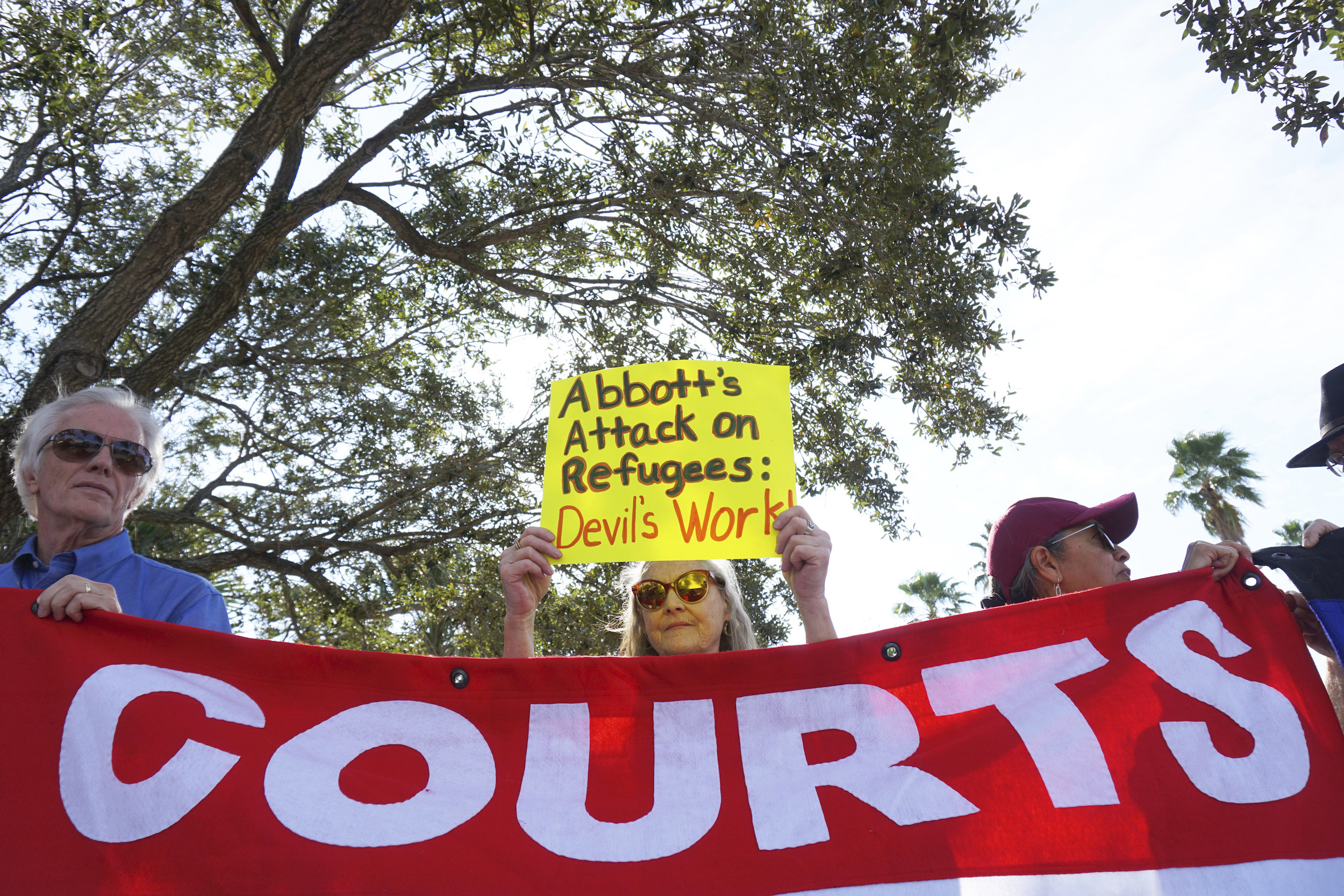 Last week, Reynaldo Leaños Jr., a reporter with Texas Public Radio, tried to attend a merits hearing at the Brownsville tent court after a Cuban asylum-seeker invited him to attend — but private security contracted by the government told Leaños no one was allowed in.
Asked by BuzzFeed News why that was the case, an Ahtna security guard at the facility, who declined to give his name, said it was because the shipping containers in which the merits hearings are held were too small to accommodate additional members of the public.
Norma Sepulveda, an immigration attorney who had a hearing last week in Brownsville with a judge located in Fort Worth, said it was "ridiculous" that the merits hearings were being held inside small shipping containers that only fit seven people.
"I don't know why they put us in these tiny rooms to hold the hearings other than to say there's no space for anyone else to be present," she told BuzzFeed News. "These hearings are being scheduled with these judges intentionally to be able to conduct them without any oversight."
Sepulveda said her client's son, a US resident, was initially listed as a witness in the case and was allowed into the room. However, when Sepulveda said she was no longer going to call him to testify, he was removed from the room by private security.
"It's clear to me that the policy is 'no spectators,' if you will, and 'no family support for individual hearings,'" Sepulveda said.
Private security at the tent courts in Brownsville are also enforcing different rules from one day to the next, which legal observers and attorneys said does not make sense.
On the first day the public was allowed into the Brownsville facilities, private security agents said reporters weren't allowed to attend hearings with a pen and notepad. Yet, on the second day, they did allow journalists to take notes, but not observers like Udelsman of the Texas Civil Rights Project.
Private security officials are also only allowing the public to view master calendar hearings, the first time people see a judge, which tend to be short preliminary hearings. Requests to attend different master calendar hearings, other than those held in the one room made available, were denied.
"They're preventing anybody from being able to explain in the most accurate manner possible what's happening," Udelsman said. "You're prohibiting the public from knowing what's happening in the courtroom and making life as difficult as possible for the few people who are able to report on what's happening."