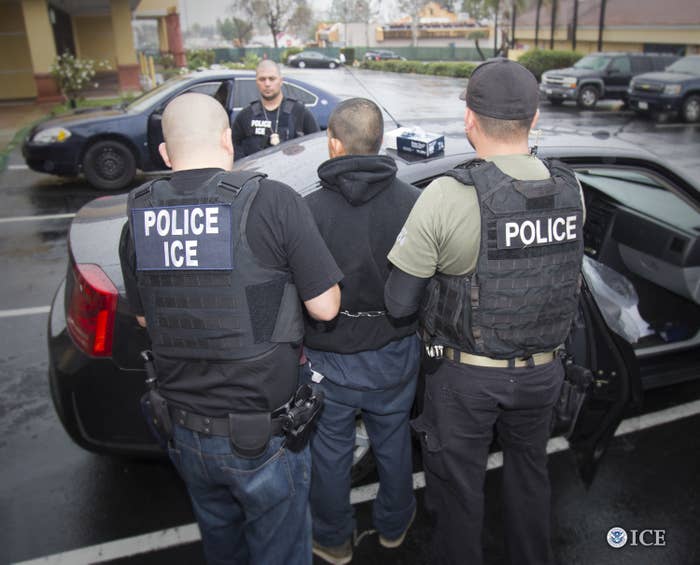 US Immigration and Customs Enforcement (ICE) unveiled new guidelines Wednesday on how to conduct courthouse arrests, including prohibitions against detaining undocumented family or friends who accompanied a target to court.
ICE agents also were told to avoid detaining anyone in the country without legal documentation who's been called as a witness in a proceeding, "absent special circumstances."
In March of last year, California's chief justice asked the federal government to stop using courthouses "as bait" for arresting undocumented immigrants.

"Enforcement policies that include stalking courthouses and arresting undocumented immigrants, the vast majority of whom pose no risk to public safety, are neither safe nor fair," Chief Justice Tani G. Cantil-Sakauye said in a statement. "I respectfully request that you refrain from this sort of enforcement in California's courthouses."
Officials with the agency defended making courthouse arrests, saying they were necessary because so-called sanctuary cities are keeping ICE agents from detaining undocumented immigrants in jail.
"Communities are making the decision to release criminal aliens back to the street. That puts the community at risk and also puts my officers at risk if we have to go into the community and arrest these folks in an unsecure location," a senior ICE official told reporters on background. Courthouse arrests are "often a last resort when folks can't be located in their community."
The guidelines also say ICE should not operate in family court or civil court and arrests should take place in nonpublic areas to the extent possible.
The new guidelines apply to civil arrests of undocumented immigrants with criminal convictions, gang members, or who pose national security threats. The guidelines also apply to immigrants ordered deported by an immigration judge but who haven't left and for migrants who reentered the US after being removed.
A senior ICE official told reporters on a call Wednesday that witnesses or victims of a crime would not be detained, even if they have been ordered deported or would otherwise be targeted by agents.
The Immigrant Defense Project said the guidelines would still allow ICE to continue making arrests at courthouses, something that statistics show has been increasingly common under the Trump administration.
The New York City–based immigrant advocacy group said that, in 2017, ICE arrests and attempted arrests in New York courthouses had risen 1100% over 2016.
"This policy will enable that statistic to continue escalating, and allow ICE to further target vulnerable immigrants, to hunt immigrants down in all courts, and to terrorize friends and family members," the Immigrant Defense Project said in a statement. "This policy will do nothing to change that practice. The threat that ICE poses to public safety and to the fair administration of justice remains."