Immigrants Are Afraid Their Personal Info Will Now Be Used Against Them After Trump Order
"This justifies our fears," an immigration advocate told BuzzFeed News. "It sends the message that immigrants should fear coming out of the shadows."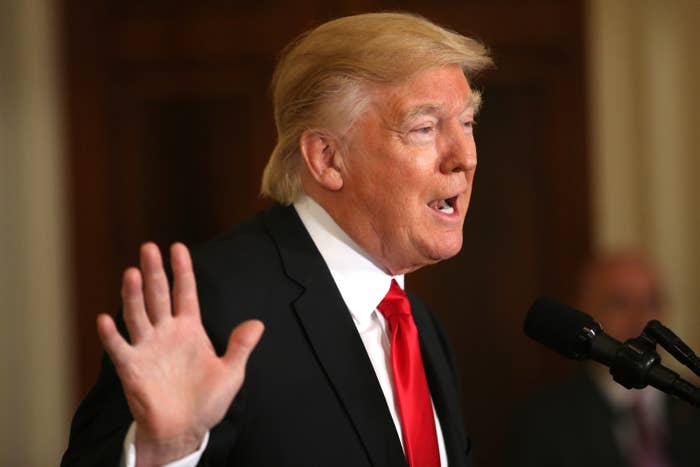 A provision tucked into one of the executive orders signed by President Trump earlier this week strips federal privacy protections for many immigrants who now fear information they registered with the government will be used to find and deport them, advocates said.
Agencies had been barred from sharing personal or criminal history information for those who signed up for the Obama administration's deportation protections under the Deferred Action for Childhood Arrivals (DACA) program. But no more, and that moves the worst fears shared by many so-called "Dreamers" closer to reality, said Luis Perez, director of immigration services at the Coalition for Humane Immigrant Rights of Los Angeles.
"This justifies our fears," Perez told BuzzFeed News. "It sends the message that immigrants should fear coming out of the shadows."

The provision signed by Trump states that non-US citizens or permanent residents from shall be excluded from protections of the Privacy Act "regarding personally identifiable information."
Perez says advocates have been telling immigrants not to submit an initial application for DACA since Trump's election because they couldn't guarantee that their personal information wouldn't be used against them.
About 750,000 immigrants brought here as minors were shielded from deportation and received work permits under Obama's 2012 executive actions that de-prioritized the deportations of undocumented immigrants with no criminal records.
To sign up, however, they had to submit fingerprints, addresses, and employment records, in addition to other information, to federal authorities.
Neema Singh Guliani, legislative counsel with the ACLU, said people should look at the provision in the context of an overall executive order that is attacking immigrants on multiple fronts.
"It's hard not to be concerned that this will be used to further that immigration enforcement agenda," Guliani told BuzzFeed News. "In a way, this greases the wheels so they can access information they can use for immigration purposes."
Trump's executive order also expanded the definition of a criminal immigrant and gave US Immigration and Customs Enforcement (ICE) agents more discretion in who they chose to go after. He prioritized the deportation of people charged but not convicted of a crime, immigrants ICE believes pose a risk to public safety, and those who "have committed acts that constitute a chargeable criminal offense."
By the time Obama left office, his administration was focusing on deporting immigrants with serious criminal convictions.
It's not just criminal history data that will now be unprotected. The Department of Health and Human Services for instance keeps information on refugees and unaccompanied minors, Guliani said.
The provision also removes privacy protections from immigrants who are here legally, like those on student, fiancé, or H1B work visas.
Trump has already called on local police departments to now help stop, detain, and deport undocumented immigrants.
"I'm concerned this will be used to enhance the ability of the federal government to share information with state and local police," Guliani said. "This has led to racial profiling and violations of immigrant's rights."
Perez of CHIRLA said he expects the orders to be challenged in court, and some groups have already promised to do so.
"He's laid out the groundwork for a lot of lawsuits and civil liberty violations," he said.