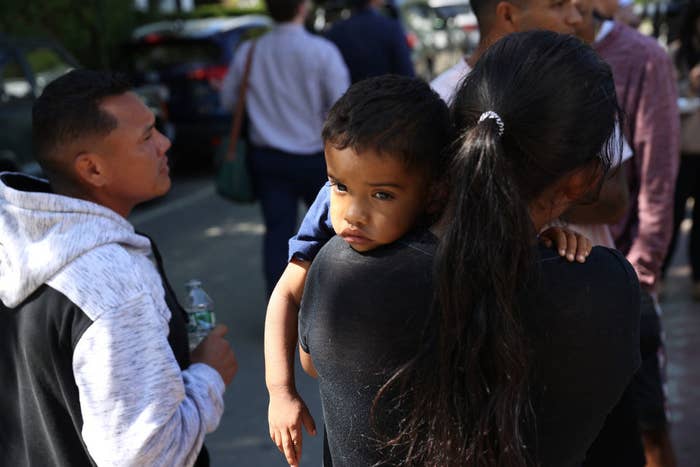 The tactic of Republican governors sending undocumented immigrants north to so-called sanctuary jurisdictions in other states to score political points back home reached another level this week when the upscale coastal enclave of Martha's Vineyard became the latest target.
Images of dozens of immigrants being tended to by unprepared residents and local officials were splashed on Fox News. And Florida Gov. Ron DeSantis, who took credit for chartering the two planes to Martha's Vineyard, seized the moment to hammer his hawkish immigration views, arguing it shouldn't "fall on a handful of red states" to handle the majority of immigrants entering through the southern US border. It's been a common refrain for months, with Arizona Gov. Doug Ducey and Texas Gov. Greg Abbott also busing immigrants to places like New York, Chicago, and Washington, DC.
But what's happening beyond scoring Republican political points? Where do the immigrants go? And is this practice even legal?
Abbott started the practice of busing immigrants to sanctuary jurisdictions this spring after accusing President Joe Biden of having "open-border policies." That was in response to the administration's plans to end a Trump-era pandemic policy that quickly expels immigrants and asylum-seekers to Mexico or their home countries before they can access the US asylum system.
In April, the Biden administration said it would end the policy, known as Title 42, but a federal judge temporarily blocked that plan.
But before the judge's temporary restraining order was issued, Abbott reacted to the announcement by saying he would bus immigrants and asylum-seekers to DC for Biden to contend with. Abbott's announcement at a news conference painted an image of immigrants being forced to board buses, but a later statement clarified that going to DC would be voluntary.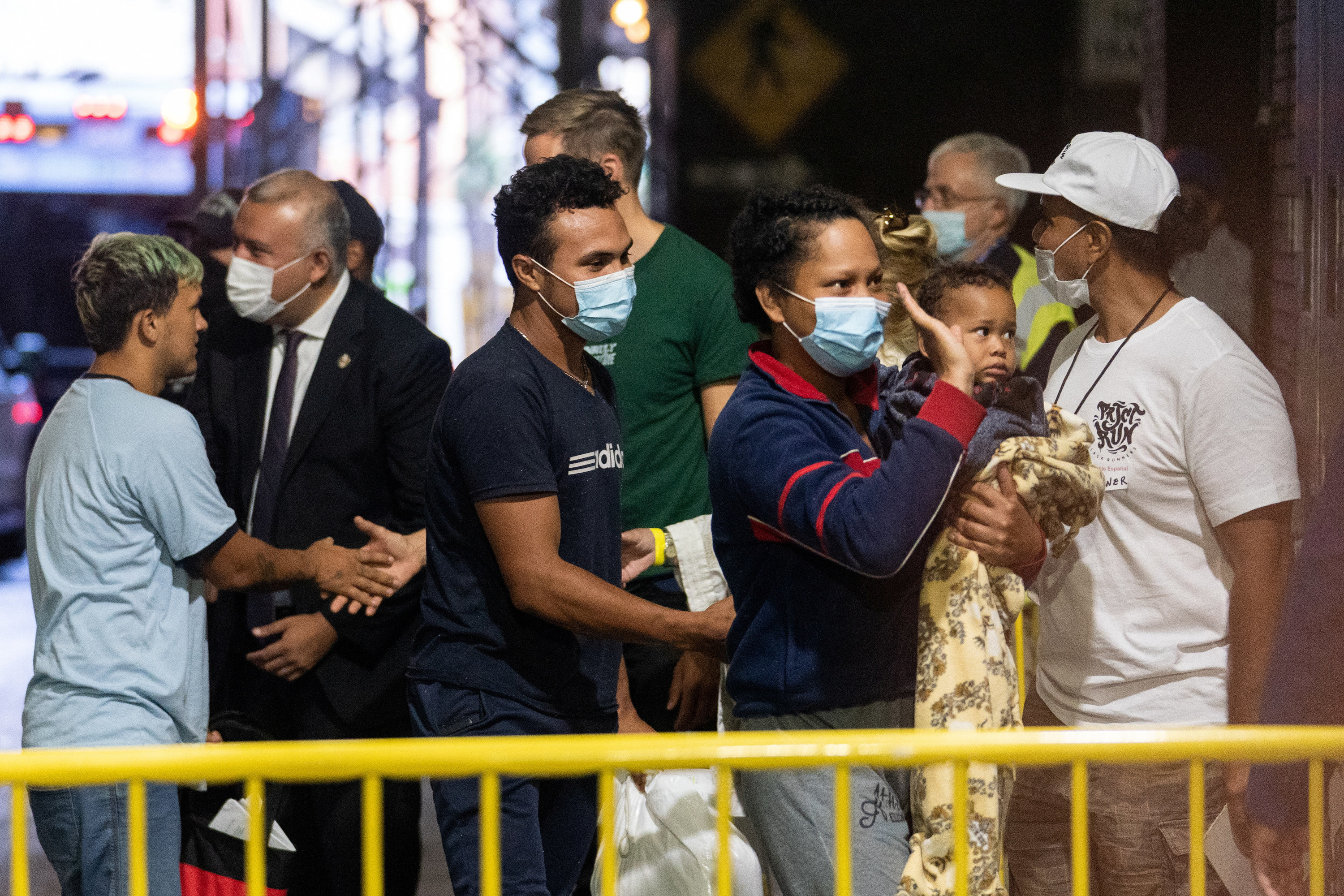 Texas had bused about 10,400 immigrants to New York, DC, and Chicago as of Sept. 9, Abbott said in a statement. And on Thursday, the governor said two buses of immigrants from Texas arrived outside of Vice President Kamala Harris's residence at the US Naval Observatory in DC. The people on the buses came from several countries, including Guyana, Nicaragua, and Venezuela.
Many of these immigrants are fleeing extreme poverty and violence in their home countries.
It was the latest tactic by Abbott, who is up for reelection and banking on a tough immigration platform to win. Last year, he launched Operation Lone Star, which ordered Texas National Guard troops to arrest undocumented immigrants at the border on state trespassing charges. More recently as part of the operation, Abbott had the state National Guard start apprehending people suspected of being undocumented immigrants who had managed to evade Border Patrol and driving them to a US Customs and Border Protection port of entry.
But Abel Nuñez, executive director of the Central American Resource Center, one of the organizations helping immigrants who were dropped off at DC's Union Station, said Abbott might actually be having unintended consequences.
"Most immigrants on the buses are really happy and thankful for the governor's free bus ride," Nuñez said in a recent interview. "It's counterintuitive. Yes, Abbott is making a point, sure, but this will encourage people on the buses to tell their networks back home, 'Hey, go to Texas.'"
It wouldn't be the first time Abbott's attempt at immigration enforcement has proven to be counterproductive. In December, BuzzFeed News reported that Operation Lone Star had inadvertently helped asylum-seekers. Had some of the immigrants been detained by Border Patrol agents instead of state troopers, they would've been subject to Title 42 and immediately sent back to Mexico or their home countries based on their nationalities. But because they were facing state charges and held in local jails, the immigrants were able to access asylum proceedings that Title 42 would have blocked them from.
In May, Arizona joined Texas in sending buses of immigrants to DC as well. In a statement, Ducey said that with Arizona resources under demand and little or no assistance from the federal government, the state would voluntarily give asylum-seekers transportation to DC.
In the case of Florida, DeSantis appears to be offering free plane rides and has become the latest governor to send immigrants and asylum-seekers to so-called sanctuary jurisdictions after taking credit for flying at least 50 Venezuelans to Martha's Vineyard.
"We are not a sanctuary state, and it's better to be able to go to a sanctuary jurisdiction, and, yes, we will help facilitate that transport for you to be able to go to greener pastures," DeSantis said at a news conference. "Every community in America should be sharing in the burdens. It shouldn't all fall on a handful of red states."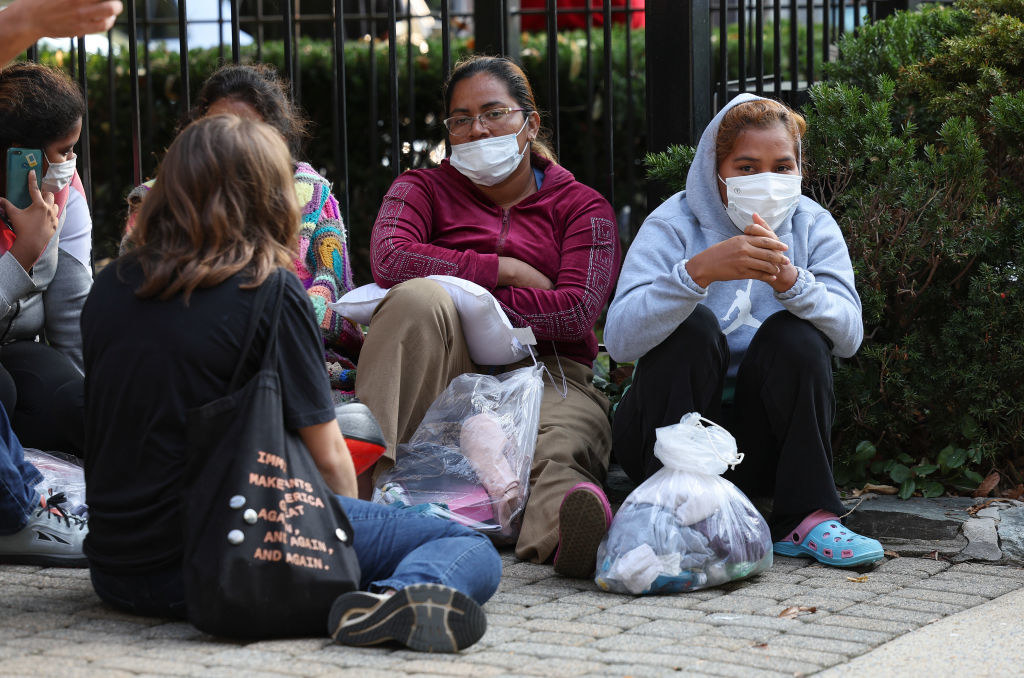 DeSantis had made previous statements about sending immigrants to Martha's Vineyard, arguing that the border "would be secure the next day," Newsweek reported.
While there is no legal definition of a sanctuary city, it generally refuses to hold immigrants for Immigration and Customs Enforcement suspected of minor crimes or has policies ordering cops not to ask about a person's immigration status. Massachusetts doesn't have a law on the books that would make the state a sanctuary jurisdiction. However, in 2017, the Massachusetts Supreme Judicial Court ruled that under state law, local police can't hold immigrants for ICE, effectively making it a sanctuary state.
Meanwhile, the communities where the immigrants have been sent have had to quickly establish a network to get them services, housed, fed, and even clothed.
The Dukes County Sheriff's Office said about 50 immigrants landed at Martha's Vineyard, a wealthy Massachusetts island and popular travel destination, on Wednesday seeking shelter. The island's Town Emergency Management Operations, sheriff's office, and nonprofits suddenly had to jump into action to provide food, water, and shelter.
Two emergency shelters have been established with additional space available in case more immigrants arrive, the Dukes County Sheriff's Office said. Authorities have also reached out to state and federal partners for aid and long-term support.
In larger jurisdictions like New York and DC, the uncoordinated bus drop-offs of hundreds of immigrants at a time have strained resources.
On Monday, New York City said it had failed to provide beds to at least 60 single men, violating a legal agreement stemming from a lawsuit that requires the city to provide shelter to anyone who wants it. The city's shelter system has been struggling to meet demand in recent months, but it's unclear how much of that is because of the thousands of immigrants who arrived on buses sent by Abbott.
Last week, DC Mayor Muriel Bowser declared a public emergency in order to establish an Office of Migrant Services to meet the needs of the growing number of immigrants being bused to DC from Texas and Arizona.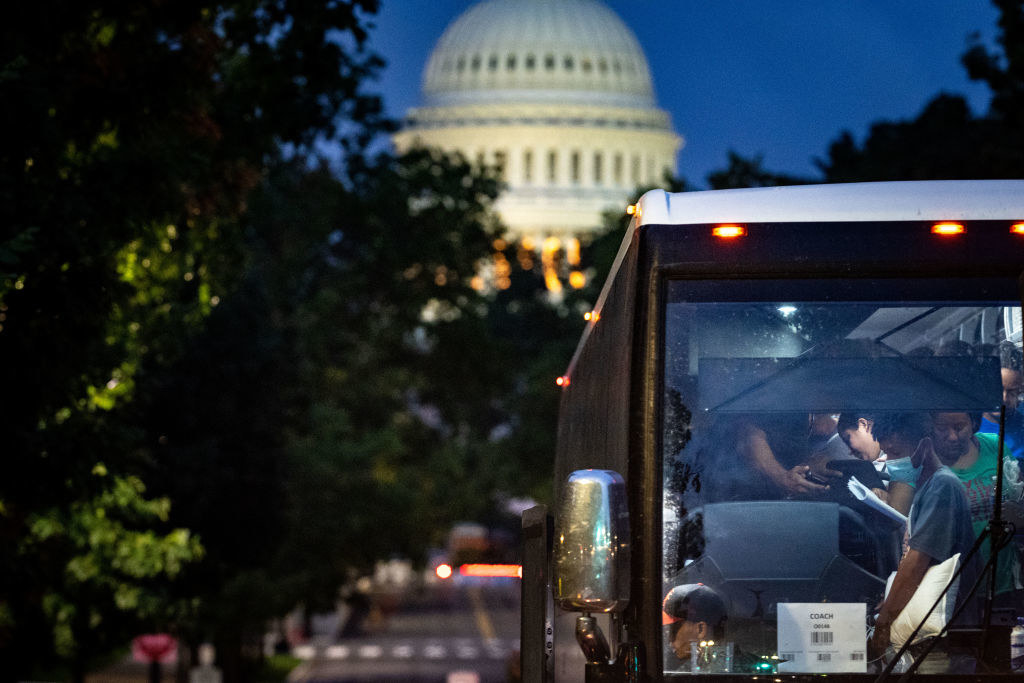 As for the legality of busing immigrants to so-called sanctuary states or cities, that appears to be under review. The Chicago Sun-Times reported that state and city officials in Illinois were looking into whether Texas had violated laws by busing immigrants to Chicago, including if the passengers had been coerced into taking the rides.
"I believe that they have been misled, and the only option for them that they've been presented by the folks in Texas is a free bus ride, because they're not providing any other option to them to go elsewhere in the country, where many of them would prefer to go," Chicago Mayor Lori Lightfoot said at a news conference.
Adding to the confusion, nonprofits have started receiving court hearing notices for immigrants, even though they aren't representing them as clients and have no way of reaching them. If an immigrant misses their court hearing because they didn't receive the hearing notice, they could be ordered deported in absentia.
Lauren Wyatt, managing attorney at Catholic Charities of the Archdiocese of New York, said her organization started receiving hearing notices in July for immigrants whom it has no way of contacting, and shortly after she discovered other organizations that have nothing to do with immigration were also getting them.
One notice that Catholic Charities of the Archdiocese of New York received had a drawing of a happy face with a tongue sticking out, Wyatt said.
"It's very concerning because they could be ordered deported through no fault of their own," she said in a recent interview.
It's unclear why immigration authorities are listing the addresses, but part of the issue could stem from recent immigrants not having a friend or family member to receive them. Some immigrants told Wyatt they were told that if they didn't let authorities write down an organization's address in their documents, they would have to stay in detention longer. But it was unclear which agency was responsible for this, she said. CBP did not immediately respond to a request for comment from BuzzFeed News.
"Overall, the people that we're seeing are just so frazzled and really scared," Wyatt said. "A lot of people didn't plan on coming to New York City, and people are terrified, wondering where they're going to sleep tonight."