By the time Choco had crossed the Rio Grande with his family in July, he'd traveled through six countries, swum across a dozen rivers, and walked through one of the most dangerous jungles in the Western Hemisphere.
Because Choco is a dog, he couldn't go with his family to be processed at a Border Patrol facility and had to be separated. Greisy, the matriarch of the family who asked that only her first name be used, said her two daughters immediately burst into tears when an agent told them they'd have to leave Choco at the border in Eagle Pass, Texas — they had come too far and survived too much only to lose Choco now.
"I told him to please help us, I can't leave him here," Greisy said. "I don't think he could bring himself to separate us, so another five agents came to the van we were sitting in and told us Choco had to stay behind."
In between tears Greisy, her husband, and her two daughters, ages 9 and 14, hugged Choco goodbye before being driven to a Border Patrol facility. During the three days the family spent in custody, Greisy asked agents about Choco's whereabouts but was told nothing.
"We were all in bad shape," Greisy said.
Unbeknownst to Greisy, though, the Buddy Foundation, an animal rescue in Eagle Pass, and a Border Patrol supervisor in the area had come up with an arrangement for situations where immigrants are separated from their pets. The dogs would be dropped off at the Buddy Foundation, where contact information would be exchanged so a reunification could take place at a later time.
Sandy Tovar, president of the Buddy Foundation out of her home, said she started working with Border Patrol to help reunite immigrants with their dogs in 2021. In the beginning, some agents Tovar knew would drop off the dogs, usually one every month or two. But those numbers have increased in the last four months in the Eagle Pass area to about two or three a week and up to seven a day, and Tovar realized that nobody was really tracking where their owners went, prompting the need for better coordination.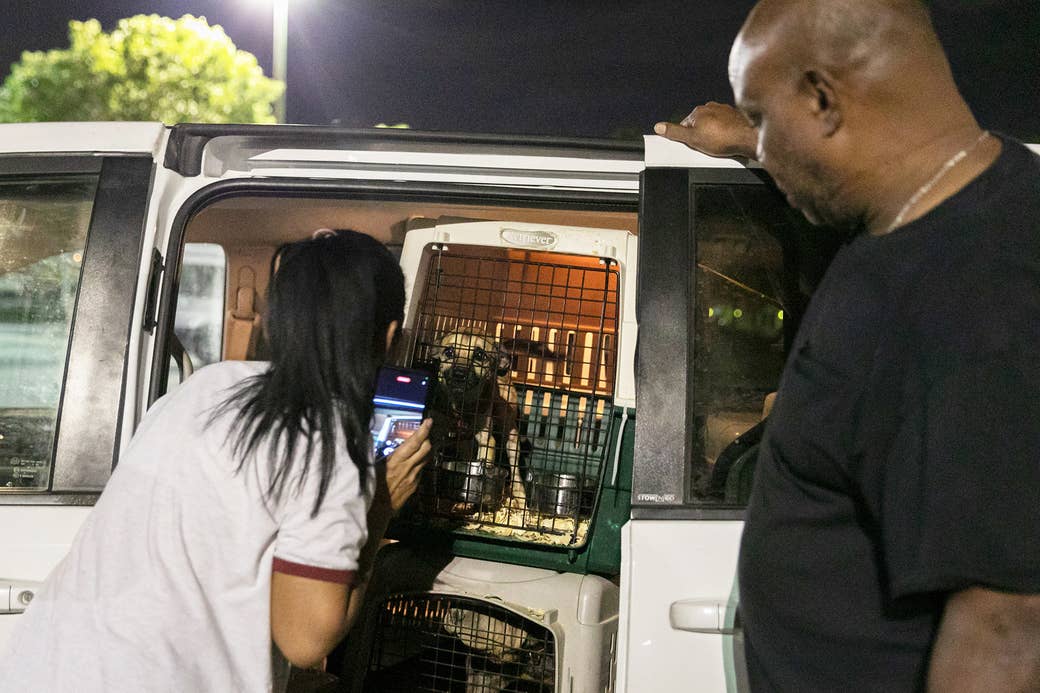 "They love their pups as much as we love our dogs, and if we were in their situation we would want someone to help us," Tovar said. "They cared for these pups through this horrific journey."
Tovar knew a neighbor who was also a Border Patrol supervisor and offered to take in the dogs while their owners were processed. The families were to be given Tovar's information so they could call as soon as they were released, and the organization was given the owner's information. A few days after people were released from Border Patrol custody, the owners would reach out to the Buddy Foundation. It's hard to say what was happening to dogs prior to the arrangement, Tovar said. Most of them likely ended up in shelters. Some may have stayed behind at the border. But the recent uptick in dogs at the border has been a new development that's had all stakeholders scrambling for a solution, she said.
"There wasn't really a plan as to what to do with these dogs. That's why we decided to step in," Tovar said. "It can't be that these dogs endured these horrific journeys only to just go missing without anybody knowing what happened to them."
In a statement, CBP said the agency follows CDC guidance when it comes to the admission of dogs and other pets into the US.
"If the pet's owner is an inadmissible noncitizen in DHS custody and an animal's owner does not transfer possession to family or friends, [CBP] works with local officials from animal health services, such as a local humane shelter, to see if there can be placement for the animal while its owner remains in custody," the agency said.
Most of the time, the Buddy Foundation tries to reunite the families in Texas shortly after they're released from local shelters that help them get to their final destinations. Sometimes the timing doesn't work out and they have to meet the families in San Antonio. Other times they have to ship the pets, which can be expensive. The system appeared to work in the beginning, but more recently Tovar said she started receiving more dogs without the owner's information resulting in the small rescue being forced to house them for months at a time.
The foundation isn't the first group to help immigrants and asylum-seekers reunite with their pets. Jordyn Rozensky, a communications worker, co-runs a volunteer group Mascotas Para Migrantes (Pets for Migrants) that launched last year to help immigrants reunite with their pets in the US, animals that they would have otherwise had to leave behind in Mexico.
"Imagine being forced to leave everything you've ever known — my guess is for many individuals that level of grief is unfathomable," Rozensky said. "There is a universal reaction to the idea of leaving our pets behind. Thinking about one's pet — and what it could feel like to have no choice but to abandon them — grounds this immense loss for many."
Rozensky and Taylor Levy, an immigration attorney who also runs the group, saw recent pictures of a crying immigrant couple in Eagle Pass saying goodbye to their dog before being separated. In one shot, the dog is in the back of a Border Patrol truck looking for its owners. Rozensky and Levy started asking about the dog's status to see if they could help, but soon realized the Buddy Foundation had already reunited them after working with Border Patrol. The pair started helping the Buddy Foundation raise funds to help pay for costs associated with shipping pets to states like Florida and New York.
The Buddy Foundation said most of the dogs they're reuniting belong to Venezuelan immigrants. Most immigrants at the border are blocked from accessing the US immigration system under a Trump-era pandemic policy that quickly expels them to Mexico or their home countries. But the policy, known as Title 42, isn't being applied to Venezuelans because Mexico won't accept them like they do for other nationalities, and the US doesn't have deportation flights to their country due to a lack of diplomatic relations.
The route to the US–Mexico border from Venezuela, though, is long, and for many it includes having to cross through the Darién Gap, a jungle that separates Colombia from Panama that has claimed the lives of many. UNICEF calls the dense jungle one of the most dangerous migration routes in the world. Immigrants walk through the Darién without knowing exactly what direction to go in and recall passing by the decomposing bodies of those who didn't make it. Armed men also regularly rob them and rape women and girls.
After Mexico instituted a visa requirement in January that stopped Venezuelans from being able to fly to the country as tourists, the number seen by US border authorities dropped dramatically the following month. This only ended up pushing them to take a more dangerous route through the Darién Gap and the number of Venezuelans CBP encountered at the border started to slowly and then quickly increase in the summer.
The number of Venezuelans crossing through the jungles of the Darién Gap is on the rise. From 2,819 total in 2021 to 44,943 as of July 2022, according to Panama.
The fact that many of the dogs currently crossing in Eagle Pass traveled through the Darién Gap shows Levy just how deep the bonds are.
"These dogs provide incredibly important emotional and psychological support," Levy said.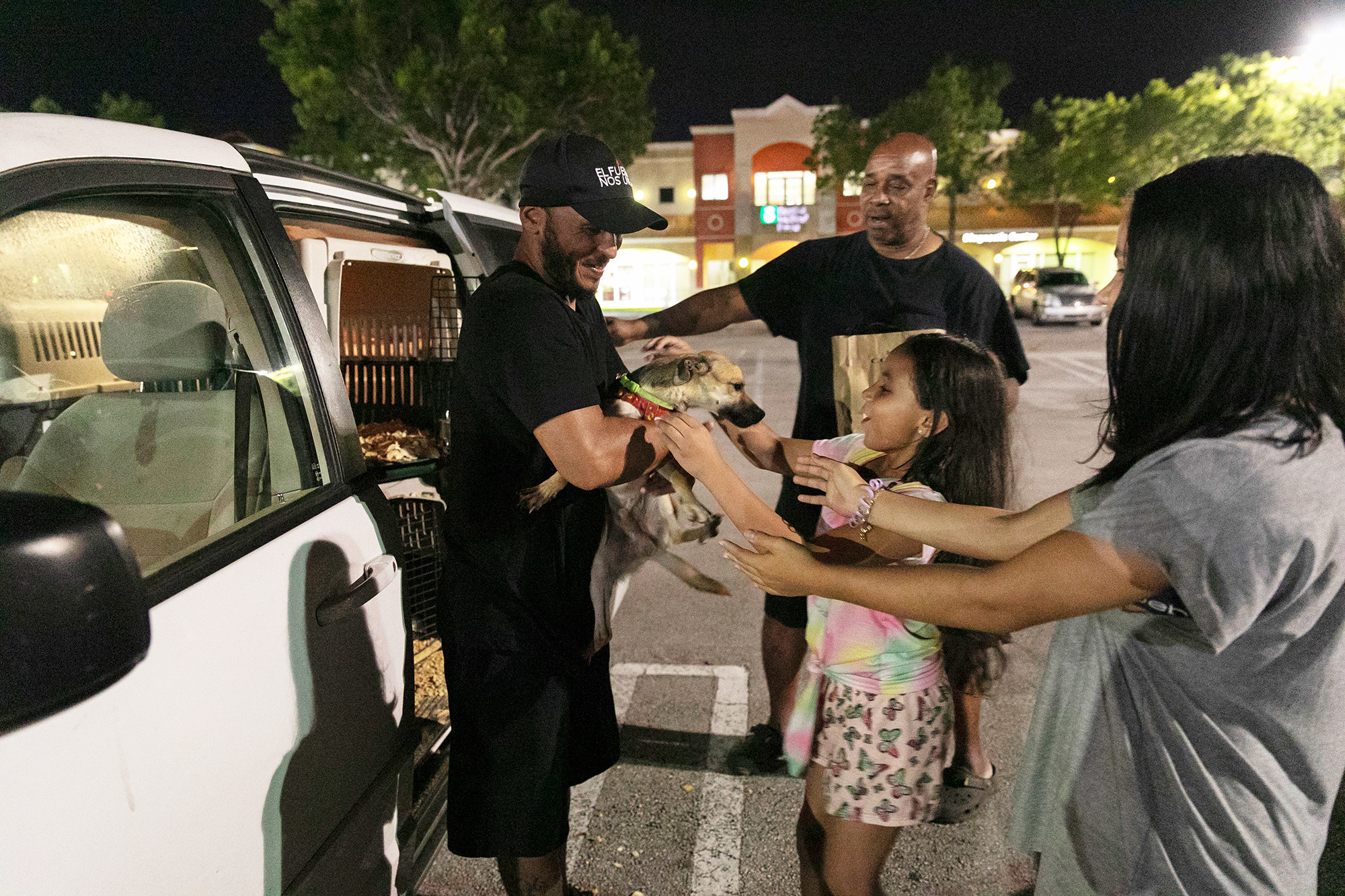 Greisy bought Choco for her oldest daughter, now 14, in Colombia, where they lived for three years after leaving Venezuela. But the family struggled to make a living there, so they decided to try to make it to the US by land with the little money they had.
Greisy and her family embarked on their journey through the Darién Gap with a group of about 300 immigrants who had congregated at a camp on the border with Panama. Greisy said she saw a man holding his daughter around his neck slip on a muddy trail and fall off a steep cliff to their presumed deaths, leaving only the wife and mother behind.
Choco would swim against the current of the rivers they crossed, Greisy said. When the group was unsure of which path to take, they'd follow Choco, assuming he could smell the people who had taken the path before them.
In order to finally get out of the jungle after walking for nearly six days, the group had to climb up a steep and dangerous hill dubbed "La llorona," or "weeping woman," named after a ghost that haunts areas near water. Mari, her oldest daughter, walked ahead of her family with Choco, which wasn't a problem because she never strayed far. But in the struggle to help her get up from a fall in the mud, her husband and other daughter lost sight of Mari.
It was night and they were traveling without flashlights. Greisy wanted to call out for her daughter, but feared attracting the attention of gunmen or predatory animals. Every second seemed like an eternity. Suddenly Choco appeared, and led Greisy's husband 10 minutes away, where he found Mari safely on the trail.
The family eventually crossed into Mexico on a raft. In the border city of Tapachula, Greisy and her family went to an immigration office to get documents that would allow them to travel through Mexico. But the National Institute of Migration told them they'd have to wait months.
Drained and hopeless, Greisy and her family returned to the shelter they were packed into and tried to figure out their next move. A few days later, they were able to leave with a caravan of immigrants who travel in groups for safety and to increase their chances of evading agents.
When Greisy and her family arrived at the Mexican border city of Piedras Negras, it was dark, and despite seeing people cross the Rio Grande into the US, they decided to wait for daybreak because they had heard the river's currents were dangerously unpredictable.
With the help of a local who advised them to cross after 9 a.m. when the current was lower, Greisy and the rest of the family crossed the river holding hands in waist-high waters. Greisy's daughter carried Choco.
They were released from Border Patrol custody about three days later, but without Choco or any information on how to find him. After traveling to Miami to stay with a friend, Greisy immediately went online to look for groups that take in strays in Texas.
One of the seven organizations Greisy messaged was the Buddy Foundation, which quickly let her know that they did in fact have Choco.
"We were all in tears, we couldn't believe it," Greisy said.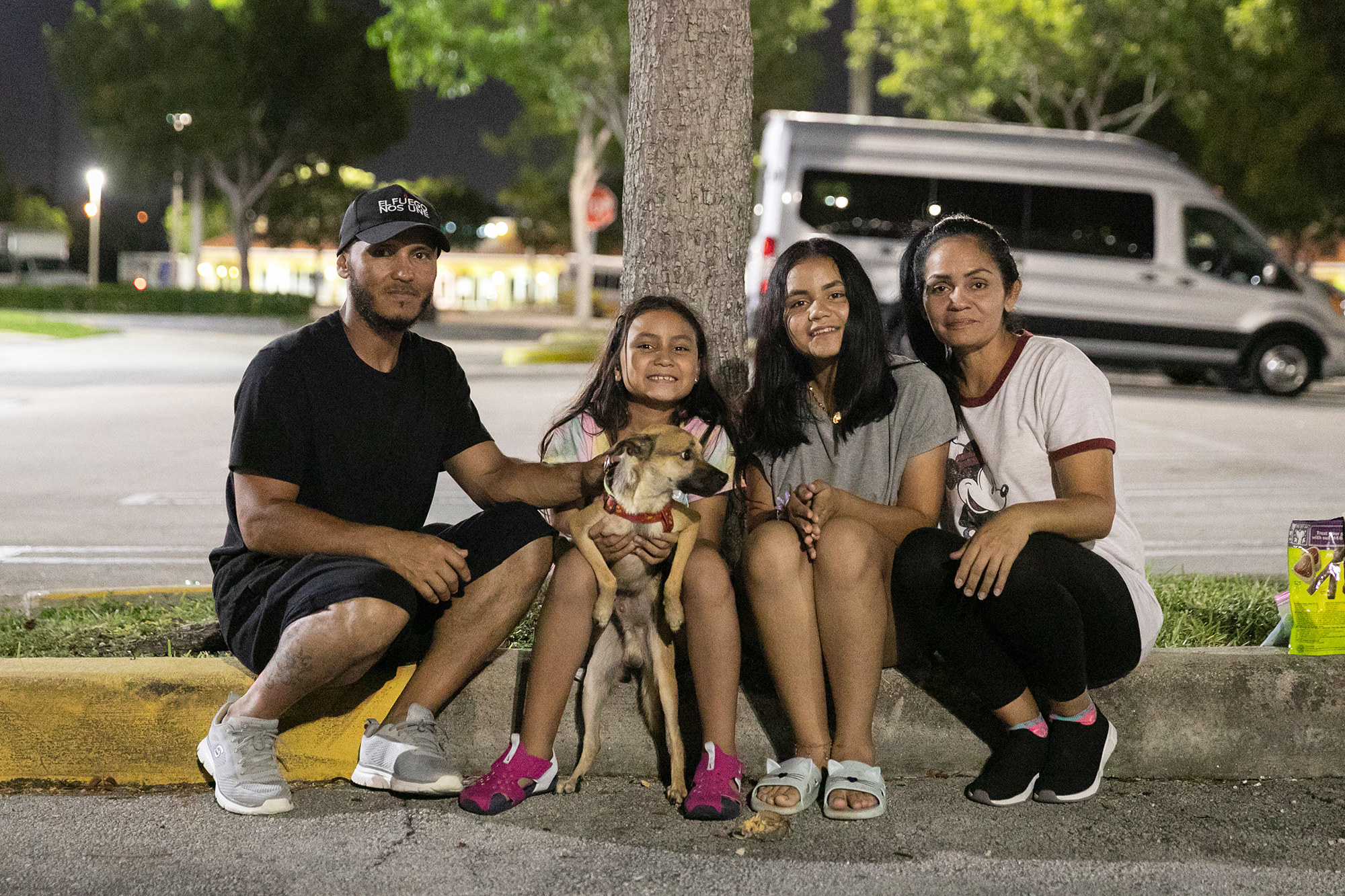 About six weeks after they had last seen Choco and more than 1,500 miles away in Miami, Greisy and her family waited in a parking lot next to a McDonald's and an emergency room.
A van pulled up and the driver opened the passenger door revealing two rows of dog kennels. Inside one of them was Choco. At first, Greisy and her family just cautiously watched.
When the driver opened the kennel, Choco didn't bark or jump out. Soon Choco appeared to have recognized them and started to wag his tail as his family hugged him. For the next 30 minutes, the family ran around the parking lot playing with Choco, still partly in disbelief that they had been reunited.
"It was truly a great miracle," Greisy said.
Choco was among the last group of dogs to be reunited by the Buddy Foundation. While at first the Buddy Foundation was given the owner's information by Border Patrol, the organization started receiving dogs without any way of knowing who they belonged to. This resulted in the foster-based rescue housing the dogs for months while they waited for the families to reach out to them. By then, their owners were in another state and the Buddy Foundation had to come up with the funding to transport them.
"This put our time and efforts for local rescue work at a complete stop and quickly became counterproductive," said Tovar, the president of the Buddy Foundation. "We want to help, but the increased number of pets is just something we are not prepared for."