MATAMOROS, Mexico — The drowning of a 21-month-old boy in South Texas is the latest in an increasing number of child immigrant deaths at the US–Mexico border.
Iker Gael Cordova Herrera's body was found last week near San Felipe Creek in Val Verde County — along with that of his 26-year-old mother, Idalia Yamileth Herrera Hernández. They had asked US immigration authorities for asylum but were sent back across the border to Matamoros, under a Trump administration policy known as "Remain in Mexico," to wait for their first court dates.
The policy, formally known as the Migrant Protection Protocols program, which has forced more than 42,000 asylum-seekers back into Mexico while their asylum case is adjudicated by an immigration judge. The process could take months.
Advocates said MPP forces asylum-seekers to live in dangerous Mexican cities with few resources and little protection. Some grow desperate enough that they can no longer wait, and are driven to cross the US border illegally.

In the case of the mother and son, "After several months of waiting the compatriot despaired of being in Mexico and decided to cross the [Rio Grande] again, leading her to her death along with her son," Nelly Jerez, the Honduran vice foreign minister of consular and migration affairs, said in a statement.
So far in 2019, 15 children have died at the US–Mexico border, according to data from the International Organization for Migration. That is the highest number of dead children since 2014, which is when the organization started tracking deaths along migratory routes for its "Missing Migrants Project."

Previously, the highest number of children who died at the US–Mexico border was nine, in 2018, and before that it was eight in 2016.
Seven of the 15 children who died in 2019 so far have drowned or were presumed drowned, according to IOM. The deaths of immigrant children who died in US custody or shortly after being released by authorities is also included in the figures.
Óscar Alberto Martínez Ramírez and his 23-month-old daughter, Valeria, drowned in June after they were told they would have to wait for months before being given the chance to even request asylum from the US. That process, known as metering, limits the number of people allowed to enter through official US border crossings to request asylum.
A photo of the father's and daughter's lifeless bodies floating in the river made headlines around the world and cast a spotlight on the dangers of the Rio Grande. Just last week a teenage girl almost drowned in the river after months of waiting in Mexico under MPP.
This year Border Patrol agents saw an unprecedented numbers of families showing up at the border to request asylum. In May agents detained 84,490 immigrant families along the US–Mexico border, the highest monthly number since Customs and Border Protection started tracking the figure in 2012. The border agency said the increase in families strained their resources because their facilities were built to hold single adults, not families and children.
In May, CBP apprehended a total of 144,255 immigrants along the southern border, the highest monthly figure since 2007. Though that figure was still not close to the 220,063 people apprehended in March 2000, the highest monthly number recorded since 1999.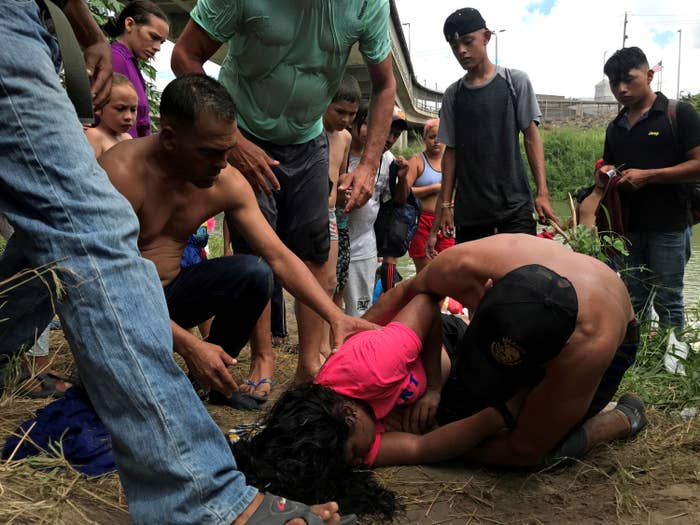 Stephanie Leutert, director of the Mexico Security Initiative at the Robert S. Strauss Center for International Security and Law at the University of Texas at Austin, said there is a direct tie between people dying trying to cross the border and restrictive policies such as metering or MPP.
"US policy has been shaping the way people come into this country," Leutert told BuzzFeed News. "When it's more restrictive we know people try to cross the river and drown. It's a continuation of what happens when we're taking away legal pathways."
The Customs and Border Protection agency didn't immediately respond when asked about any correlation between Trump's policies and the increase in immigrant deaths.
In 1917, when the US required immigrants to pass a literacy test and pay a tax, Leutert said people tried to enter the US undetected via the Rio Grande.
In the 1940s — when the Bracero Program, which brought Mexican workers to US farmlands because of a shortage of workers during World War II, was banned in Texas — the US saw a "big increase" in unauthorized crossings and also deaths. In a New York Times article from July 24, 1949, a Rio Grande Valley Chamber of Commerce member said Mexicans were drowning in the Rio Grande at the rate of at least one person a day. The Mexican government had banned its people from working in Texas under the Bracero Program because it said its citizens were being discriminated against in the state.
Leutert said it's easy for the public to wave their hands, to say immigrants shouldn't have tried to cross the border, and to say it's their fault, when instead people should be looking at what legal avenues can be created to avoid this.
"That's how we are able to justify hundreds of people dying every year in unnatural horrible deaths in US territory," Leutert, who is researching immigrant deaths in South Texas, said. "The policies don't change, and for whatever reason people's desires and dreams also don't change. When these two things collide, which is what happens all the time, you have these tragic outcomes."