Vows Against Illegal Immigration Return At Trump's "Thank You" Rally
"We will finally end illegal immigration," Trump told supporters in Cincinnati, Ohio.
President-elect Donald Trump's anti-illegal immigration agenda, which helped launch his campaign, flared again at his Thursday night "Thank You" rally.
"We will restore the sovereignty of the United States. We will finally end illegal immigration, have to," Trump told a crowd of supporters in Cincinnati, Ohio. "We will construct a great wall at the border."
Trump said the beefed up border would "dismantle" cartels and stop the flow of drugs into the United States. He also pledged to stop the immigration of people from regions who can't be "safely processed."
He wasn't the only one at the rally talking about undocumented immigrants, all of the speakers before him also mentioned the issue that was a cornerstone of Trump's successful campaign.
Vice president-elect Mike Pence also promised to end illegal immigration, which set off chants of "Build the wall" from the crowd.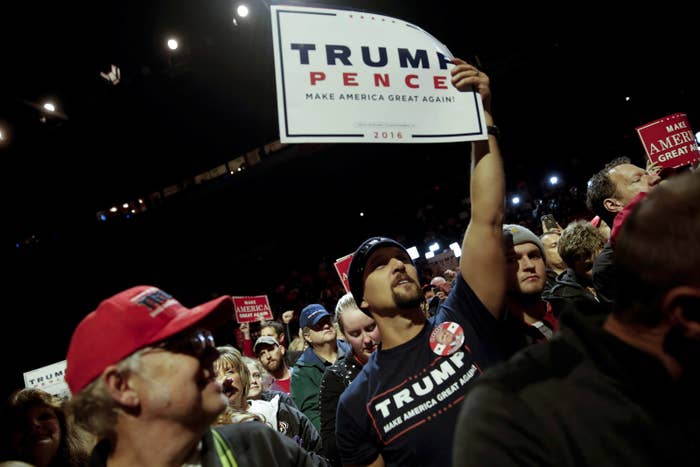 Josh Mandel, state treasurer for Ohio, said people have been asking him to make cities sanctuaries for undocumented immigrants.
"Over my dead body" will a city in Ohio become a sanctuary city, Mandel said, referring to jurisdictions pledging not to work with federal immigration officials on deportations.
The call for sanctuary cities has reemerged after Trump's victory because immigrants and their advocates fear he will make good on campaign promises to deport millions.
Since being elected, Trump said he would deport up to 3 million undocumented immigrants with criminal records.
Trump's senior policy adviser, Stephen Miller, said Thursday that the US-Mexico border has been left open for too long.
"After all these years, after all this waiting, the prayers of Ohio and this country have been answered," Miller said. "Starting in January 2017 illegal immigration will be a thing of the past and change is going to happen across the boarder."