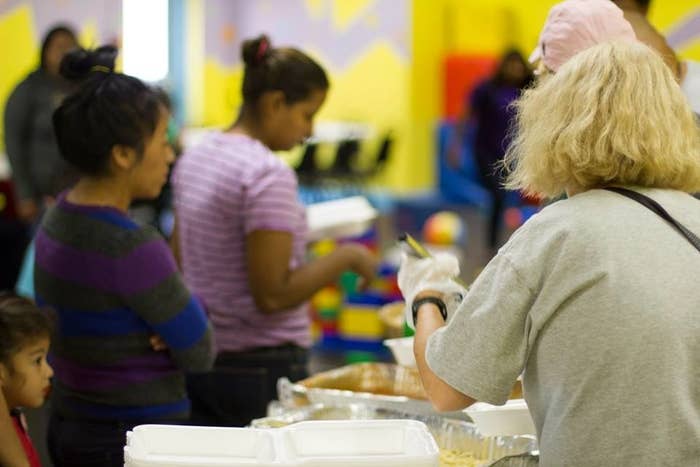 Federal immigration authorities left about 50 immigrant women and children, most of them asylum-seekers from Central America, stranded at a downtown San Antonio bus station after service was canceled Friday due to Hurricane Harvey.
Barbie Hurtado, a community organizer with RAICES, a nonprofit that provides legal aid to immigrant families, said Democratic Rep. Lloyd Doggett, who represents San Antonio, had called immigration enforcement officials the day before to tell them not to drop families off.
"Knowing that, they just dropped them off," Hurtado said. "These are women and children who have been released from family detention with no money, cell phones, and don't speak English."
When BuzzFeed News asked about the decision to leave the women and children at the bus station, a US Immigration and Customs Enforcement (ICE) spokesperson issued the following statement on Sunday: "All of the aliens who were transferred to the San Antonio Greyhound bus station by ICE on Friday morning had confirmed tickets and itineraries to their destinations. Throughout the process, ICE remained in close contact with bus officials to ensure bus availability, and all aliens had confirmed bus transportation at the time at which ICE officers departed the station. Ultimately, ICE kept two additional families in custody since their bus trip had been cancelled."
The spokesperson declined to answer whether buses were running when the families were dropped off. ICE declined to give the time the families' buses were scheduled to deport or when they dropped the immigrants off at the bus station, but said it was Friday morning.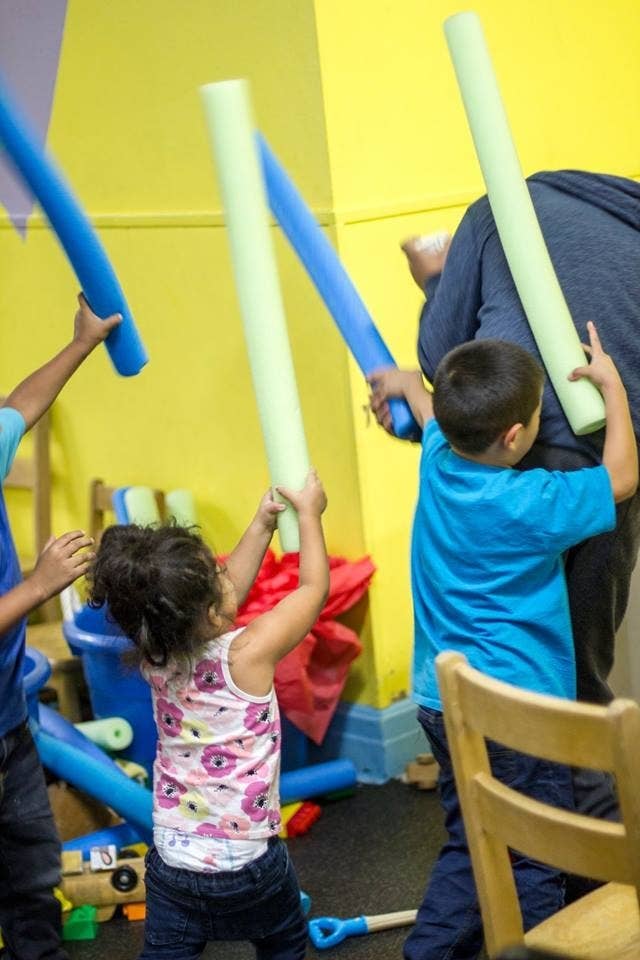 Hurtado said ICE's statements were untrue.
"If the families indeed had travel confirmations, we would like to understand why there are families sleeping in a church in San Antonio tonight," Hurtado said.
On Friday ICE and US Customs and Border Protection (CBP) issued a joint statement saying that their highest priority was to promote lifesaving activities during the storm.
"ICE and CBP also seek to provide for the safety and security of those in our custody and to protect them from bodily harm in the event of a hurricane or a major destructive storm," the agencies said.
In a statement to BuzzFeed News, Doggett said ICE assured him on Friday that immigrants would not be left for lengthy periods at the Greyhound station.
"But for more than 50, it did," Doggett said. "Especially during this natural disaster, all families deserve respect and safety. Fortunately, those who were left waiting with nothing were helped by the goodness of our neighbors and the leadership of the Interfaith Welcome Coalition. Most have now been able to depart."
NOWCastSA was the first to report that the asylum-seekers had been stranded after Greyhound suspended bus services in advance of the hurricane Friday afternoon.

In an interview with NOWCastSA Sister Sharon Alterdorf, a member of the Interfaith Welcome Coalition, says the bus station was open but that service for the migrants had been suspended. She said the families had been dropped off at about 1 p.m. and 2 p.m.
"I'm very angry that despite our pleas for them not to do this, despite the pleas of Congressman Doggett's office that they still dropped off these women and children to basically just be left on their own in a bus station in the middle of the storm against all human rights," Alterdorf said.
"This is all really unacceptable," Doggett told the Rivard Report. "We need greatly improved communication and more attention to genuine humanitarian concerns."
Hurtado said a local church took in the women and children after the city called to ask if they would be willing to house the immigrants until bus services started up again.

ICE routinely drops off families who pass their credible fear interviews at bus stations with tickets to relocate near families or sponsors while their immigration cases move through the courts.
"They were really tired and didn't know what was going on at first," Hurtado said. "But they're grateful to have a roof over their heads, clothes, and food. Most of them were praying the hurricane passes so they can get to their families."
If you've been impacted by the storm in Texas or have a tip about rescue, relief, government, or aid efforts, call the BuzzFeed News tipline at (646) 589-8598. Find us on Signal, email, SecureDrop, and more here.

CORRECTION
The first news outlet to report on the families being stranded was NOWCastSA. An earlier version of this post misstated who reported it.