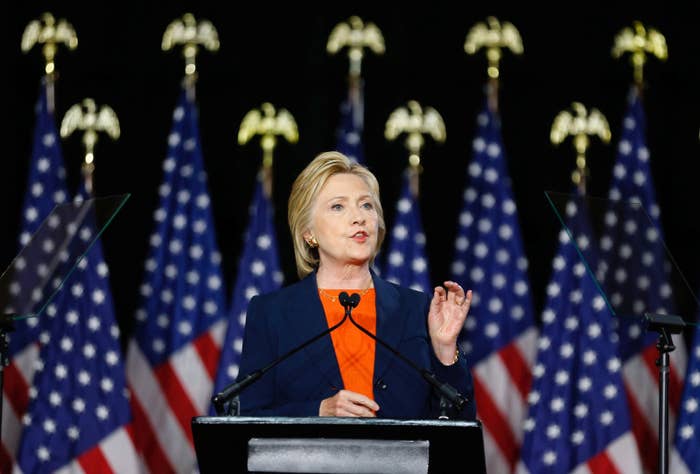 Hillary Clinton took on Donald Trump's foreign policy positions during a pointed speech in San Diego on Thursday, calling them "dangerously incoherent."
Clinton, the Democratic presidential frontrunner, said a Trump presidency would not only destabilize the United States, but the rest of the world, whether enemy or ally.
"Donald Trump's ideas aren't just different they are dangerously incoherent," Clinton said. "They're not even real ideas, just a series of bizarre rants, personal feuds, and outright lies."
She mocked Trump's experience, saying foreign policy is not the same as running the Miss Universe pageant in Russia or closing a golf deal.

Clinton's foreign policy speeches often are heavy on policy, focusing on how, for instance, Europe might better respond to the threat posed by ISIS terrorist attacks. On Thursday, her speech was filtered through Trump himself, and drawing sharp contrasts between the broad contours of his policies and hers.
And, as she repeated the presumptive Republican nominee, she drew sustained laughter from her audience — even on some of the graver and more gravely delivered points.

The speech was heavy on such stark subject matter. Russia and China, she said, would celebrate a Trump presidency, on the basis of his questioning the value of American alliances. Clinton asked the audience to picture Trump making decisions about sending family members to war, or with the U.S. arsenal at his disposal.
"He's not just unprepared," Clinton said. "He's temperamentally unfit to hold an office that requires knowledge, stability, and immense responsibility."

In recent weeks, Clinton has increased and sharpened her rhetoric against Trump, calling him unqualified for the office in a recent interview. On Thursday, she said he didn't have the temperament to be commander-in-chief.

"This is not someone who should ever have the nuclear codes because it's not hard to imagine Donald Trump taking us into war just because somebody got under his very thin skin," Clinton said. "We cannot let him roll the dice with America."