Groups Demand LA Do More Than Make "Vague Promises" To Protect Immigrants
"Abstract statements and vague promises will not be enough to confront the threat we now face," immigration and civil rights activists said regarding Donald Trump.
More than 30 immigrant and civil rights advocacy groups sent a letter to Los Angeles city officials demanding they take more actions to protect immigrants instead of "abstract statements and vague promises" in light of a Trump presidency.
The letter, obtained exclusively by BuzzFeed News, was sent to Mayor Eric Garcetti, the City Council, and the Los Angeles County Board of Supervisors Monday night. Most of the 14 demands in the letter focus on cutting any ties between local police and federal immigration authorities, an issue that's come under greater scrutiny amid the burgeoning "sanctuary" movement.
LAPD Chief Charlie Beck has already said he would maintain a decades-old policy, Special Order 40, against officers engaging in immigration status checks. But the letter asks that his department create a commission to update the "antiquated" policy so that it draws a defined line between local police and immigration agents.

"Abstract statements and vague promises will not be enough to confront the threat we now face," the letter states. "Instead, we demand that you take concrete steps to protect our city and our communities, beginning by ensuring that the Los Angeles Police Department and Los Angeles Sheriff's Department do not become an arm in Mr. Trump's deportation force."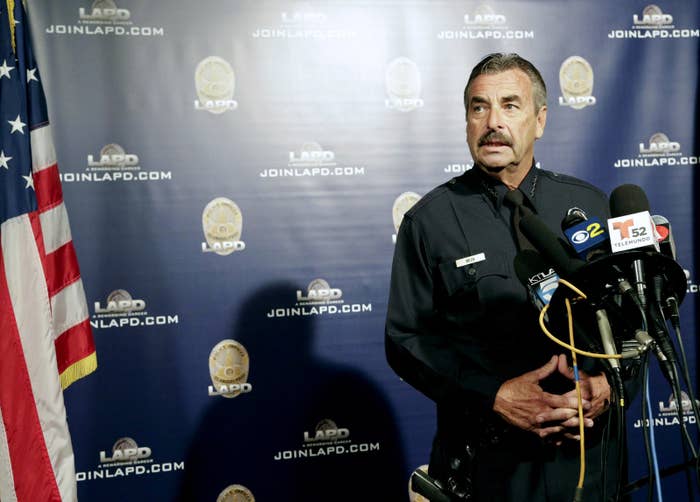 Signees, which include the ACLU, National Day Laborer Organizing Network, and the UCLA Labor Center, are asking that the LAPD and sheriff's department adopt policies that would bar them from working with immigration authorities in any capacity.
They're also asking that LA establish policies that would bar any collateral immigration-related arrests in connection with LAPD and LASD operations, and to refuse to notify US Immigration and Customs Enforcement (ICE) of anyone in police custody that has an immigration violation.
Additionally, the groups want the county and city to provide legal representation for immigrants in deportation proceedings and oppose any registry based on religious identity or national origin.
The groups asked that the city and county respond no later than Dec. 1 to their demands.
"If we are to preserve Los Angeles as a diverse, welcoming city in which the civil and human rights of all residents are respected, we have no time to waste," the letter states.
Garcetti's office did not immediately respond to a request for comment.
A growing number of cities across the US say they will refuse to cooperate with Donald Trump's administration if it tries to make good on a key campaign pledge: the deportation of millions of undocumented immigrants.