The city of Biloxi, Mississippi, on Friday posted a now-deleted tweet announcing that offices would be closed Monday in observance of "Great Americans Day."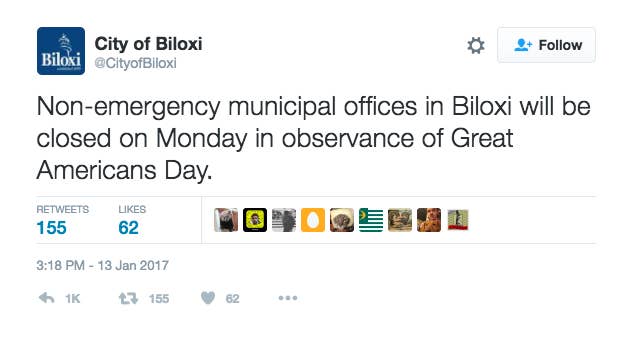 And almost immediately, people took the city to task for not mentioning Martin Luther King Jr., for whom the national holiday on Monday is observed.
Officials initially responded to the blowback noting that the city does, in fact, celebrate MLK Day and claiming that "Great Americans Day" was designated by the state, not the city.
However, an official list of Mississippi state holidays doesn't include Great Americans Day. In 2015, the state said it would celebrate Dr. Martin Luther King Jr. and Robert E. Lee, general of the Confederate Army during the American Civil War, on the same day.
Some elected officials from the city told BuzzFeed News they had never heard of the term before Friday night's tweet, and they were confused why it was being used at all. They said the city had not used that term for previous MLK celebrations.
A tweet for the holiday weekend last year made no mention of it.
But on Facebook and in interviews with BuzzFeed News, some Biloxi officials initially insisted that it was established by the state legislature.
"That's the state, the state called it Great Americans Day. The city of Biloxi celebrates MLK Day," Biloxi Councilman Felix Gines told BuzzFeed News, pointing to a parade and other events over the holiday weekend.
Vincent Creel, a spokesman for Biloxi, also stressed that the city hosts a number of MLK Day events.
"Biloxi, a city that appreciates and embraces diversity, is a longtime support and sponsor of the city's hugely successful MLK celebration," Creel told BuzzFeed News.
Mayor Andrew "FoFo" Gilich issued a statement on the city's account hours after the initial tweet.
Gines, however, would not respond to questions on why the city's Twitter account did not mention MLK Day. He said he also couldn't explain a previous city news release from 2010 that called MLK Day "Great Americans Day," the official city name for the holiday, according to a city ordinance years ago.

"I wasn't elected then," Gines said, stressing that he didn't understand why there would be such public uproar about the tweet.
"I mean, you're going to have a few assholes that are going to be like that, and that's OK," he added. "You're free to take it up with the state."
The term, however, had in fact come from the city by a previous city council, which had passed an ordinance in 1985 naming the day "Great American's Day."
The following day, the national holiday designating it Martin Luther King Jr. Day went into effect.
Councilman Kenny Glavan, elected in 2013, said he had no idea where the term "Great Americans Day" came from and was not aware of the social media backlash the city was facing until he was contacted by reporters.
"As far as I'm concerned, we're celebrating Martin Luther King Day. I've never heard of the city calling it that," he said of the Great Americans Day designation. What's more, Glavan added, he's ever heard of the state calling it that.
"My first reaction is it sounds like an error," he said.

After reaching out to city workers, Glavan told BuzzFeed News that Biloxi had in fact passed an ordinance several years back designating the day, nationally recognized as Martin Luther King Jr. Day, as "Great Americans Day."
Glavan said, however, he did not know why city officials at the time adopted that resolution.
Councilwoman Dixie Newman told BuzzFeed News she never heard about the term before Friday night's tweet.
"I don't recall the city ever calling it Great Americans Day," she said, adding that she was concerned anyone had used any other term other than Martin Luther King Jr. Day.
She said she agreed with the uproar on social media.
"Use common sense," she said. "It infuriates me because I do not feel it should be anything else other than Martin Luther King Day."
Creel said the origin of the holiday originated with the state of Mississippi after the federal government declared MLK Day as a national holiday.
"For whatever reason, some couldn't bring themselves to do follow suit, and this notion of 'Great Americans Day,' honoring Robert E. Lee and Dr. Martin Luther King Jr. came about," Creel said. "It filtered down to somehow be called Great Americans Day…in our city code of ordinances."

"The thing that I have found most disheartening is that the city's story on the community wide MLK Day celebration is lost in the brouhaha over Great Americans Day tweet," Creel said.
The city lists Great Americans Day on in its ordinances, but not MLK Day. Biloxi officials voted to observe it as a holiday on Dec. 31, 1985.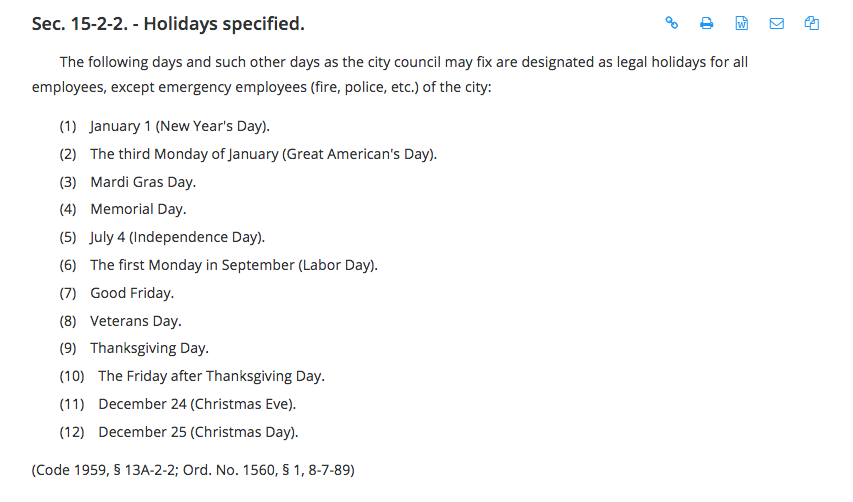 Glavan, who said he was born and raised in Biloxi, told BuzzFeed News that council members would consider changing the Great Americans Day designation back to MLK Day, and on Saturday, a day after the social media uproar, the city council announced it would be holding a special meeting Monday morning, on Martin Luther King Jr. Day.
The meeting would be held an hour before the city's parade honoring the civil rights leader. Council members are expected to discuss naming the day Martin Luther King Jr. Day, like the national holiday.
"In my opinion," Gilich said in a statement, "that is the appropriate step to take, for the holiday to have the same name as the federal holiday."