An undocumented father who was arrested by ICE agents after dropping off his daughter at school was released Wednesday evening, his attorney told BuzzFeed News

The arrest of Romulo Avelica-Gonzalez made national headlines, and prompted multiple protests, after his 13-year-old daughter tearfully recorded and posted video footage of the incident. In the video, daughter Fatima Avelica is sobbing as her father is put in a law enforcement vehicle.

"Don't cry mama, don't cry. We have to be strong," a woman, believed to be her mother, says in the background.
His deportation to Mexico was put on hold on Aug. 7 after the Board of Immigration Appeals granted an emergency stay while it reviewed his case.
"This is my country; I have roots and family here. And today I am grateful beyond words that the court has prevented ICE from deporting me," Avelica-Gonzalez said in a statement after his deportation was put on hold. "Every day I wake up knowing that I must be at least half as strong as my children have been in their fight for my freedom."

On Wednesday, a judge decided Avelica-Gonzalez could be released if he posted a $6,000 bond. He was expected to be released by 7 p.m., his attorney Alan Diamante told the Los Angeles Daily News.
Diamante confirmed to BuzzFeed News Avelica-Gonzalez was released Wednesday evening.
He is likely to remain in the US until his case is decided.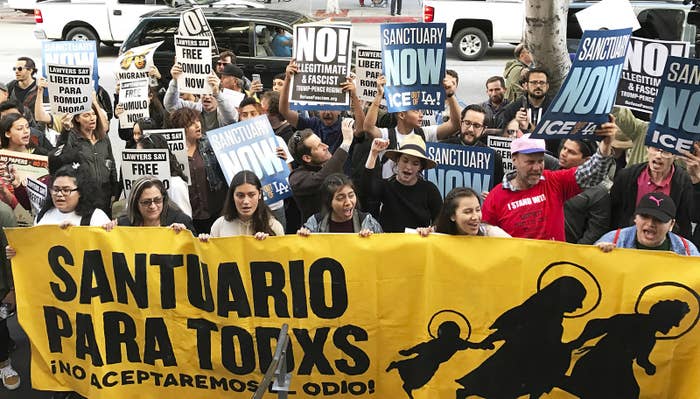 Avelica-Gonzalez was arrested for having a 2009 DUI conviction and an outstanding deportation order from 2014, according to US Immigration and Customs Enforcement (ICE).
Under Obama-era directives, ICE focused mainly on criminals and those who posed a threat to public safety, however, that all changed under President Trump, who signed executive orders putting practically any immigrant living in the US illegally at risk of deportation.
Brenda Avelica told KABC that her father has been in the US for 20 years and has four children, two of them adults.
"It's really hard what we're going through," Brenda Avelica told KABC. "I never thought we'd actually go through something like this. It's terrible to feel and see your family being broken apart."
ICE spokeswoman Virginia Kice said in a statement that agents had conducted surveillance on Avelica-Gonzalez to confirm his identity and arrested him a half-mile from the school, Academia Avance.