Orlando "El Fenómeno" Cruz, a Puerto Rican boxer who was the first professional fighter in the U.S. to come out as gay, helped launch a Latino voting awareness campaign in Florida on Wednesday.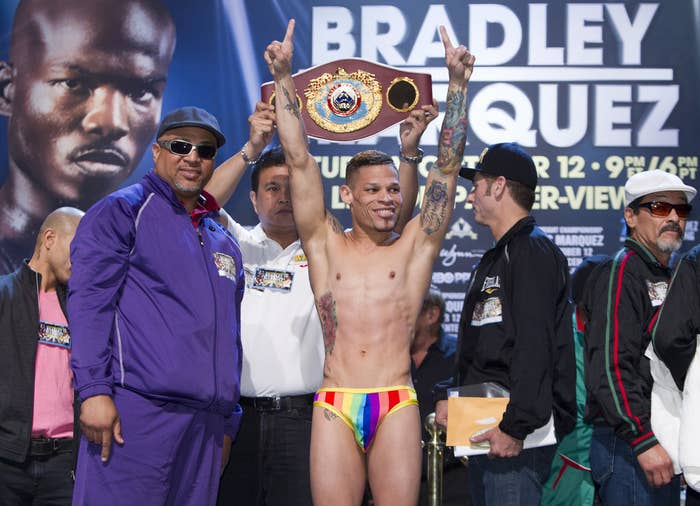 Cruz, ranked fifth in the junior lightweight division by the World Boxing Organization, was also in Orlando, Florida, earlier this week to pay his respects to the victims of the June 12 massacre at the Pulse nightclub.
The campaign, a venture between All Star Boxing, Inc. and Mi Familia Vota, will include advertisements on the corners of the fighting ring and on clothing worn by boxers shown on Boxeo Telemundo, a leading boxing show on Spanish-language television, through the summer.

"Through the campaign we hope Latinos in the U.S. will go out to vote in large numbers without fear and make their voices heard," Cruz told BuzzFeed News. "It's important because as immigrants, many of whom who come here to look for stability, we have to advocate for our rights."

On Tuesday, Cruz visited a memorial at Pulse, the site of the mass shooting that left 50 people dead, including the gunman.
Cruz told BuzzFeed News that his friend Franky Jimmy Dejesus Velazquez, 50, was one of the victims.
Dejesus, who lived in Orlando, was originally from San Juan, Puerto Rico. He worked at Forever 21 as a visual merchandizer and studied at Inter American University of Puerto Rico.
Cruz said he was upset at what appeared to be a direct attack on the LGBT community.
"It really affected me and made me angry to see that among so many dead was my close friend," Cruz said. "Gay people have rights just like everybody else and everyone needs to realize that we deserve to live openly and happy."
Cruz is dedicating his upcoming fight on July 15 in Kissimmee, Florida, to the victims and everyone who was affected in the shooting.