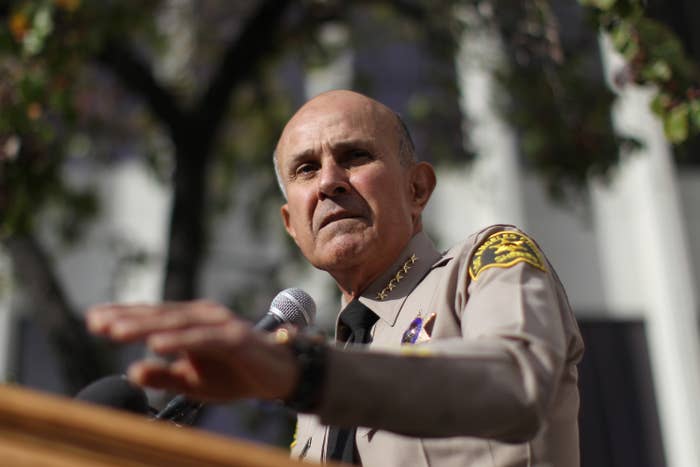 Former Los Angeles County Sheriff Lee Baca pleaded guilty Wednesday to lying to federal investigators who were investigating corruption and civil rights violations in the nation's largest jail system.
The plea is a reversal from Baca's previous claims that he didn't participate in a cover-up or intimidation of a federal agent. His sentencing was scheduled for May 16, the U.S. Attorney's Office in Los Angeles said.
The charge stems from a 2013 interview in which, according to the U.S. Attorney's Office, Baca lied to investigators when he said he didn't know deputies were going to threaten the lead FBI agent looking into the department.
Investigators said Baca was aware his deputies were going to contact the agent in 2011, and he told them they "should do everything but put handcuffs" on her, according to his plea agreement.
"Illegal behavior went to the very top of this organization," U.S. Attorney Eileen M. Decker said at a news conference. "It is indeed a sad day when the leader of a law enforcement agency fails to honor his oath and instead of seeking justice worked to obstruct it."

According to court documents, Baca will be sentenced to up to six months in prison under the plea agreement. However, if the court decides his sentence should be longer, Baca would be allowed to withdraw the plea and likely face an indictment, Decker said.
As part of the agreement the U.S. attorney's office said it would not seek further criminal charges against Baca in connection with this investigation.

Baca's attorney did not respond to BuzzFeed News' request for comment.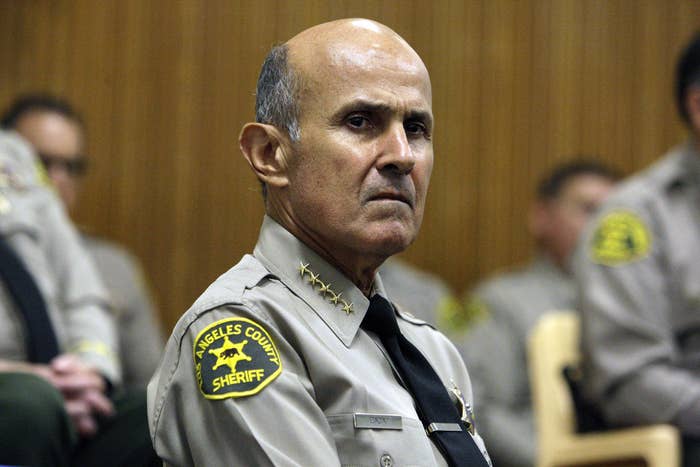 Baca announced his retirement in 2014 after his 48-year record was tarnished by back-to-back scandals involving abuse by deputies inside the county's jail system. The former sheriff had previously denied any wrongdoing.

In August 2011, deputies determined that Anthony Brown, an inmate at Los Angeles County Men's Central Jail, was an informant for the FBI after they recovered a cell phone that was linked to federal agents. Federal authorities were looking into civil rights and pubic corruption probe at the Twin Towers Correctional Facility and Men's Central Jail.
Deputies, allegedly guided by two top sheriff officials, tried to hide the inmate from the FBI and U.S. marshals who were seeking to bring him in to testify before a federal grand jury.
Deputies are accused of altering records to make it seem as if the informant was released and they then re-booked him under a different name before moving him to a number of secure locations. At the same time, investigators say the informant was told he had been abandoned by the FBI.
David Bowdich, assistant director in charge of the FBI's Los Angeles field office, said he believes the former sheriff failed to do what was right by trying to cover up his role.
"He continued his denials even after some rank and file deputies were under the gun and ultimately convicted," Bowdich said. "He had the opportunity to lead and he did not lead."
The current sheriff, Jim McDonnell, said in a statement the series of federal corruption and civil rights violations trials have been difficult for the department.
"But most important, I have learned through my personal experience with this proud organization that our deputies and professional staff remain focused and committed to moving forward," McDonnell said.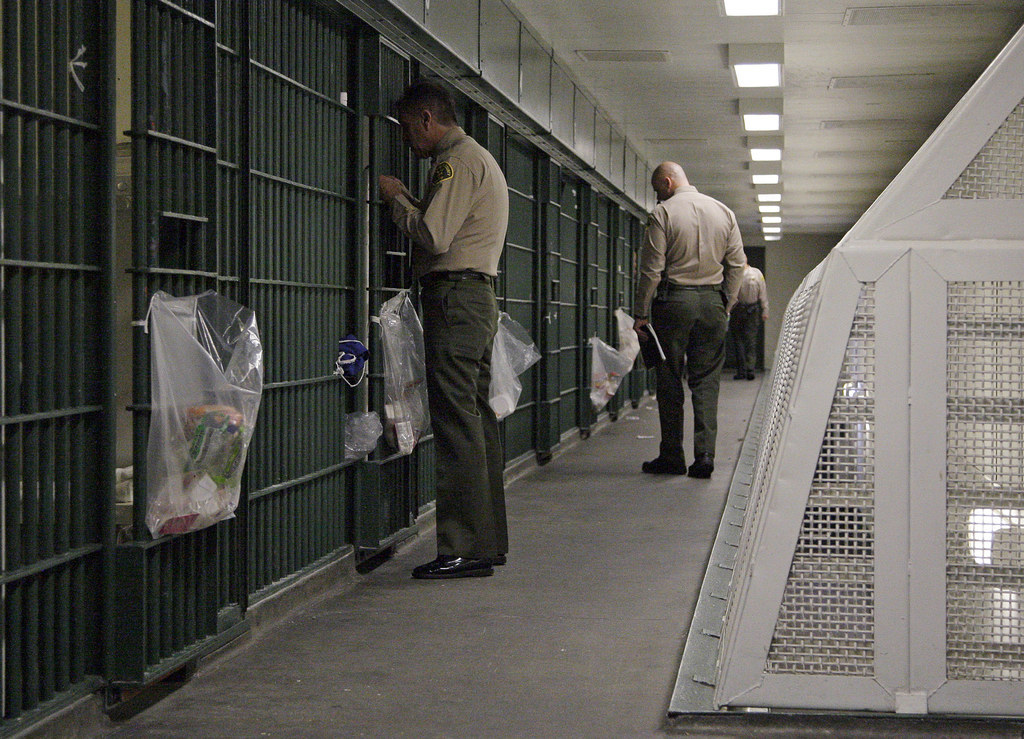 According to the plea agreement, Baca made the false statements on April 12, 2013 in an interview with the U.S. attorney's office and FBI. During the interview he falsely said he wasn't involved in any conversations about keeping the FBI and Brown, their jailhouse informant, away from each other.
Brown, who was serving time for bank robbery, was giving information to the FBI which was investigating corruption and civil rights abuses inside the L.A. County jail system.

Baca also lied when he denied knowing that the sheriff's department had terminated an FBI interview with Brown at Men's Central Jail in 2011, prosecutors said.
The former sheriff also falsely stated that he didn't know deputies were going to approach the FBI special agent leading the probe until he received a phone call from the feds.
Last year, Paul Tanaka, the sheriff department's former second-in-command, surrendered to the FBI after a federal grand jury indicted him on obstruction of justice charges.

William "Tom" Carey, a captain who headed the sheriff department's internal criminal investigations bureau, was also indicted and turned himself in to federal authorities.
The two retired deputies are accused of overseeing attempts to thwart the FBI investigation into the department, which resulted in charges against more than 20 sheriff's department employees.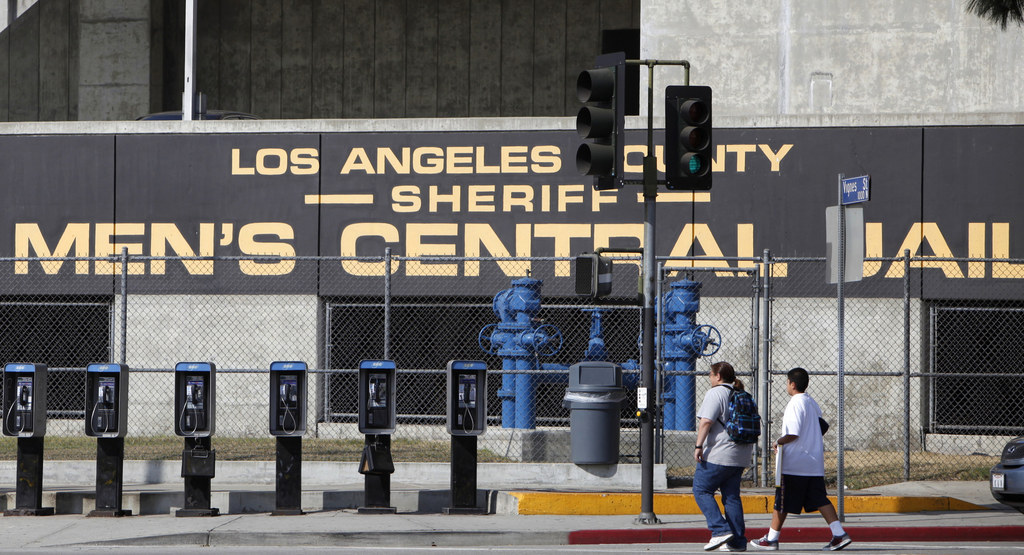 In another instance, five deputies were convicted, and another has charges pending, over the 2011 beating and coverup of a handcuffed man inside Men's Central Jail. In October, Byron Dredd was named in a three-count indictment charging him with conspiracy to violate Gabriel Carrillo's civil rights and two counts of making false reports.

On Feb. 26, 2011, federal prosecutors say Carrillo and his girlfriend were visiting his brother in jail. The pair were carrying cell phones, which are prohibited in the prison. When they were discovered, Carrillo was allegedly taken into a break room, beaten, and sprayed with a burning agent similar to pepper spray, investigators said.
As a result of false statements made by the deputies, prosecutors said, Carrillo was charged with several crimes including resisting an officer and battery. Dredd is accused of writing an incident report falsely claiming Carrillo attacked one of the deputies and tried to escape.
Hector Villagra, executive director of the ACLU of Southern California, said Los Angeles County's jails have been plagued by unlawful violence for decades.
"Much of the blame for that violence must be shouldered by former Sheriff Lee Baca, who failed to confront this abuse and the horrific conditions inside the jail despite repeated calls for reform by the ACLU SoCal," he said in a statement. "We are heartened to see that those charged with enforcing the law are also expected to obey it, including the former sheriff and his deputies."