Florida Man Arrested In Plot To Bomb 9/11 Memorial Event
Joshua Goldberg is suspected of encouraging someone to carry out a bombing at a 9/11 memorial ceremony in Missouri, and for inspiring the shooting outside a contest to draw the Prophet Muhammad in Texas.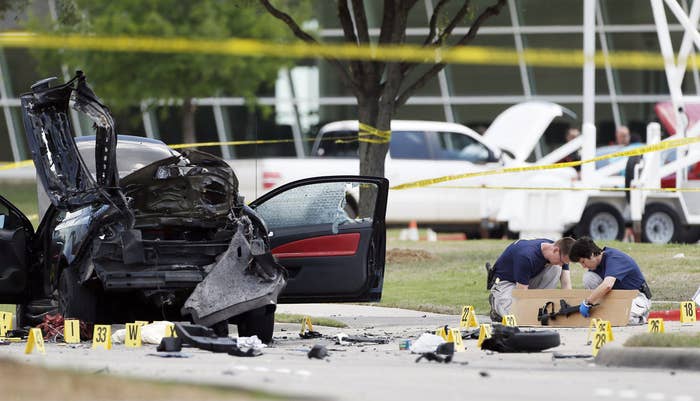 A 20-year-old Florida man has been arrested on suspicion of encouraging someone to carry out a bombing at an upcoming 9/11 memorial ceremony in Missouri, the FBI announced Thursday.
Joshua Goldberg is also suspected of inspiring the May shooting outside a contest to draw the Prophet Muhammad in Texas, and repeatedly citing the failed incident in calling for another attack.
In the criminal complaint, Goldberg faces one charge of distributing information relating to explosives, destructive devices, and weapons of mass destruction. If convicted, he faces 20 years in prison.
Regarding the Missouri allegations, Goldberg is accused of sending a confidential FBI informant links to online sites that provide instructions on how to make explosives.
According to a criminal complaint, Goldberg's ultimate goal was to get someone to place a bomb at the Kansas City Stair Climb, a 9/11 memorial event planned for Sunday in Kansas City.

Goldberg allegedly told the informant to put a backpack with a bomb near the crowd. He also instructed the informant to dip the shrapnel in rat poison, making those struck more likely to die.
"There's going to be chaos when it goes off," Goldberg is accused of writing. "Shrapnel, blood and panicking."
Using the alias Australi Witness, Goldberg allegedly said he inspired the attacks in Garland, Texas, where Elton Simpson and Nadir Soofi were shot dead by police after opening fire on the drawing contest.
Simpson, according to the affidavit, retweeted one of Goldberg's tweets, "I'M BACK KUFFAR! DIE IN YOUR RAGE!" on the morning of the attack, according to the complaint.
"When I encouraged the attacks in Texas, my biggest inspiration was the Australian Muslim human rights activist…[M.V.]…who worked tirelessly and diligently to outlaw blasphemy against Islam in Australia," Goldberg allegedly posted as Australi Witness.
While the complaint only lists initials, prominent Afghan Australian Muslim activist Mariam Veiszadeh told BuzzFeed News in an email that Goldberg's use of her name in online correspondence and social media was a blatant attempt to discredit her efforts of combating prejudice and bigotry.
"This character was trying to discredit and cause me reputational damage," Veiszadeh said.
Goldberg initially denied the allegations, but later told authorities that he did post messages calling for an attack on the Texas drawing contest, the FBI said.
He also said he gave someone information on how to make bombs to be placed at the 9/11 memorial in Kansas City, Missouri, according to the criminal complaint.
Goldberg, the FBI said, told investigators that he intended for the informant to kill himself creating the bomb. If not, he planned on alerting law enforcement just before the bomb was detonated in order to receive credit for stopping the attack.
Read the criminal complaint.
Download PDF