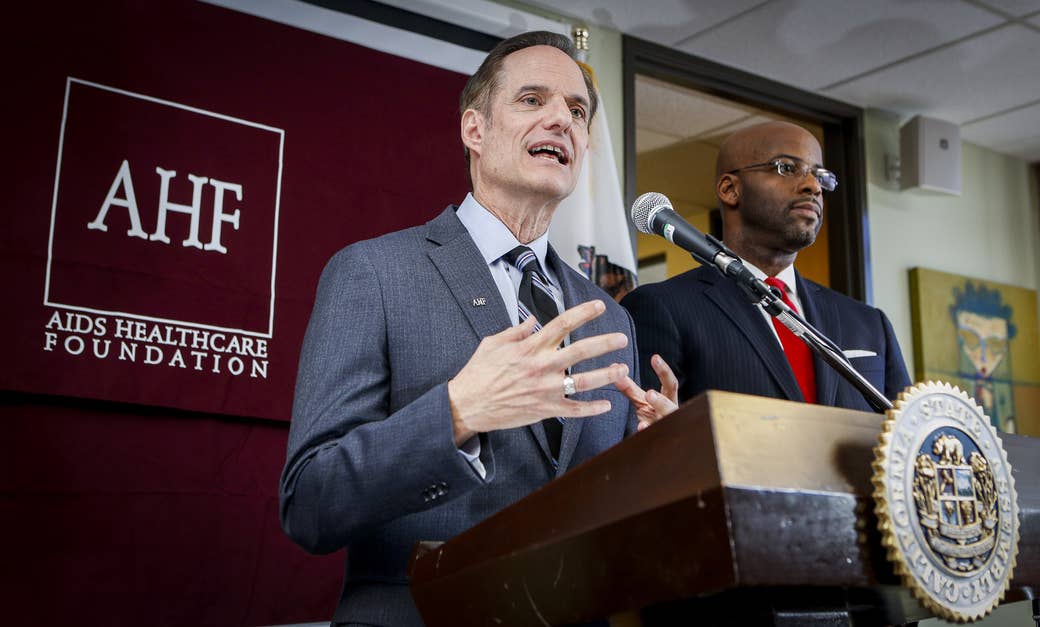 LOS ANGELES — Over the past year, public health agencies across the U.S. — including New York City, Chicago, and Washington state — have started distributing a groundbreaking drug that can reduce the risk of contracting HIV by 99%.
But three years after the drug was approved by federal regulators, a public health program for the medication — widely known as PrEP but marketed as Truvada — has yet to be launched in the nation's second-largest epicenter of people living with HIV/AIDS: Los Angeles County.
"There's a moral and public health imperative to getting this out on the streets and more widely available," Mario J. Perez, the county's director of HIV and STD programs, told BuzzFeed News.
County officials acknowledge their development process is slow, but they and PrEP proponents blame most of the delay on one man: Michael Weinstein.
With an annual budget of about $1 billion and about 421,000 patients in 36 countries, Weinstein's AIDS Healthcare Foundation is one of the largest HIV medical providers in the world. In L.A. County alone, the foundation is currently treating more than 8,000 patients.
The scope and reach of the nonprofit is so large, critics say, it gives Weinstein — a leader in the historic fight against AIDS — an outsize voice in medical care policy debates.
Officials had considered asking L.A. County supervisors to fast track a Truvada program by offering no-bid contracts to existing providers — given that the alternative would involve waiting up to two years for a competitive contract to be executed — but fear of being sued, and the costs involved, nixed those plans.

In an interview with BuzzFeed News, however, Weinstein said it was "stupid and idiotic" to blame him for the delay.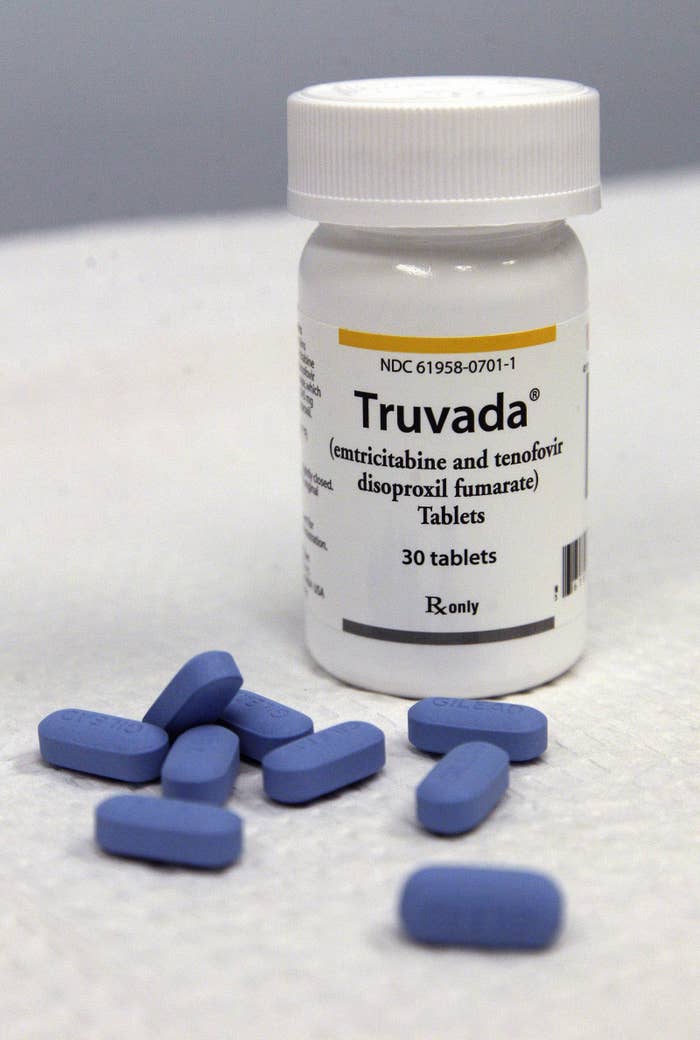 "It's definitely a case of shoot the whistleblower, shoot the messenger, these are their own laws," said Weinstein of the no-bid contracts, adding that county officials only had themselves to blame for a "broken system."
Weinstein has never sued over Truvada, and says he has no plans to do so in Los Angeles County if health officials go through the normal competitive bidding process. But local HIV/AIDS health care providers say Weinstein is already leveraging his foundation's resources to discourage large-scale distribution of the drug. And, they add, his history of filing lawsuits has spooked local providers and public health officials.
Weinstein has called Truvada a "party drug" that, if used widely, will lead to a rise in condomless sex and new HIV infections because people will forget to take the drug every day, lowering its effectiveness.
But PrEP — short for pre-exposure prophylaxis — is gaining traction among public health agencies across the U.S. Washington state will cover the cost of the medication for high-risk individuals — mostly gay and bisexual men — who can't afford it as part of a program that's served 323 people. All clinics operated by Chicago's public health department refer people to centers that help them get PrEP prescriptions. So far 52 patients have participated.
And in New York, Gov. Andrew Cuomo has announced that Truvada will be one of three key tools to reduce new HIV infections.
All the while, those most at risk of transmission in L.A. County lack similar access.
"Because of one person with a grudge match, we've dawdled for two and a half years," Faith Landsman, director of an AIDS research center at UCLA, told county commissioners last fall.
Landsman was referring to Weinstein — someone who is rarely called out by name, particularly in public forums — when addressing the county's commission on HIV.
She pointed out that if Truvada had been available during the height of the AIDS epidemic in the 1980s, they'd have been throwing it from the rooftops.
"I'm not saying nothing is being done," she said. "I am saying it is not being done fast enough."
County officials and AIDS health care providers avoid naming Weinstein or the foundation when discussing Truvada out of fear of further eroding an already strained relationship.
For years, the foundation has butted heads with the county in court, despite having contracts worth millions of dollars to provide HIV/AIDS services — a figure that currently stands at about $8.7 million.
Weinstein has shown he is not afraid to get aggressive — and personal — with county officials when he thinks they stand in his way. A month before the AIDS Healthcare Foundation sued — with moderate success — over being left out of the running for five contracts in 2012, Weinstein sent an email to an employee regarding then–county Supervisor Zev Yaroslavsky, who had heavily criticized the organization.
"It is time to take the gloves off. We need to go after Zev [Yaroslavsky] directly and hard. He is the real power behind our problems with the County on porn, the audit and fee-for-service. Plus he is a lame duck and an arrogant jerk," Weinstein wrote in the email, dated Nov. 15, 2012. "He and others need to be taught a lesson."
The email, which was part of a lawsuit the foundation filed against the county, also said the next phase would be to call for the resignation of Perez and Jonathan Fielding, the county's former public health director.
"This needs to be coordinated with our legal strategy," Weinstein wrote. "I want to go to court much sooner than later. I am tired of us being on defense."
Since 2000, Weinstein has filed 12 lawsuits against the county, seven of them regarding HIV-related contracts and two over no-bid contracts. The cost of responding in court hasn't been cheap. In February, Steven Estabrook, litigation cost manager for County Counsel, told the Board of Supervisors that four lawsuits filed by Weinstein were primarily responsible for a roughly $1 million jump in legal costs for the public health department over the last fiscal year alone.
Weinstein's hard-charging style has also intimidated his industry peers. An official with knowledge of the litigation said several medical providers told the county they would not sign a no-bid Truvada contract for fear of being sued by the AIDS Healthcare Foundation.
"It's had a chilling effect," the official said on condition of anonymity because they weren't authorized to discuss the issue publicly. "The lawsuits have locked up many of our top thinkers in depositions and preparing for lawsuits — frankly, it's a shame so much staff power is going to defending these lawsuits."
But Weinstein's relentless nature is what's made him a force in the fight against HIV, be it advocating for the rights of those living with the disease or pressuring drug companies to lower the costs of medication in developing countries.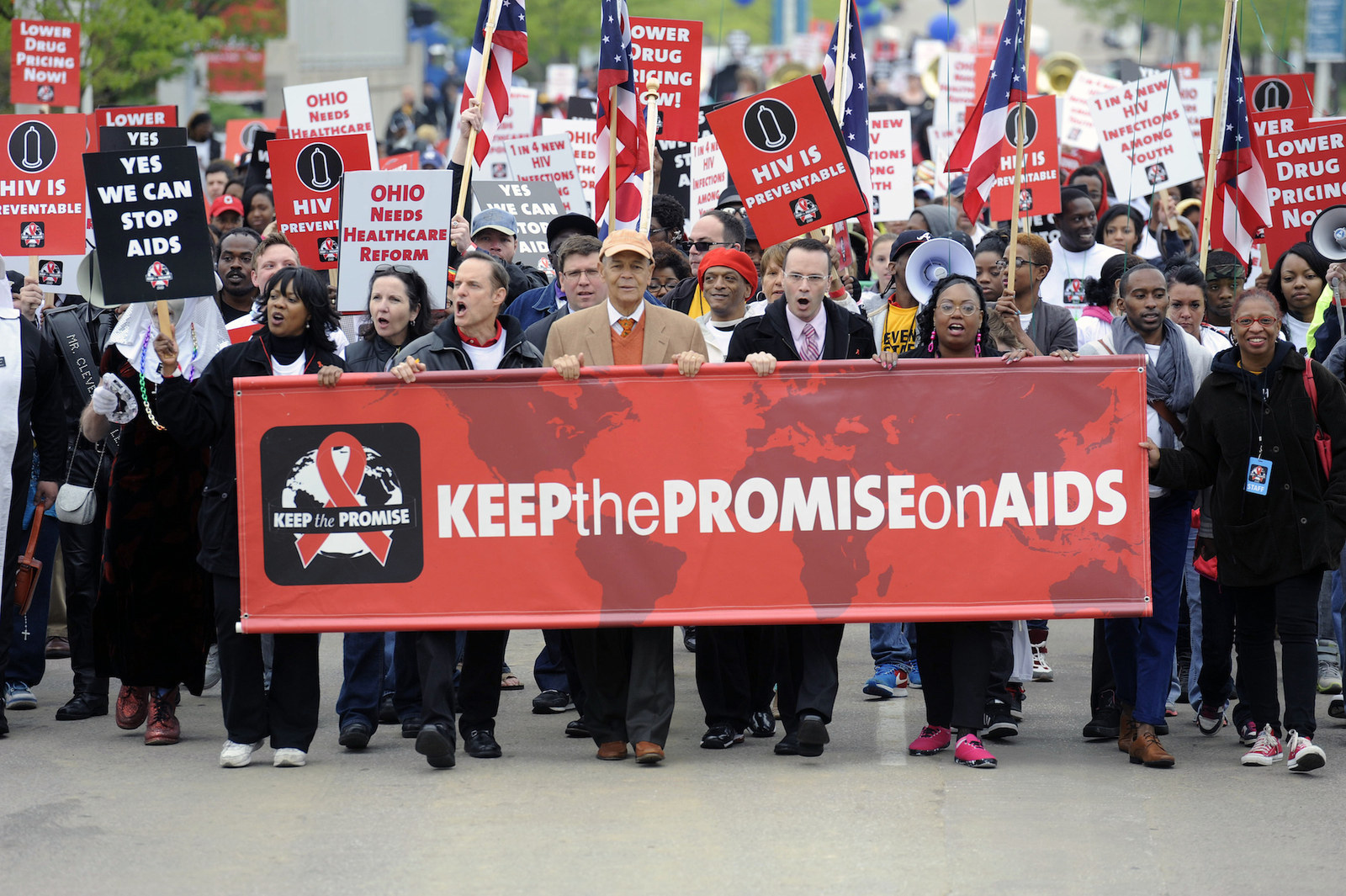 The dark-haired executive cut his teeth as an activist in the 1980s, protesting a failed proposition that would've required doctors to report the names of HIV-positive patients and possibly place them under "quarantine and isolation." Weinstein later launched the foundation to provide hospice care for those dying of the disease and called on the county to do the same.

When it comes to Truvada, Weinstein said that so long as L.A. County goes through the regular bidding process, he has no plans to block a program to distribute the drug. But he has already put county officials on notice that such a program will be closely scrutinized. In February, the foundation sent them a letter warning that using federal funds earmarked for HIV treatment for a Truvada program would be "unlawful, and unwise."
In March, the county Department of Public Health outlined six Truvada program scenarios to illustrate possible costs. One would provide 500 people with the drug and other services at an estimated cost of $4.4 million a year. Another option would be to use insurance and other sources to pay for the drug, and then use county funds to cover blood tests and counseling, bringing the annual cost of the program down to roughly $1.8 million.
Weinstein argues that instead of trying to introduce Truvada on a large scale, L.A. County should be focusing on reaching the estimated 24,000 of its HIV-positive residents who are not receiving any care whatsoever.
Truvada's effectiveness, which starts to dip if not taken daily, hinges on people taking the drug as directed. That drop, combined with the tendency of many to not follow prescription instructions, is what has some in the medical community concerned, and others, like Weinstein, adamantly opposed to PrEP as a mass-scale solution.
"Like any medicine, if you don't take it it's not going to work," said Jeffrey Klausner, professor of medicine and public health at UCLA and proponent of Truvada.
Other concerns include Truvada's costs and side effects — including headaches, nausea, and stomach pain — which could explain why, according to a survey of infectious disease physicians published in 2013, nearly three-quarters of doctors said they supported using the drug, but just 9% had actually prescribed it.
But more than 30 years after the HIV/AIDS epidemic, those who stand to gain the most from Truvada — Latino and black gay men, as well as transgender people of color — continue to be disproportionately affected by the disease, even as infections as a whole for L.A. County, home to about 1,800 infections every year, are on the decline.
"These are my brothers and sisters," Ken Almanza, who helps at-risk LGBT clients access Truvada as an outreach worker for APLA Health & Wellness, told BuzzFeed News. "I don't want them to see this as something that's out of reach. PrEP is a game changer, there's no way around it, and until we have another option, it's a great tool."
The protection PrEP affords against HIV infection is high — 99% — if the pill is taken daily as directed. However, that efficacy rate starts to drop precipitously if people miss doses — to just 76% for those who miss five doses a week.
But health care providers say Weinstein, the threat of legal action, and concerns over patients sticking to the regimen should not stand between an effective preventive treatment and the people who need it.
"The lawsuits that exist between any provider and the county's division of HIV and STD programs shouldn't impede us from making these interventions available to our community," said Aaron Fox, director of state health equity and policy at the Los Angeles LGBT Center.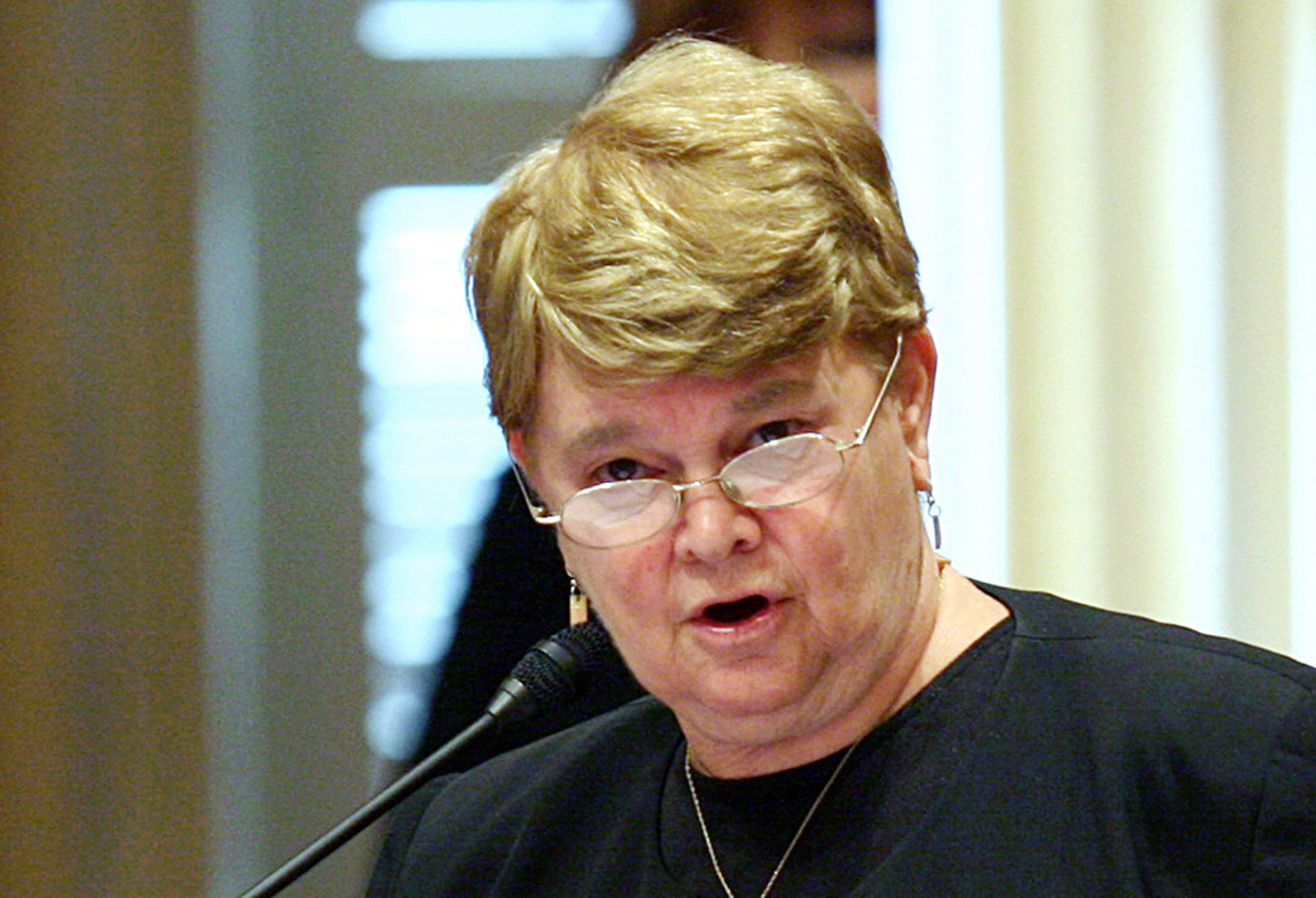 But the delay could soon be over, with PrEP appearing to have found a political ally in Sheila Kuehl, a longtime out gay politician who was elected to the county Board of Supervisors last year. The board is scheduled to take up a proposal she recently submitted that would require L.A. County public health officials to come back with a plan for making PrEP widely available and to speed up the process of launching the program.
Kuehl's spokesperson, Joel Bellman, told BuzzFeed News that doing so will get the drug out into the community much sooner and potentially save hundreds, or even thousands, of lives.
"Considering there are almost 2,000 new HIV infections annually," he said, "a two-year delay could mean nearly 4,000 people were exposed and infected while the bureaucratic process slowly grinds on."