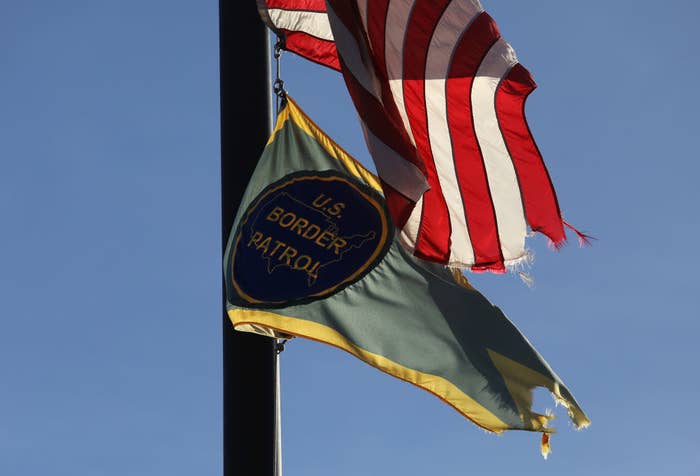 Federal authorities on Wednesday said there was no evidence to support the theory that a Border Patrol agent was attacked before he was found bleeding on the side of a Texas highway last year.
The conclusion contradicts the initial claims by the Border Patrol union and Republican officials that Rogelio "Roger" Martinez had been attacked by rock-throwing undocumented migrants or drug traffickers.
The FBI said it had investigated multiple theories, including whether Martinez and his partner Stephen Garland were ambushed. It said it had conducted 650 interviews and 26 searches in Texas and New Mexico.
"To date none of the more than 650 interviews completed, locations searched, or evidence collected and analyzed have produced evidence that would support the existence of a scuffle, altercation, or attack on November 18, 2017," FBI El Paso Special Agent in Charge Emmerson Buie said in a statement.
The statement came one day after El Paso's medical examiner released Martinez's autopsy, which found that he died of blunt injuries to his head, but couldn't determine the cause of death.
Immediately after Martinez was found, President Trump and the Border Patrol's union suggested that the two agents were attacked by migrants or smugglers going through the area.

Trump even used Martinez's death as an argument for building his border wall.

Sen. Ted Cruz also seized on the agent's death in calling for increased border enforcement.
Early on in the investigation, the FBI said it was investigating the death as a "possible assault" but refused to rule out other possibilities, such as a fall or a car accident.

The FBI also reviewed a telephone conversation between a Border Patrol dispatcher and Garland, who was disoriented and unsure of his location. Investigators said Garland made a statement to the effect of "We ran into a culvert," "I ran into a culvert," or "I think I ran into a culvert."
The dispatcher also wrote into a Border Patrol log, "[He] thinks they (both agents) ran into a culvert."
The autopsy noted 1.2 mcg/mL of butalbital, a drug used to treat headaches, migranes, or muscle pain, was found in his system. Medical specialists said the quantity appeared to be in the normal range for an adult to treat a headache.
Martinez and Garland were found injured on Nov. 18 in a rock-strewn culvert that runs under Interstate 10 at about 11:20 p.m. The culvert's six channels are designed to direct water beneath the highway.
Martinez, the more seriously injured of the two, was taken to the 14-bed Culberson Hospital by the only ambulance available in the small town of Van Horn, Texas, 12 miles to the west.
Garland, less seriously injured, was taken to the hospital by Border Patrol agents. Both agents were subsequently airlifted to a hospital in El Paso, 121 miles away.
Martinez would die hours later from head injuries, according to preliminary information from the medical examiner. Garland was released from the hospital but can't remember anything about the incident, officials said.
Art Del Cueto, a spokesperson for the National Border Patrol Council union, said the investigation is not over and that the possibility of an attack can't be ruled out.
"From what we were told by agents on the ground and being agents in the past ourselves we believe there was some type of assault," Del Cueto told BuzzFeed News. "The investigation is still ongoing."
Buie also noted that during the agency's investigation into Martinez's death several people in Portales, New Mexico, were identified as people of interest and indicted for offenses including smuggling undocumented immigrants. However, none of them were considered a person of interest in the agent's death or the injuries to his partner.
Authorities had previously looked into two men, Antonio Muñoz and Jesus Muñoz, as having been involved in the attack. A forensic analysis later determined they had nothing to do with Martinez's death or the injuries to Garland.
The FBI said it would continue investigating the incident and continues to offer a $50,000 reward in addition to the State of Texas's $20,000 reward, bringing the total to $70,000.