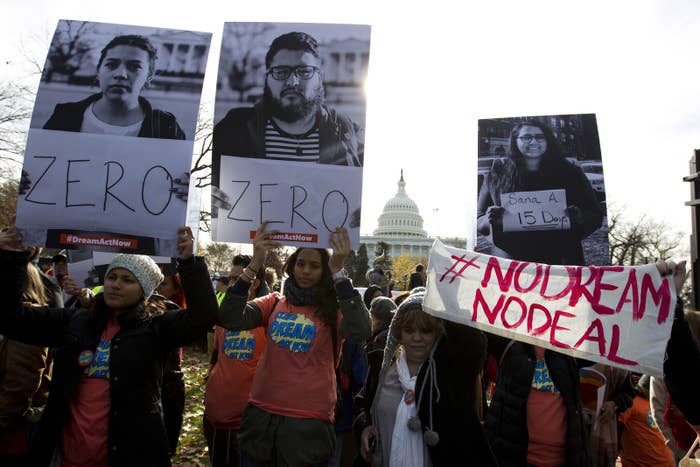 WASHINGTON — There's nothing stopping Misa from being picked up and deported.
The 27-year-old lost his protection from deportation in August when he didn't renew his permit to remain in the United States under the Obama administration's Deferred Action for Childhood Arrivals. He planned to do it later, when he had more money. Then, on Sept. 5, President Donald Trump did away with the program, leaving Misa unable to renew.
On Wednesday, Misa joined hundreds of supporters outside the US Capitol hoping to pressure Congress to pass a DREAM Act to protect people who benefited from an Obama-era program that shielded undocumented people brought to this country as children from deportation and gave them work permits.
"We are the immigrants, the mighty, mighty immigrants," Misa chanted into a mic to rally protestors in the 45-degree weather.
"The fear now is that a lot of DACA permits are about to expire in months, weeks," Misa, 27, told BuzzFeed News. "The more time passes without Congress doing anything, the more DREAMers are at risk of losing DACA, their jobs, all they've built."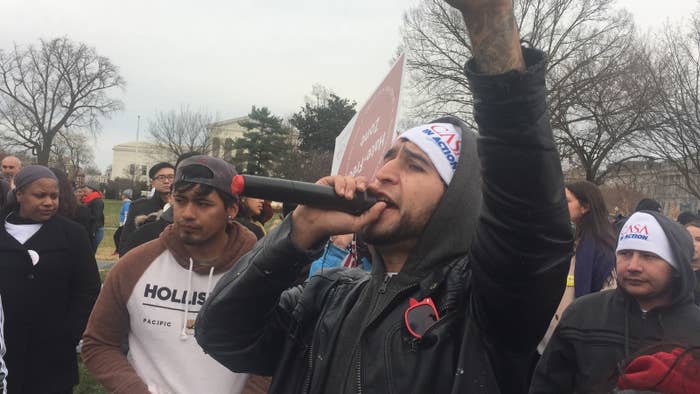 This week could be crucial for the nearly 800,000 undocumented immigrants who benefited from DACA. With government funding set to run out Friday, Democratic lawmakers have threatened to vote against spending bills unless Congress passes legislation to help this group of immigrants.

But the DACA issue is unlikely to be resolved so quickly. House Speaker Paul Ryan, a Wisconsin Republican, has said there's no urgency to pass legislation, pointing to a March 5 deadline Trump set for Congress to pass legislation.
But advocates say that underplays the extent of the problem, people are losing their work permits and deportation protections already. They estimate that 122 people on average are losing their status daily. Once that March deadline is reached, a CNN analysis estimates, nearly 1,000 DACA recipients will begin to lose their status every day.
Claudia Quiñonez, an organizer with United We Dream, the nation's largest youth-led DREAMer group, said Wednesday's protests gave her hope that Congress will do right by them.
"We're asking Democrats and Republicans to put themselves in our shoes. We're not toys; we're people who will suffer the consequences of their lack of action," Quiñonez told BuzzFeed News. "The reality is that DACA recipients are losing DACA every day, losing their job stability and ability to go to school."
Organizers said that at its peak there were about 4,000 protesters outside the Capitol, carrying signs that read "Congress must act now" and "Here to stay." United States Capitol Police said 182 people were arrested.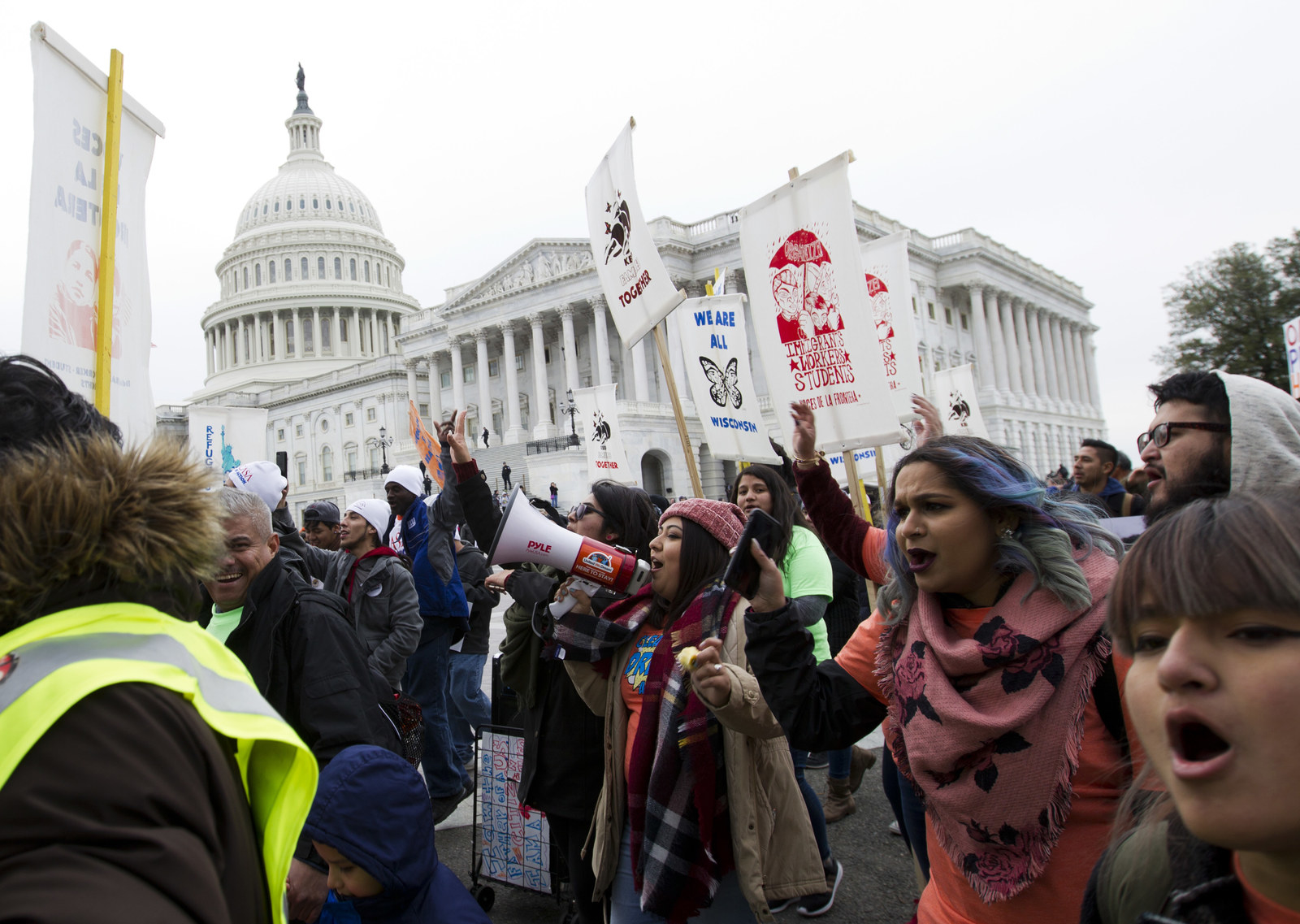 On Thursday the two top congressional Democrats, House Minority Leader Nancy Pelosi and Senate Minority Leader Chuck Schumer, are set to to discuss a number of issues ahead of Friday's potential shutdown including a DACA fix with President Trump.
Tyler Moran, managing director of the DC Immigration Hub and former immigration deputy policy director for the White House under President Barack Obama, said with the issue up in the air, Thursday's meeting will determine what the next steps are.
"There's no reason why Congress can't do this. The support for DREAMers is there," Moran told BuzzFeed News. "A vote for a continuing resolution that doesn't include the DREAM Act is a vote to deport DREAMers. The urgency is now — 11,000 people as of today have lost DACA and are subject to deportation."
According to an ABC News/Washington Post poll, 86% of Americans support granting residency to undocumented immigrants brought to the US as children.
On Tuesday, 34 House Republicans sent a letter to Speaker Ryan asking for a permanent legislative solution for DACA recipients before the end of the year.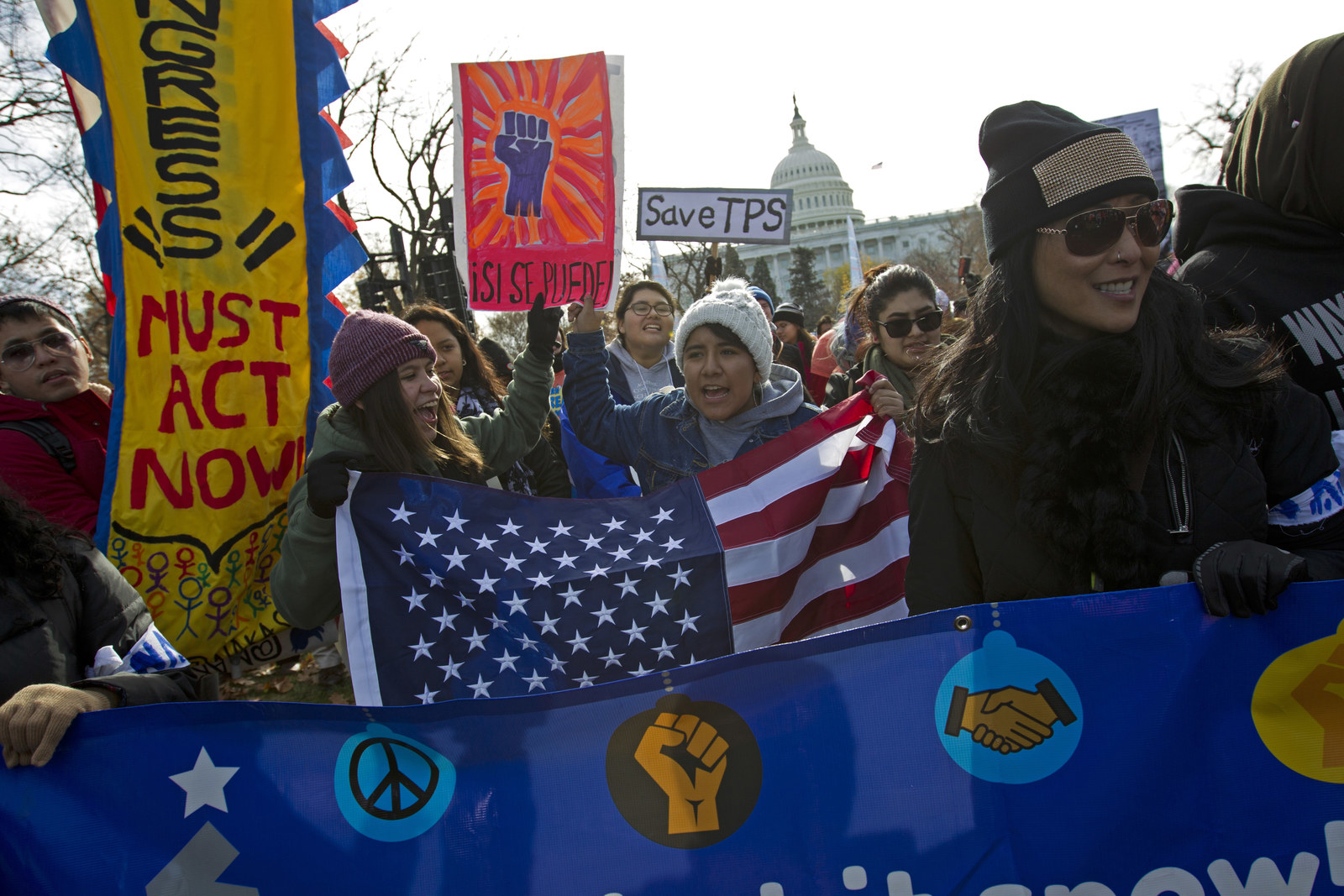 Kathy Jaramillo, 19, traveled to DC from Portland, Oregon. Even though her work permit and deportation protection lasts until 2019, 436 days from Wednesday, the college student said the fear of what will happen hangs over her every day.
"I lived through that fear before, and I don't want to go through that again," Jaramillo said. "Every day I'm worried about other undocumented people who may have had DACA but can now be deported."
Toward the end of the protest, Misa reflected on his future in the US, specifically being able to provide for his 2-month-old daughter who was born around the same time he didn't have the $495 he needed to renew his DACA.
"This time is crucial for me to continue to provide for her and to continue to be in this country for her," Misa said.