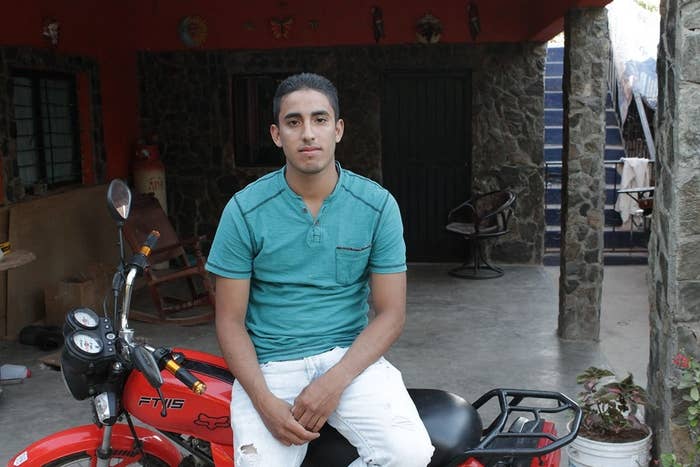 A man who is believed to be the first undocumented immigrant to be deported under the Trump administration despite having permission to live and work in the US filed a lawsuit Tuesday, alleging he hasn't been told why he was sent back to Mexico just hours after his arrest.
Juan Manuel Montes, 23, was deported in February, but his fate came to light after his lawsuit was announced by his legal team. The federal complaint accuses US Customs and Border Protection (CBP) and US Citizenship and Immigration Services (USCIS) of failing to give him a reason for his deportation despite having Deferred Action for Childhood Arrivals (DACA).
Montes' case will be heard by the federal judge whose ethnicity was attacked by President Trump last year over his handling of a case involving Trump University, CNN reported Thursday. Trump had said that Judge Gonzalo Curiel, who was born in the US, was incapable of being fair to him because of his "Mexican heritage."
Montes was arrested by the Border Patrol in February, but what happened, and under what circumstances, varies wildly between his legal team and the US government.
Montes claims he was arrested by an agent on Feb. 17 while walking to a taxi station in the border town of Calexico, California. The agent had asked for an ID, which Montes had left in a friend's car, according to the National Immigration Law Center (NILC).

The agent then took Montes to a local station, where they made him sign documents without letting him see an attorney or immigration judge, the NILC said. A few hours later, he was deported to Mexicali, Mexico, without copies of the papers he signed, the complaint states.
"I was forced out because I was nervous and didn't know what to do or say, but my home is there," Montes said in a statement. "I miss my job. I miss school. And I want to continue to work toward better opportunities. But most of all, I miss my family, and I have hope that I will be able to go back so I can be with them again."
Montes' attorneys requested information about his deportation under the Freedom of Information Act (FOIA), but said they haven't received any information from CBP or USCIS.
CBP and USCIS did not immediately respond to a request for comment. However, Gillian Christensen, a spokeswoman for the Department of Homeland Security, disputed Montes' account, saying he was arrested by Border Patrol agents after illegally climbing over a fence in Calexico on Feb. 19.
"He was arrested by BP just minutes after he made his illegal entry and admitted under oath during the arrest interview that he had entered illegally," Christensen said in a statement.
On Wednesday, the Department of Homeland reversed its earlier statement claiming that Montes' DACA status had expired in 2015, telling BuzzFeed News that he had actually renewed his DACA status until Jan. 25, 2018. However, the agency said that Montes acknowledged he had entered the US illegally on Feb. 19, forcing him to lose his protected status.
"We have not changed our position," DHS spokesperson David Lapan said. "Our position remains that when he was removed from the U.S., he did not have DACA status. By leaving the country without approval, and then reentering the country illegally, he violated the conditions of DACA and lost his DACA status."
Lapan acknowledged that the agency initially misidentified Montes' status, the mistake "is not relevant" to Montes' deportation.
Montes' attorneys claim he only left the country after he was initially stopped by an agent on Feb. 17. Lapan said that DHS has "no record of him having any encounter with border patrol before February 19.
"Juan Manuel was funneled across the border without so much as a piece of paper to explain why or how," said Nora Preciado, one of the attorneys with NILC. "The government shouldn't treat anyone this way — much less someone who has DACA. No one should have to file a lawsuit to find out what happened to them."
According to the complaint, Montes came to the US when he was 9 and suffers from a cognitive disability due to a brain injury. He was enrolled in special education classes and graduated high school in 2013. Montes had twice been granted DACA under the Obama administration, each time giving him permission to live and work in the US for two years, his attorneys said.
He pursued a welding degree from a community college and worked as a farmworker for about two years in California and Arizona.
Montes also has four convictions on his record: one for shoplifting in January 2016, and three for driving without a license, USA Today reported. A spokesman for NILC said the criminal record was accurate but under Obama-era rules it did not disqualify him from DACA.
President Trump, however, has signed executive orders making practically all 11 million undocumented immigrants estimated to be living illegally in the US at risk of immediate deportation, striking previous priorities under the Obama administration.