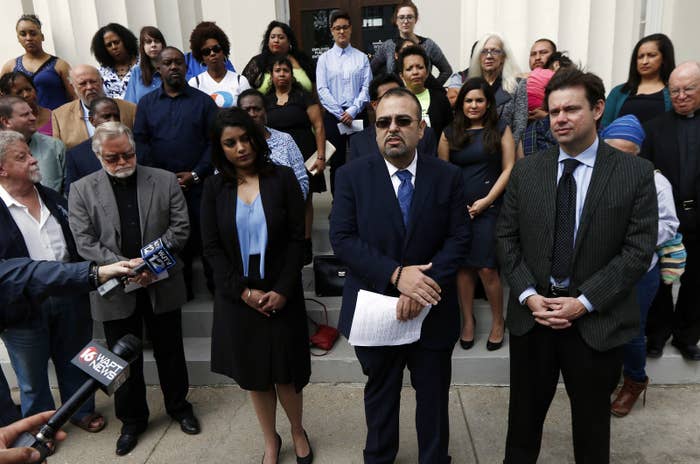 An undocumented immigrant arrested moments after she spoke out about her fear of being deported at a news conference filed papers Friday to have her case heard before a judge in a bid to stop federal authorities from deporting her without a hearing.
A friend was driving Daniela Vargas, 22, away from the news conference when they were pulled over by US Immigration and Customs Enforcement (ICE) in Jackson, Mississippi.
Vargas's attorney, Abigail Peterson, told BuzzFeed News she was brought to the US from Argentina by her parents on a 90-day visa waiver program when she was 7. In order to get the visa, immigrants have to waive their rights to a hearing before a judge if they overstay, so ICE has been planning to deport Vargas without going through the courts, Peterson said.
"We expect a decision to be made within the next week," she said.
Vargas had filed to renew her Deferred Action for Childhood Arrivals status, which gives her protection from deportation, on Feb. 10, and so Peterson was surprised her client was detained.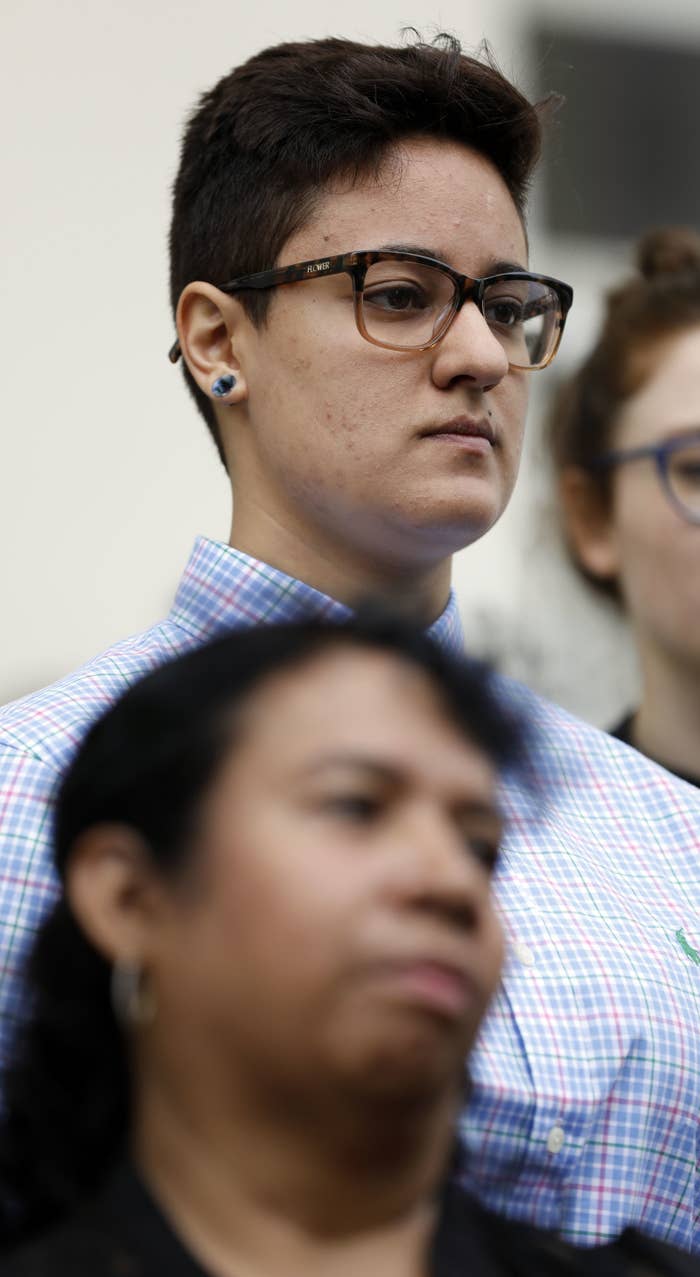 "I don't know if this is immigration showing us that DACA applicants are fair game until their DACA is approved," Peterson said. "This seems to be the message we're getting from this, which is surprising and not what I would've expected."
ICE officials had initially said it would be up to an immigration court judge to determine the next step. But on Tuesday, Peterson told BuzzFeed News Vargas was being processed for deportation without a hearing and could be transported out of the US in a few weeks.
In a statement, Thomas Byrd, a spokesman for ICE, said Vargas was arrested "during a targeted immigration enforcement action in Jackson, Mississippi."
"ICE does not conduct sweeps or raids that target aliens indiscriminately," Byrd said.
About two weeks ago, ICE agents arrested Vargas's father and brother at home, Peterson said. She was found hiding in a closet, but let go because she had a pending DACA renewal application.
DACA status allows undocumented immigrants to study and work in the US for two years, so long as they commit no crimes.

An ICE official who was not authorized to speak publicly on the matter said that after encountering Vargas at her home on Feb. 15, they later learned that she did not have approved DACA status.

"Then two weeks later, she's picked up randomly after being involved in a public event," Peterson said. "Does that mean ICE is following people? Do people always have to be looking over their shoulder, losing sleep, and afraid to go outside their homes?"
Vargas's friend told Peterson that ICE agents said, "You know who we are, you know what we're here for" when they were pulled over.

Sen. Dick Durbin said it was disturbing that immigration authorities may have followed her from the press conference.
President Trump's administration has repeatedly insisted that ICE will continue to make the removal of people living in the US illegally with criminal records a priority, even after his executive order making nearly every undocumented immigrant vulnerable to deportation.

At the news conference, Vargas said that after the arrest of her brother and father, she was planning to move out of the state and attend college to become a math professor.
On Thursday, Mississippi Rep. Bennie Thompson, ranking member of the Committee on Homeland Security, said in a statement that it appeared as though Vargas didn't commit a crime and was only speaking on behalf of her family, who is threatened by Trump's "misguided immigration agenda."
"ICE's assertion that her detention is 'routine' is absurd and seems anything but. Clearly, ICE resources used in this case would have been better utilized to find and detain dangerous criminals and get them off our streets," Thompson said. "As a DACA recipient she should be allowed to stay here. Those like Ms. Vargas just want a better life for themselves and their families and are true believers in the American dream - they should not be pushed further into the shadows."
Meanwhile, friends and immigration advocates have been lobbying ICE and lawmakers to drop the case against Vargas, described as an "All-American" who had dreams of being a math professor and soccer mom.
"She said she was in a cell with other girls. She hasn't even taken a shower yet because she's scared to," her friend, Jordan Sanders, told the Associated Press. "She has no clue what's going on."
Outside Your Bubble is a BuzzFeed News effort to bring you a diversity of thought and opinion from around the internet. If you don't see your viewpoint represented, contact the curator at bubble@buzzfeed.com. Click here for more on Outside Your Bubble.