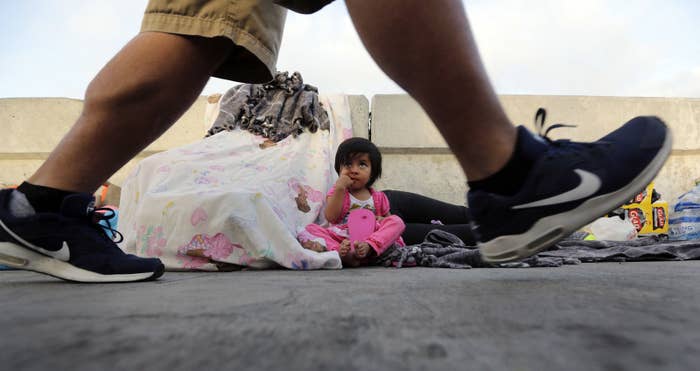 The inability of immigration authorities to handle the number of people legally seeking asylum at ports of entry along the US border likely forces many to cross into the country illegally, according to a government report released Tuesday.
The report, issued by the Department of Homeland Security's inspector general, explored why the Trump administration's "zero tolerance" policy created such chaos along the border last spring. The report reached many of the same conclusions that news coverage has already highlighted: DHS planned poorly for the impact of the policy on immigrants with small children, had no system for keeping track of what it called "pre-verbal children" who'd been separated from their parents, and no effective way to track children who'd been handed over to the custody of the Department of Health and Human Services. At least 136 children separated from their parents before President Donald Trump ended the practice in June still have not been reunited with family, according to court documents.
But its finding that DHS effectively contributed to illegal immigration by turning away many of the people who were trying to apply legally for asylum at ports of entry echoes a long-standing complaint of immigration advocates that was not corrected by Trump's June 20 executive order ending family separations.
The report found that the practice of regulating how many people can enter the US to seek asylum — known as "metering" — likely pushed immigrants seeking protection to take the riskier route of crossing illegally.
"Although DHS asserts that the Zero Tolerance Policy and metering at ports of entry are distinct issues, a CBP official reported that the backlogs created by these competing directives likely resulted in additional illegal border crossings," the report said. "The fact that both aliens and the Border Patrol reported that metering leads to increased illegal border crossings strongly suggests a relationship between the two."

Advocates have long made the same argument about metering, a practice that the report said has been in place along the southern border since at least 2016.
"The blocking of access and limiting of access to the port of entry is a constructed denial that forces people to enter the US through irregular means. I have seen that play out repeatedly," Nicole Ramos, the Tijuana-based director of the border rights project for Al Otro Lado and who focuses on refugees seeking asylum in the US, told BuzzFeed News. "I know [the government's] argument, they're not asking people to wait indefinitely, they're just asking people to wait, but at what point does that wait become an actual denial and how much of a wait time is considered acceptable when people are in immediate risk?"

Applying for asylum at a port of entry is a long-established way for immigrants seeking protection from conditions in their home countries to enter the United States legally. During the height of the family separation crisis, when the Trump administration's zero tolerance policy required the prosecution of every person caught entering the US illegally, both Secretary of Homeland Security Kirstjen Nielsen and Attorney General Jeff Sessions urged asylum-seekers to go through a port of entry to avoid being separated from their children.
But the inspector general's office found that immigration facilities along the border were inadequate for the crush of asylum-seekers, spurring some to cross illegally.
The report cites a number of examples: A Border Patrol supervisor told the inspector general's team that illegal entries increased when asylum-seekers were metered at ports of entry. Two immigrants apprehended by Border Patrol agents told inspectors that they crossed the border illegally after being turned away at ports of entry. A woman told inspectors she had been turned away three times trying to ask for asylum before deciding to take her chances at crossing into the US illegally.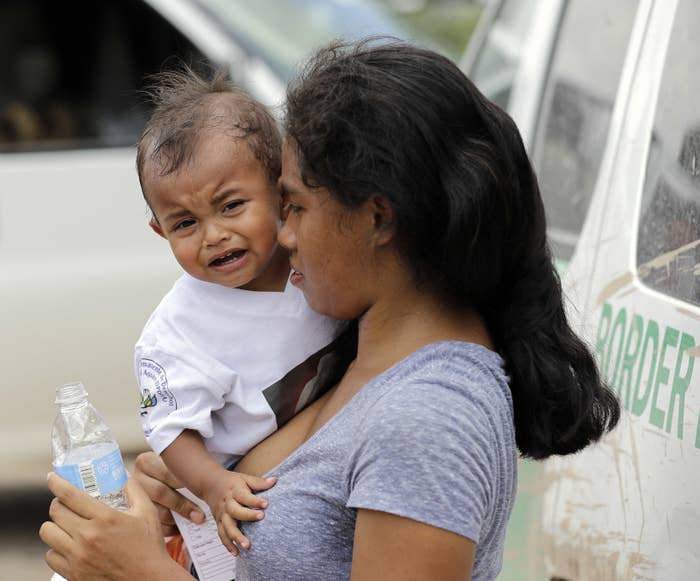 The report described a system in which Border Patrol officers stationed at the international border radio ahead to determine if a person seeking asylum can be processed. When the entry is too crowded, the asylum-seeker is told to return later.
"Although the OIG team did not observe severe overcrowding at the ports of
entry it visited, the team did observe that the space designated for holding
asylum-seekers during processing is limited," the report said. That limited space was further constrained by regulations that dictate which asylum-seekers can be detained in the same room. Single men, for example, are held separately from mothers with children.
"Depending on who is being held on a given day and the configuration of the hold rooms, the facility can reach capacity relatively quickly," the report said. "At one port of entry the OIG team visited, CBP staff attempted to increase their capacity by converting former offices into makeshift hold rooms."
The report made no recommendation on how to resolve that problem — though advocates have long noted that it's not uncommon at ports of entry for immigrants from all over the world to wait for days or even longer for their chance to ask for asylum.
In a statement, Katie Waldman, a DHS spokesperson, did not respond to the inspector general's conclusion that the inadequate facilities for processing asylum applicants contributed to illegal immigration between ports of entry. She promised that DHS would continue to prosecute immigrants caught entering the United States between ports of entry.
"CBP has and will continue to accept and process claims of credible fear at the ports of entry in addition to protecting the safety and security American communities from nefarious actors and drugs," Waldman said in a statement. "This administration will no longer turn a blind eye to illegal immigration and will continue to refer illegal border crossers for prosecution."
In its response to the report, the Department of Homeland Security said the metering of asylum-seekers did not result in zero tolerance–based prosecutions or family separations at ports of entry. The agency also said that making asylum-seekers wait in some cases is for health reasons and to balance resources.

"CBP policy does not require that the individual leave the line and prohibits officers from requiring individuals to leave or turning individuals seeking admission away," the DHS response said.
Advocates, however, say the inadequacy of US facilities to accept the number of people who want to apply for asylum increases the chaos on the border.
Ramos said she has seen people wait seven to eight weeks for their chance to ask for asylum. Sometimes her clients are in immediate danger, she said, recalling the case of a transgender woman who was almost kidnapped and forced into sex trafficking. She escaped and was able to go to the police in Tijuana, who told her she needed to leave the city immediately because the person she ran from was very powerful and there wasn't much authorities could do to help her. The woman ended up crossing into the US illegally as a result.
Another woman who was turned away at a port of entry in California was within a few weeks kidnapped along with her toddler son by drug gangs, Ramos said. During the several days she was held, she was repeatedly raped and forced to watch the murders of other immigrants. Eventually the woman's family paid enough ransom, the price of a car, to get her released. But when she arrived at a port of entry in Arizona, bleeding, covered in dirt, and sobbing, she was turned away. She was eventually able to cross at a port of entry with the help of Al Otro Lado.
"When you turn away desperate people, they enter through irregular means which allows the government to federally prosecute them for illegal entry and use the prosecution to take away their children," Ramos said. "And they use the optics of people entering illegally to say 'They're flooding the border, we need the wall.' They're creating the crisis and using the crisis to justify the rhetoric against people who are doing their best to follow the law."
Some asylum-seekers have to get creative in order to get the chance to ask US officials for asylum. One woman pretended to wash car windows until she was close enough to the US to ask for asylum. Another boarded a US-bound bus, then asked for asylum when a border agent asked for her documents.

Ramos said the United States has the means to deal with the influx of asylum-seekers at the border.

"You're the US federal government, you're arguably one of the wealthiest countries in the world," she said. "Figure it out in a way that doesn't deprive people of their human rights and put people at risk."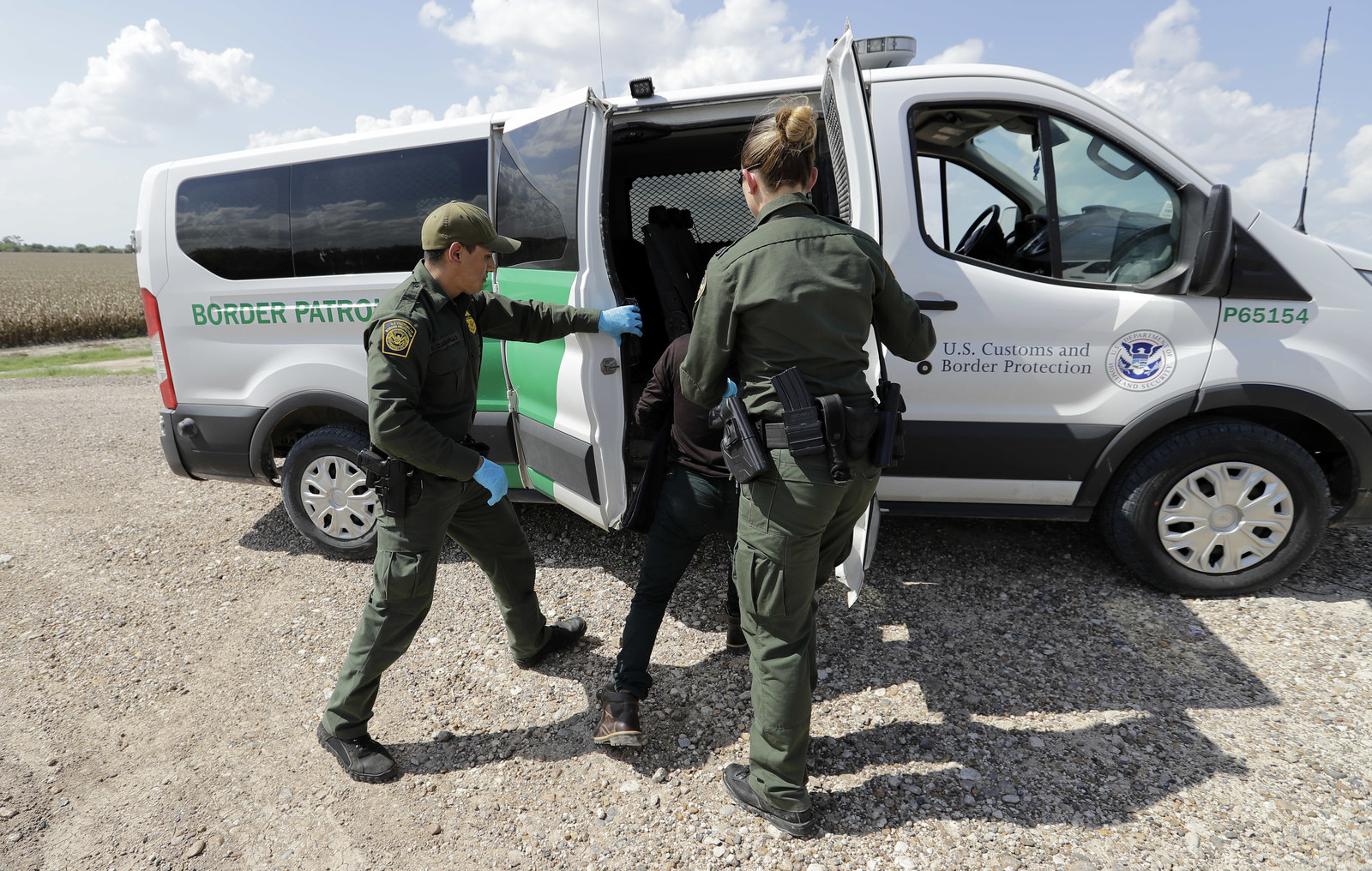 The inspector general's report also found that during the crisis last spring the government held immigrant kids longer than it should have, lied about having a centralized database to help reunite separated families, and provided bad information to parents trying to reunite with their children.

Border Patrol agents didn't appear to take measures to ensure that children who couldn't speak and were separated from their parents could be correctly identified. The agents didn't provide this group of kids with wrist bracelets or other means of identification and they didn't fingerprint or photograph them to make sure they could be easily linked with the proper file, the report said.
Immigration authorities may have also been able to avoid separating some of the families, the report concluded. In McAllen, Texas, for example, many parents prosecuted under the zero tolerance policy were sentenced to time served and sent right back to CBP custody. Officers at the processing center there said if an adult returned from court and their child was still there they would reunite them.
However, CBP officials had those adults transferred from the court directly to ICE custody rather than readmitting them and reuniting them with their children.
"According to a senior official who was involved with this decision, CBP made this change in order to avoid doing the additional paperwork required to readmit the adults," the report said.