Colleges Join National "Coming Out Day" In Support Of Undocumented Students
National immigrant advocacy organization United We Dream launches April 7 effort for institutions to publicly announce their support for undocumented students. About 50 campuses have signed up.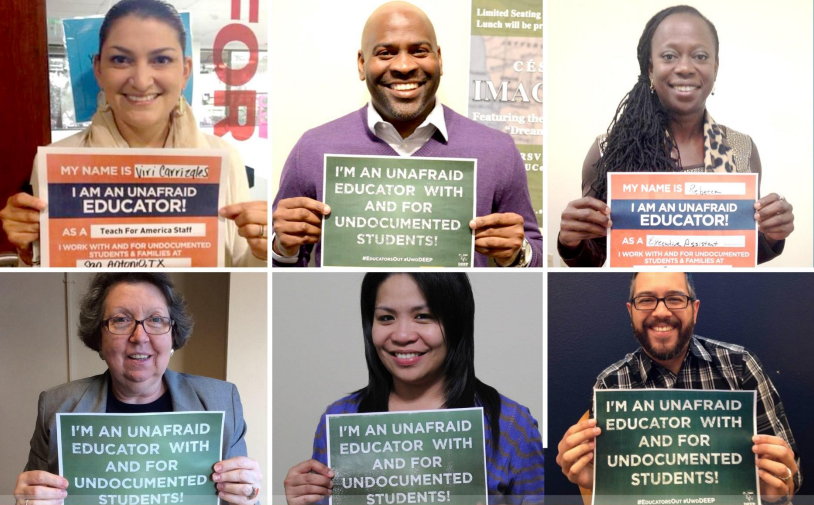 Schools throughout the U.S. are publicly "coming out" in support of undocumented students Tuesday to create an atmosphere for increased support groups, workshops and scholarship opportunities, after a push by national activist organization, United We Dream (UWD).
About 50 high schools, colleges and universities have signed up as part of "National Institutions Coming Out Day," in what is expected to become a yearly event.
Laura Bohorquez, coordinator for the group's Dream Educational Empowerment Program, said it's important for institutions to know what their counterparts are doing nationally and share ideas.
"What does it mean for a school to be undocumented friendly?" Bohorquez said to BuzzFeed News. "We're actually creating a narrative of what it means to be undocumented friendly by providing these examples they can work towards."
UWD released its first ever "toolkit" for institutions to know how to support its undocumented student community.
It's especially crucial in states like Arizona and Kentucky that don't offer a lot of aid to students, such as financial aid or in-state tuition, Bohorquez said. The goal is for the list of participating schools to grow each year.
Jeffrey von Arx, the president of Fairfield University in Connecticut said the hope is that by "standing in solidarity with educators across the nation," they can make greater support for undocumented students the norm.
"We at Fairfield believe that it is our moral responsibility — particularly as a Jesuit institution founded to serve first and second-generation college students, and committed to providing opportunities to those aspiring to realize their potential through education — to care and advocate for undocumented students," he said.
Erin Howard, Director of Latino Outreach and Student Support Services at Bluegrass Community and Technical College in Lexington, Kentucky told BuzzFeed News it doesn't matter that the campus only has about 50 to 60 undocumented students.
"It's still substantial enough to need to provide direct services to them," Howard said.
Kentucky doesn't offer state financial aid to students who are here without legal documentation, Howard said. They're able to pay in-state tuition if they graduated from a state high school or got their GED in Kentucky.
"They all have potential," Howard said, "and it's really our place as a college that's open to all to provide opportunities for them to reach their full potential regardless of their socioeconomic status."