Powerful "Stop Or I'll Shoot!" Cartoon Highlights Role Of Video In Wake Of Walter Scott Shooting
Mexican-American cartoonist Lalo Alcaraz talks to BuzzFeed News about his cartoon inspired by the fatal police shooting of Walter Scott.
Cartoonist Lalo Alcaraz posted this cartoon in response to the Walter Scott shooting.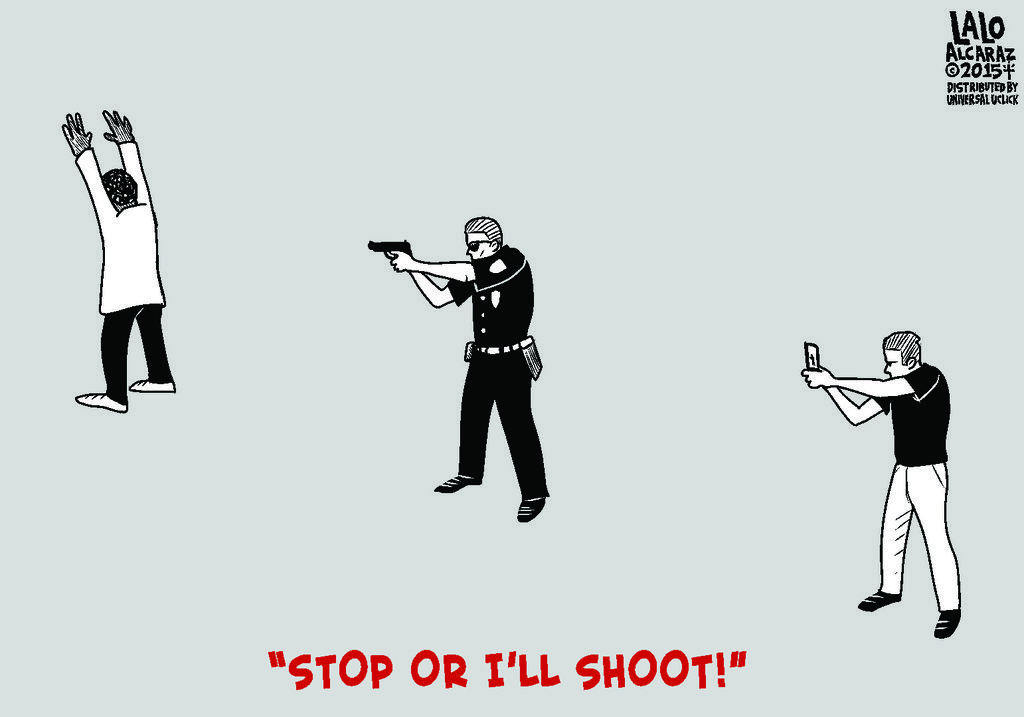 Alcaraz, a Los Angeles-based cartoonist and radio host, said he was in the middle of creating an editorial cartoon on the California drought when he decided a piece on the Walter Scott shooting would be more powerful.
On Saturday a white South Carolina police officer shot Walter Scott, 50, after he ran from the scene of a traffic stop. Patrolman first class Michael Slager, 33, was charged with his murder on Tuesday and could face 30 years to life in prison.
After the shooting Slager said he shot in self defense after Scott attempted to overpower him and take his Taser. However cell phone footage taken by Feidin Santana, a native of the Dominican Republic, shows Scott being shot at eight times as he tried to run away. The footage has outraged many across the country who say only video evidence was capable of showing what really happened.
Alcaraz hopes it makes people realize the role they play in policing law enforcement with recording devices.
"Police shootings are a problem and as citizens we can do something about it, it's within our power," Alcaraz told BuzzFeed News. "You don't have to leap over the fence to stop the shooting, you can only do what you can do."
Some took issue with the camera man being white.
Alcaraz explained why he made that choice.