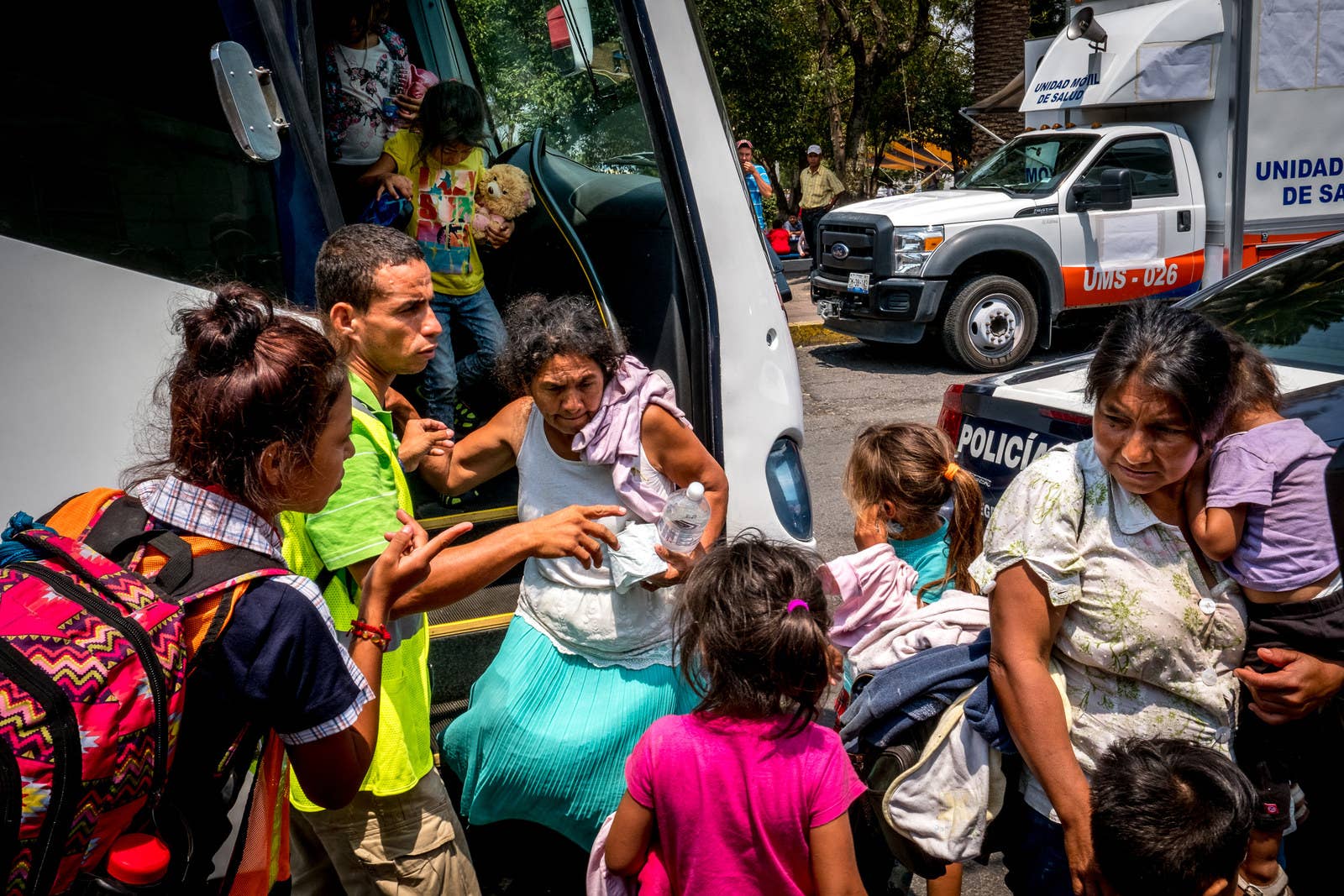 After days of walking and sleeping in the open air, a caravan of Central American migrants reached the Mexican city of Puebla aboard buses Friday, where the migrants will participate in legal seminars to determine who among them will travel on to the United States and who will make asylum claims in Mexico.
About 630 people made the trip to Puebla, where they were greeted with much fanfare. Three trucks offering medical care were waiting for the tired migrants, who'd been aboard the buses for about 12 hours, and human rights workers monitored their arrival. Pots of fried pork belly were on offer, and groups huddled underneath blue and yellow tarps, while others lay on blankets around the play equipment in Parque Serdan, a public park in the city's north.
"Long live Mexico! Long live Puebla! Long live Central America," shouted Dennis Contreras, a 32-year-old Honduran, into a megaphone.
Organizers contradicted statements from the Mexican government and President Donald Trump that the caravan was over, though its numbers were considerably reduced from the 1,200 to 1,500 people it had included during its journey through southern Mexico.
"The caravan continues," Gina Garibo, an organizer with Pueblos Sin Fronteras, told reporters hours before the buses left Matías Romero Avendaño, the town in the state of Oaxaca where the migrants had camped out in a sports complex for days, and which chartered the buses to take the migrants to Puebla. "Many people continued on their own path and plan to meet us in Puebla and continue with us."

A group of mostly men had separated from the caravan in Matías Romero on Thursday, planning to walk, then catch a freight train north. A group of about 250 to 300 men had done the same Sunday.
Some of those migrants rejoined the group in Puebla on Friday. Others were expected to travel to Mexico City.
Garibo said the Puebla group would continue on to Mexico City, and from there, continue on with only asylum-seekers. She said she hoped the reduced numbers would draw less international attention and make it easier for asylum-seekers to have their cases heard.
"The idea is to not be an obstacle for people seeking asylum," Garibo said.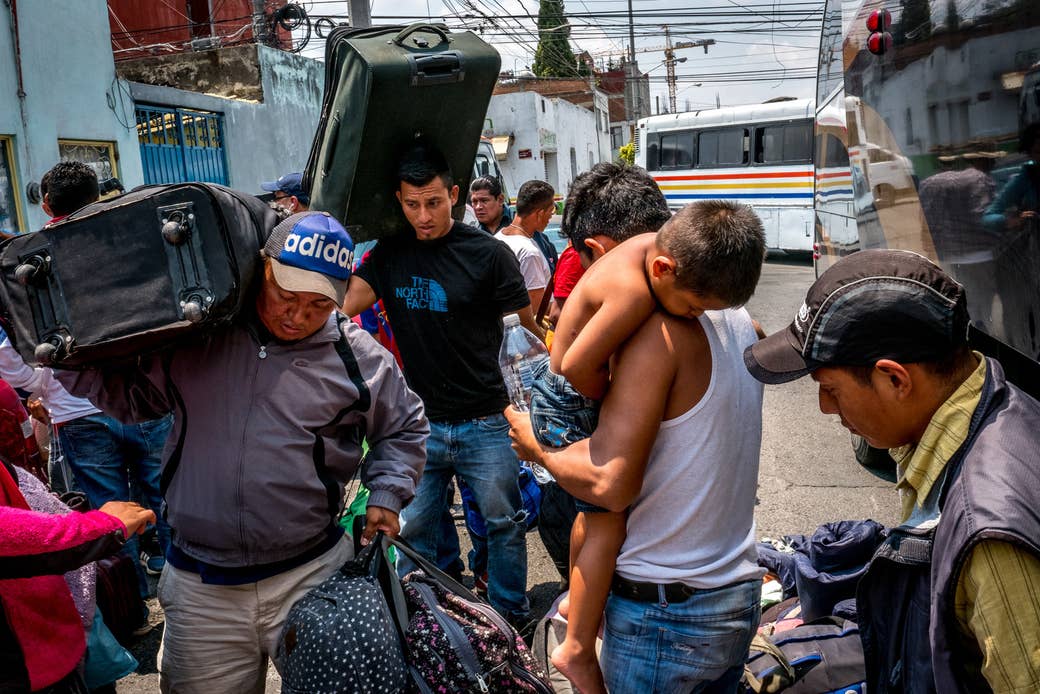 Organizers with Pueblos Sin Fronteras negotiated with Mexican immigration authorities to get people in the caravan humanitarian visas or documents that let them travel freely throughout Mexico for 20 to 30 days without having to worry about being deported.
Some hope to make Mexico their home, while others plan on going to the US to seek asylum or cross into the US undetected. For now, organizers don't know how many people will try to seek protection in the United States.
Juan Angel Lara, 30, from Honduras, arrived in Puebla on Thursday. He'd received permission to stay in Mexico for 30 days and hopes to make it to Tijuana to find work.
"My plan is to apply for a humanitarian visa and work without having to worry about immigration," Lara said.
He was showing off the new sneakers he got at a shelter.
"I practically had no shoes when I got here. Rocks were coming in through the soles of my shoes," Lara told BuzzFeed News. "We really are blessed right now. Mexico welcomed us with open arms."
Pueblos Sin Fronteras has sponsored previous caravans, but this one was by far the largest, said Alex Mensing, one of the organizers — much larger at its start, with 1,200 to 1,500 people, than either of the two the group organized last year. Other groups also sponsor caravans, but none since 2014 had approached this one's size.
Such caravans are meant to help migrants travel through Mexico safely. Migrants are easy targets for criminals who rob, kidnap, and rape people who take isolated routes in an effort to avoid being detained by Mexican immigration authorities. This caravan has had no reports of violence, despite President Trump's claim Thursday that people had been raped.
Mexico has been detaining and deporting thousands of migrants for years. Mexico's National Institute of Migration deported 80,353 people in 2017. According to a recent government report, in January and February, Mexican immigration authorities deported 16,278 people.

If the entire caravan, which was never the plan, of 1,200 to 1,500 people had presented themselves at the border or tried to cross they would only represent a fraction of people who try to enter the US undetected.
In March US Border Patrol arrested 37,393 people along the southwest border. It's a 37% increase from February and more than double when compared to March of 2017.
Still, the numbers of people apprehended at the US-Mexico border by immigration authorities have been on a downward trend. At the end of fiscal year 2017 US Customs and Border Protection said it arrested 310,531 people, the lowest seen by the agency since 1971.

The caravans are also used as a way to highlight the reasons people are leaving their countries in the first place. Central Americans in this caravan said they were fleeing violence, political oppression, and poverty. About 80% of the people who made up the caravan were from Honduras.
Josue, a 17-year-old who was traveling with the caravan on his own and whose last name BuzzFeed News is withholding, looked around for his friends who had left ahead of him. The Mexican government authorized him 30 days in the country, and he said his plan is to ask for asylum at the US border.
He used to deliver sweetbread on a motorcycle in Honduras. MS-13 members asked him to deliver drugs for them, hidden by the bread he sold. When he refused, they threatened to kill him, he said.

"They said they would torch my motorcycle and then they'd do the same to me," he said.

He left Honduras in February and heard about the caravan when he arrived in Tapachula, a Mexican city on the border with Guatemala.
Some Hondurans in the caravan said the political unrest that followed the swearing in of Honduran President Juan Orlando Hernández after a highly contested election last year led to a spike in violence. The caravan often broke out into chants of "out with JOH" — Hernández's initials.
A report by the United Nations Human Rights Office said 22 civilians and one police officer were killed in the protests that followed. The report also said people were being arbitrarily detained by Honduran authorities.
"Honduras has a repressive government, there aren't enough jobs, and they attack anyone who speaks out," said Carlos Castellanos, a 30-year-old Honduran who received a 20-day permit to travel through Mexico.

Waiting for a bus to leave from Matías Romero to Mexico City, Castellanos told BuzzFeed News he was part of a small protest following the election in which the group took over a highway. They were chased by police and hid out inside a woman's house for a few hours.
"That election was a fraud. He's not my president," Castellanos said. "My plan now is to move in with my brother in Mexico City and find a job in construction."